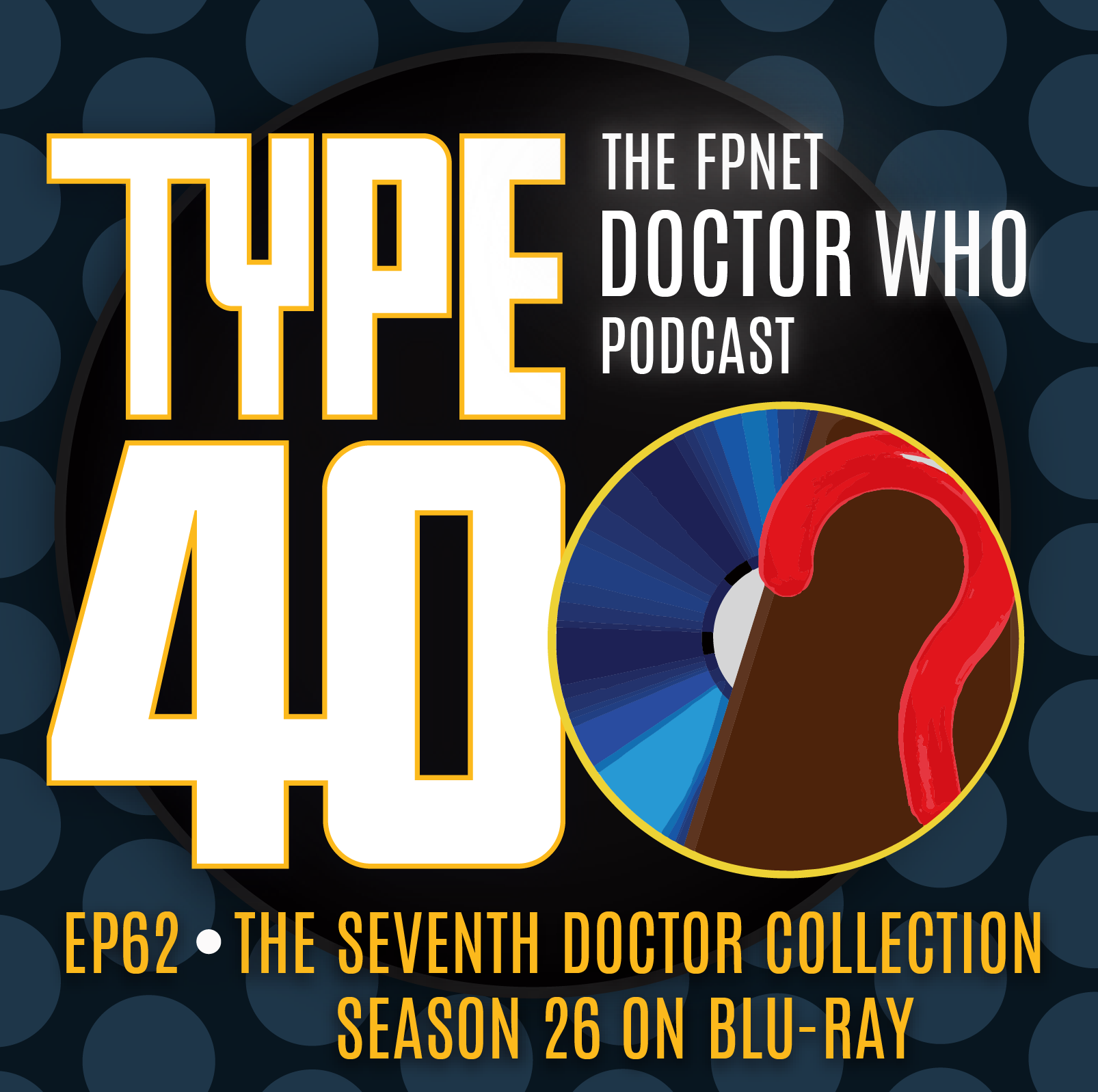 TYPE 40: A Doctor Who Podcast
Episode 62: The Seventh Doctor Collection – Season 26 on Blu Ray
1989 was an exciting time in popular culture! But as Batman was on the big screen showing off his wonderful toys? The smaller was about to lose our very favourite Time Traveller! You're in safe hands here on Type 40: A Doctor Who Podcast.
Because whilst revisiting this final season in the classic era of the television series brings some angst flooding back for some of us? It's sweetened considerably by the Blu Ray remastering treatment lavished on those 14 episodes as they're re-released as a box set…
The tea's piping hot and so is the nostalgia, whenever regular host Dan Hadley is joined by Simon Horton. Plus, there's a dedicated Seventh Doctor era fan, as is customary on these deep dives: producer and genre writer Jonathan Melville returns to the show to guarantee everybody has an "Ace" time! Stream or download our conversation on The Fandom Podcast Network's Time and Space companion, here…
You can always find TYPE 40: A Doctor Who Podcast on:
• The FPNet Master Feed @Fpnet.podbean.com
• FPNet on Podbean app
• Fandom Podcast Network on: Apple Podcasts, Spotify, Stitcher & Google Play
• Instagram: FandomPodcastNetwork & type40drwho
• Facebook: TYPE 40: A Doctor Who Fandom Podcast: https://www.facebook.com/groups/1628050400840643/?ref=bookmarks
If you would like to contact us directly you can:
• Email: type40drwho@gmail.com
• Twitter: @type40drwho
• Instagram: @type40drwho
• Explore Jonathan Melville's work in print here: http://jonathanmelville.co.uk/
• Dan Hadley on Instagram and Twitter: @The_spacebook
• Simon Horton @The Whonatics on Facebook
TeePublic Store:
Help support the Fandom Podcast Network and wear some of their fantastic original designs and logos on t-shirts, mugs, hats and more from Tee Public Go to: https://www.teepublic.com/user/fandompodcastnetwork or just search Fandom Podcast Network to find our storefront.
The FANDOM PODCAST NETWORK is now on YouTube! Join us!
Link: https://www.youtube.com/channel/UCib-kbKfAagsxrWlJU01Rcg
PLEASE SUBCRIBE to our YouTube channel to receive notifications of new podcast episodes and live events.
Apple Podcasts: 
Please search Fandom Podcast Network on Apple Podasts and leave us a review so new fans can find us easier. We LOVE 5 star reviews of course, but we love feedback in general! 
Please listen to our other awesome podcasts on the Fandom Podcast Network:
Master Feed: https://fpnet.podbean.com/
Blood of Kings: A Highlander Podcast
https://fpnet.podbean.com/category/blood-of-kings/
Culture Clash: The FPN Weekly Pop Culture Podcast
https://fpnet.podbean.com/category/culture-clash/
Couch Potato Theater: The Guilty Pleasure Favorites Podcast
https://fpnet.podbean.com/category/couch-potato-theater/
Time Warp: The Fandom Flashback Podcast
https://fpnet.podbean.com/category/time-warp/
The Endzone: An (Unofficial) NFL Podcast
https://fpnet.podbean.com/category/the-endzone/
Good Evening: An Alfred Hitchcock Podcast
https://fpnet.podbean.com/category/good-evening-an-alfred-hitchcock-podcast/
DiscoVille: A Star Trek Discovery and The Orville Podcast
https://fpnet.podbean.com/category/discoville
Hair Metal: The Hair Metal Podcast