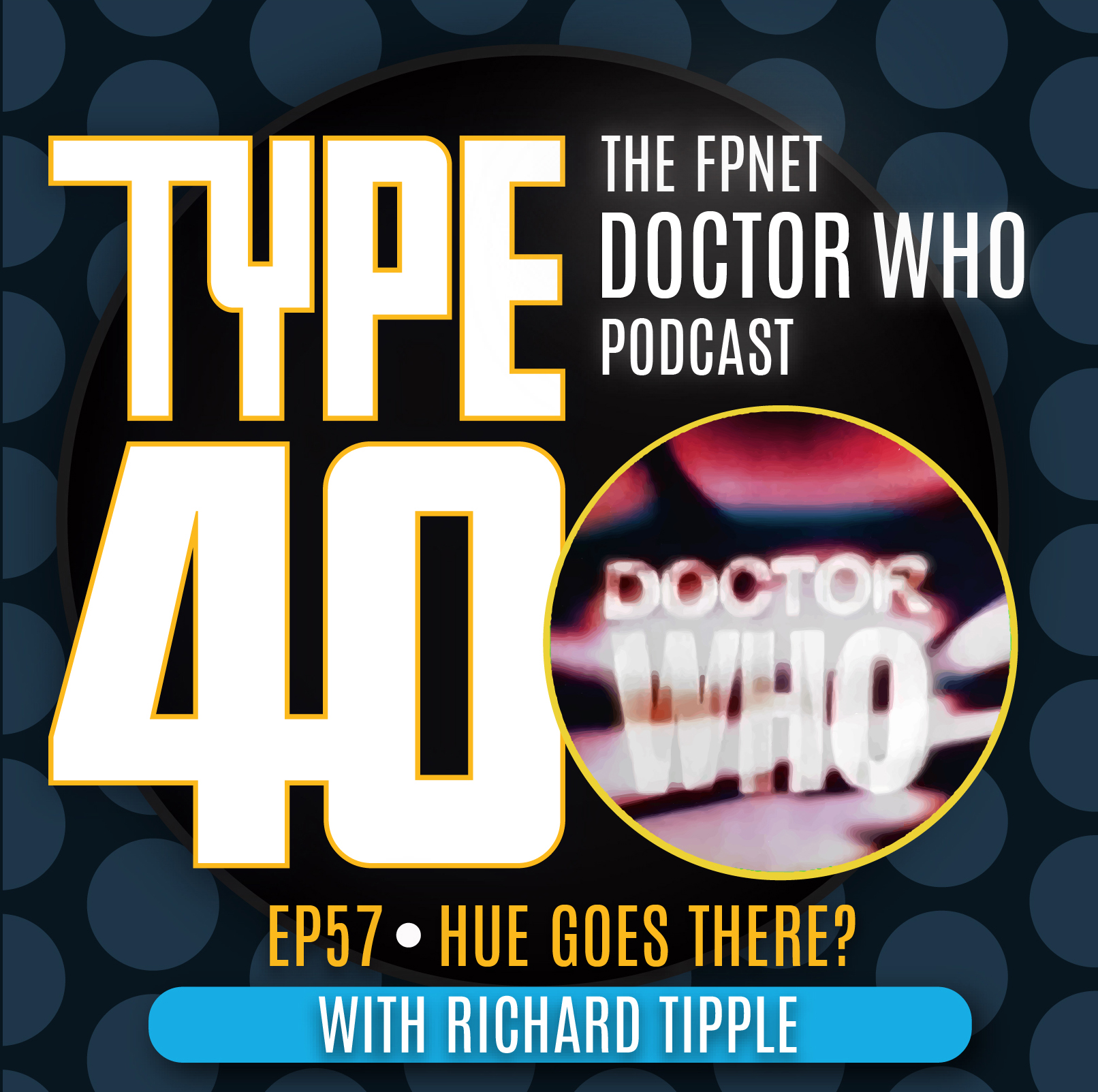 TYPE 40: A Doctor Who Podcast
Episode 57: Hue Goes There? With Richard Tipple
 It's our pleasure to showcase the work of fan collective "Doctor Hue" on this edition of Type 40: A Doctor Who Podcast. As we present a conversation with colourisation artist and craftsman Richard Tipple…
Regular host Dan Hadley and longtime advocate of the practice of adding colour to Black and White episodes of our favourite series, Simon Horton shared a virtual bubble with Richard earlier in the year.  He took them through the genesis of a groundbreaking project to completely colourise a whole episode for the very first time! Leading to the finished article premiering at Gallifrey One.
It's an extraordinary story that's bound to be of interest to not only Doctor Who fans, but anybody interested in film restoration. And if you're scratching your head; wondering why would anybody even attempt this in the first place? The Fandom Podcast Network believes this may well very open your mind! Stream direct or Download the MP3 at the link…
You can always find TYPE 40: A Doctor Who Podcast on:
• The FPNet Master Feed @Fpnet.podbean.com
• FPNet on Podbean app
• Fandom Podcast Network on: Apple Podcasts, Spotify, Stitcher & Google Play
• Instagram: FandomPodcastNetwork & type40drwho
• Facebook: TYPE 40: A Doctor Who Fandom Podcast:
If you would like to contact us directly you can:
• Email: type40drwho@gmail.com
• Twitter: @type40drwho
• Instagram: @type40drwho
• Simon Horton @The Whonatics on Facebook
• Dan Hadley on Twitter and Instagram @The_spacebook
• Follow Doctor Hue on Twitter for further details: https://twitter.com/DoctorHueColour
TeePublic Store:
Help support the Fandom Podcast Network and wear some of their fantastic original designs and logos on t-shirts, mugs, hats and more from Tee Public Go to: https://www.teepublic.com/user/fandompodcastnetwork or just search Fandom Podcast Network to find our storefront.
Apple Podcasts: 
Please search Fandom Podcast Network on Apple Podasts and leave us a review so new fans can find us easier. We LOVE 5 star reviews of course, but we love feedback in general! 
Please listen to our other awesome podcasts on the Fandom Podcast Network:
Master Feed: https://fpnet.podbean.com/