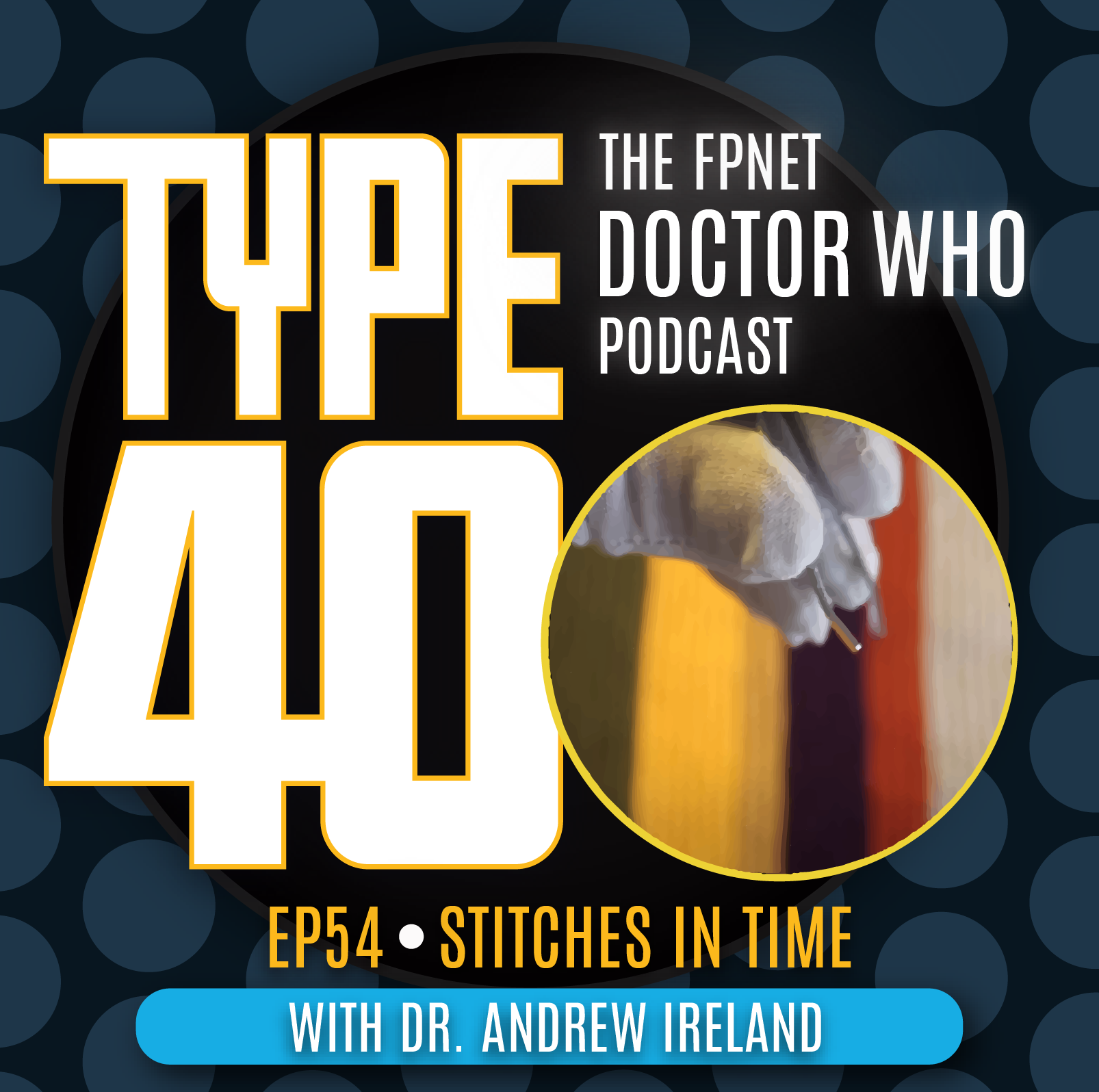 TYPE 40: A Doctor Who Podcast                                                                            Episode 54: Stitches in Time with Dr. Andrew Ireland
It's plungers aloft for the next 70(ish) rels here, to welcome our guest on this edition of Type 40! Just a couple of weeks on from the premiere of his contribution to those ongoing Doctor Who Lockdown short films, it's Dr. Andrew Ireland dropping by for a chat with Simon Horton and Dan Hadley.
Listen in as they not only unlock the production of that piece, Sven and the Scarf. But find out a little more about their guests love of the series… before shamelessly fanboying over Andrew's incredible remount of the missing episode "Mission to the Unknown", which debuted to great acclaim last October.
Let the Fandom Podcast Network help "elevate" your day: stream direct of download our latest Type 40: A Doctor Who podcast at the link!
* Support Doctor Who Lockdown in raising money
for the Covid-19 Film and TV Emergency Relief Fund, at this link:
https://www.justgiving.com/fundraising/doctorwholockdown
You can always find TYPE 40: A Doctor Who Podcast on:
• The FPNet Master Feed @Fpnet.podbean.com
• FPNet on Podbean app
• Fandom Podcast Network on: Apple Podcasts, Spotify, Stitcher & Google Play
• Instagram: FandomPodcastNetwork & type40drwho
• Facebook: TYPE 40: A Doctor Who Fandom Podcast:
If you would like to contact us directly you can:
• Email: type40drwho@gmail.com
• Twitter: @type40drwho
• Instagram: @type40drwho
• Simon Horton @The Whonatics on Facebook
• Dan Hadley on Twitter and Instagram @The_spacebook
TeePublic Store:
Help support the Fandom Podcast Network and wear some of their fantastic original designs and logos on t-shirts, mugs, hats and more from Tee Public Go to: https://www.teepublic.com/user/fandompodcastnetwork or just search Fandom Podcast Network to find our storefront.
Apple Podcasts: 
Please search Fandom Podcast Network on Apple Podasts and leave us a review so new fans can find us easier. We LOVE 5 star reviews of course, but we love feedback in general! 
Please listen to our other awesome podcasts on the Fandom Podcast Network:
Master Feed: https://fpnet.podbean.com/