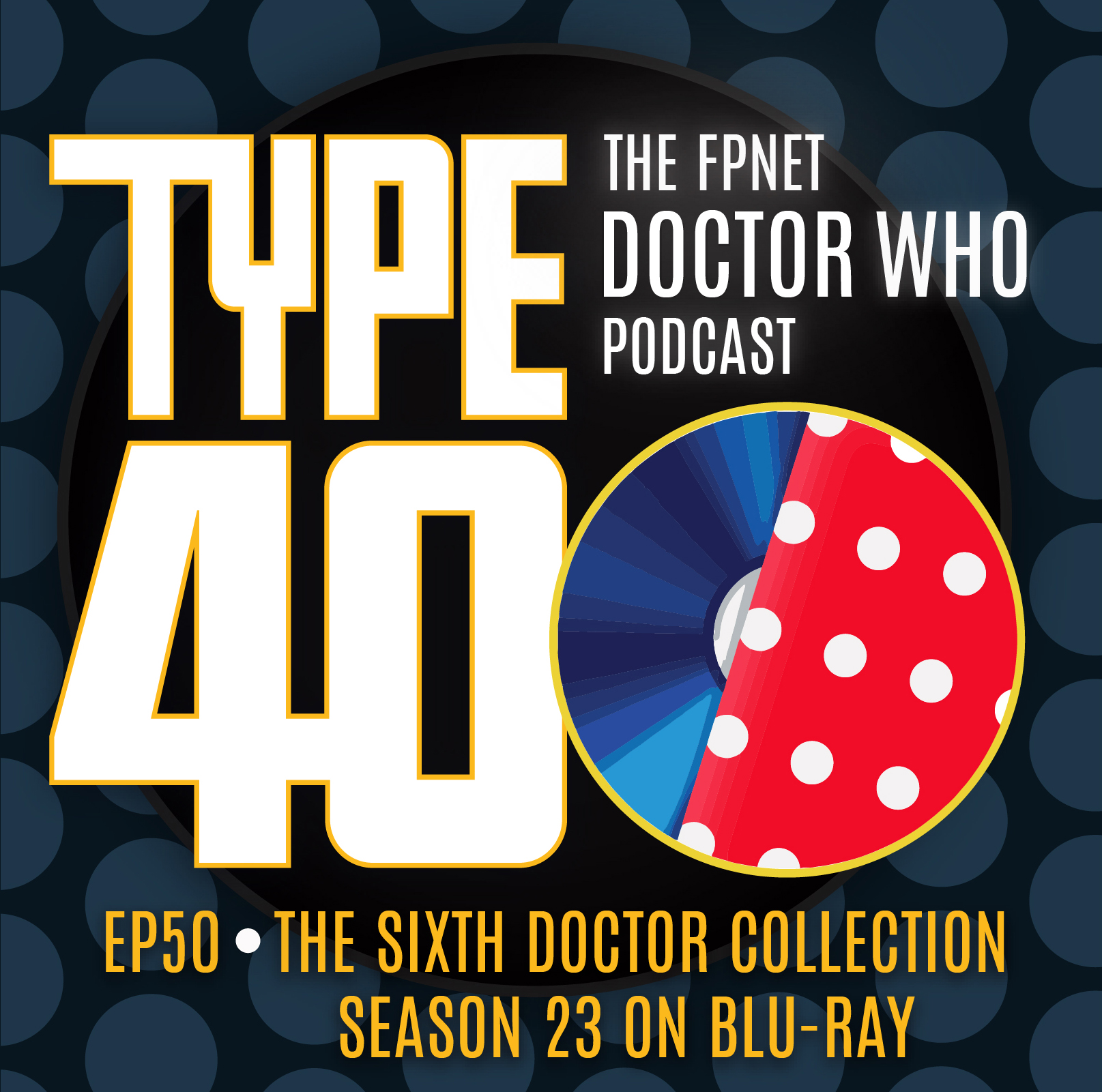 TYPE 40: A Doctor Who Podcast Episode 50: The Sixth Doctor Collection – Season 23 on Blu Ray
Court's in session on this 50th edition of Type 40. All evidence certain to be examined closely by those assembled by the Fandom Podcast Network for an extended period:
Last year saw the release onto Blu Ray of one of the most colourful and maybe even notorious seasons of Doctor Who, from 1986. It was make or break for the classic series with almost as much drama behind the scenes as on screen! So naturally there's a lot to talk about whilst it's in the dock.
The ever inquisitive Dan Hadley holds over proceedings. Joined by returning guest and Sixth Doctor fan Glenn Jakeman with regular learned friend Simon Horton. Between them can they decide if time been kinder to this troubled, epic adventure and what are the historical parallels to present day Who?
You can always find TYPE 40: A Doctor Who Podcast on:
• The FPNet Master Feed @Fpnet.podbean.com
• FPNet on Podbean app
• Fandom Podcast Network on: Apple Podcasts, Spotify, Stitcher & Google Play
• Instagram: FandomPodcastNetwork & type40drwho
• Facebook: TYPE 40: A Doctor Who Fandom Podcast: https://www.facebook.com/groups/1628050400840643/?ref=bookmarks
If you would like to contact us directly you can:
• Email: type40drwho@gmail.com
• Twitter: @type40drwho
• Instagram: @type40drwho
• Glenn Jakeman on Twitter @CymruNerdCave  Back to the Eighties @http://btte.libsyn.com/
• Dan Hadley on Instagram and Twitter: @The_spacebook
• Simon Horton @The Whonatics on Faceboo
iTunes: Please leave us a review on iTunes so new fans can find us easier. We LOVE 5 star reviews of course, but we love feedback in general!
Please listen to our other awesome podcasts on the Fandom Podcast Network:
Blood of Kings: A Highlander Podcast
Culture Clash: The FPN Weekly Pop Culture Podcast
Couch Potato Theater: The Guilty Pleasure Favorites Podcast
Time Warp: The Fandom Flashback Podcast
The Endzone: An (Unofficial) NFL Podcast
Good Evening: An Alfred Hitchcock Podcast
The Union Federation: A Star Trek and The Orville Podcast
Hair Metal: The Hair Metal Podcast