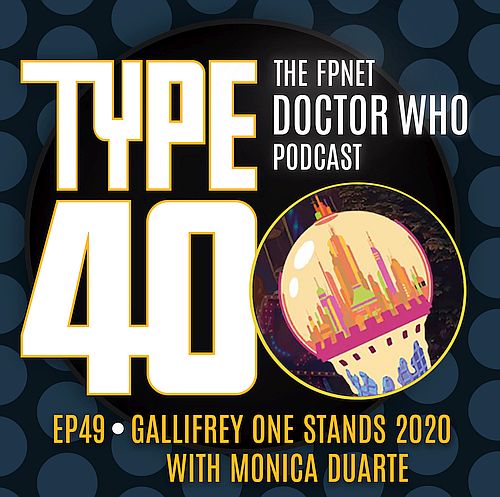 TYPE 40: A Doctor Who Podcast
Episode 49: Gallifrey One Stands 2020 with Monica Duarte
Earlier in the year, over Valentine's weekend in Los Angeles the biggest event of the Doctor Who fandom calendar took over the Marriott Hotel. Gallifrey One scored quite the coup in bringing Christopher Eccleston to the stage. Our regular host, Dan Hadley simply had to send out the call to hear what happened!
We're delighted that Temple of Geek's Monica Duarte has chosen to materiaslise back on Type 40: A Doctor Who Podcast, with an account of the whole weekends worth of events. From slurping ice cream in the company of former Doctors to sharing a lift with a current cast member, the intrepid and enthusiastic Monica really brings the convention to life before your ears!
You can always find TYPE 40: A Doctor Who Podcast on:
• The FPNet Master Feed @Fpnet.podbean.com
• FPNet on Podbean app
• Fandom Podcast Network on: Apple Podcasts, Spotify, Stitcher & Google Play
• Instagram: FandomPodcastNetwork & type40drwho
• Facebook: TYPE 40: A Doctor Who Fandom Podcast: https://www.facebook.com/groups/1628050400840643/?ref=bookmarks
If you would like to contact us directly you can:
• Email: type40drwho@gmail.com
• Twitter: @type40drwho
• Instagram: @type40drwho
• Monica Duarte on Instagram: @thisdorkynerdgirl and templeofgeek.com
• Dan Hadley on Instagram: @The_spacebook
• Dan Hadley on Twitter: @The_spacebook
Check out Monica Duarte's Portrait of a Fan Girl web series:
https://www.youtube.com/playlist?list=PLxpm-0zoaiB9wfZufc0o_MySbJMpSaS8l
TeePublic Store:
Help support the Fandom Podcast Network and wear some of their fantastic original designs and logos on t-shirts, mugs, hats and more from Tee Public Go to: https://www.teepublic.com/user/fandompodcastnetwork or just search Fandom Podcast Network to find our storefront.
Apple Podcasts: 
Please search Fandom Podcast Network on Apple Podasts and leave us a review so new fans can find us easier. We LOVE 5 star reviews of course, but we love feedback in general! 
Please listen to our other awesome podcasts on the Fandom Podcast Network:
Blood of Kings: A Highlander Podcast
Culture Clash: The FPN Weekly Pop Culture Podcast
Couch Potato Theater: The Guilty Pleasure Favorites Podcast
Time Warp: The Fandom Flashback Podcast
The Endzone: An (Unofficial) NFL Podcast
Good Evening: An Alfred Hitchcock Podcast
The Union Federation: A Star Trek and The Orville Podcast
Hair Metal: The Hair Metal Podcast