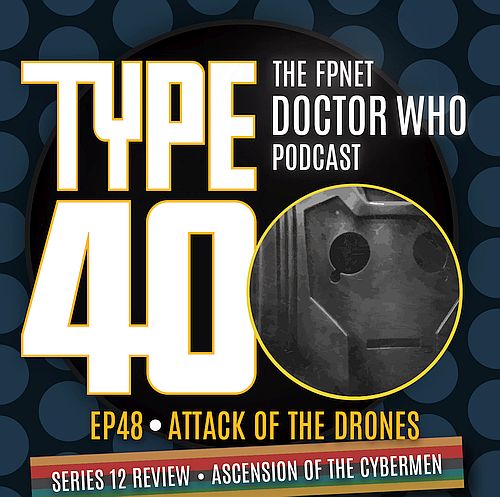 TYPE 40: A Doctor Who Podcast
Episode 48: Attack of the Drones  – Series 12 Review Ascension of the Cybermen
Skies are full of shooty Cyber-helmets and there's a new breed of silver giants tracking the last of humanity… whilst in our Type 40, regular host Dan Hadley's got enough trouble running the vacuum 'round to prepare for guests on this edition of our Doctor Who podcast.
Clambering aboard for a first tour of duty, reviewing Ascension of the Cybermen is broadcaster and cosplayer Jaz Singh. Whilst Tzvi Lebetkin aka The Rabbi is back and still laughing!
Together they pick through debris of the first half to this season finale. Geeking out over Master's past and present and trying not to spoil a Star Trek binge watch, as they bond. The Fandom Podcast Network FTW…
You can always find TYPE 40: A Doctor Who Podcast on:
• The FPNet Master Feed @Fpnet.podbean.com
• FPNet on Podbean app
• Fandom Podcast Network on: Apple Podcasts, Spotify, Stitcher & Google Play
• Instagram: FandomPodcastNetwork & type40drwho
• Facebook: TYPE 40: A Doctor Who Fandom Podcast:
If you would like to contact us directly you can:
• Email: type40drwho@gmail.com
• Twitter: @type40drwho
• Instagram: @type40drwho
• The Rabbi aka Tzvi Lebetkin @BiblicalComix on Twitter
• Check out Biblical Comix here: http://biblicalcomix.com/
• Jaspreet Singh on Twitter: @TheJazNetwork
• Or You Tube: https://www.youtube.com/user/TheJazNetwork
• Dan Hadley on Twitter and Instagram: @The_spacebook
Find our extra Content in Type Over40 on You Tube:
Subscribe to the channel so you never miss a new addition to our playlist:
https://www.youtube.com/playlist?list=PLVJCF19D0A-5QAv9RMnfsnauSJVZuM894
The Sounds of the WHOniverse, a documentary by Jaz Singh on Soundcloud:
TeePublic Store:
Help support the Fandom Podcast Network and wear some of their fantastic original designs and logos on t-shirts, mugs, hats and more from Tee Public Go to: https://www.teepublic.com/user/fandompodcastnetwork or just search Fandom Podcast Network to find our storefront.
 Check out Biblical Comix here: http://biblicalcomix.com/
Apple Podcasts: 
Please search Fandom Podcast Network on Apple Podasts and leave us a review so new fans can find us easier. We LOVE 5 star reviews of course, but we love feedback in general! 
Please listen to our other awesome podcasts on the Fandom Podcast Network:
Master Feed: https://fpnet.podbean.com/
Blood of Kings: A Highlander Podcast
http://fpnet.podbean.com/category/blood-of-kings/
Culture Clash: The FPN Weekly Pop Culture Podcast
http://fpnet.podbean.com/category/culture-clash/
Couch Potato Theater: The Guilty Pleasure Favorites Podcast
http://fpnet.podbean.com/category/couch-potato-theater/
Time Warp: The Fandom Flashback Podcast
http://fpnet.podbean.com/category/time-warp/
The Endzone: An (Unofficial) NFL Podcast
http://fpnet.podbean.com/category/the-endzone/
Good Evening: An Alfred Hitchcock Podcast
http://fpnet.podbean.com/category/good-evening-an-alfred-hitchcock-podcast/
DiscoVille: A Star Trek Discovery and The Orville Podcast
https://fpnet.podbean.com/category/discoville
Hair Metal: The Hair Metal Podcast