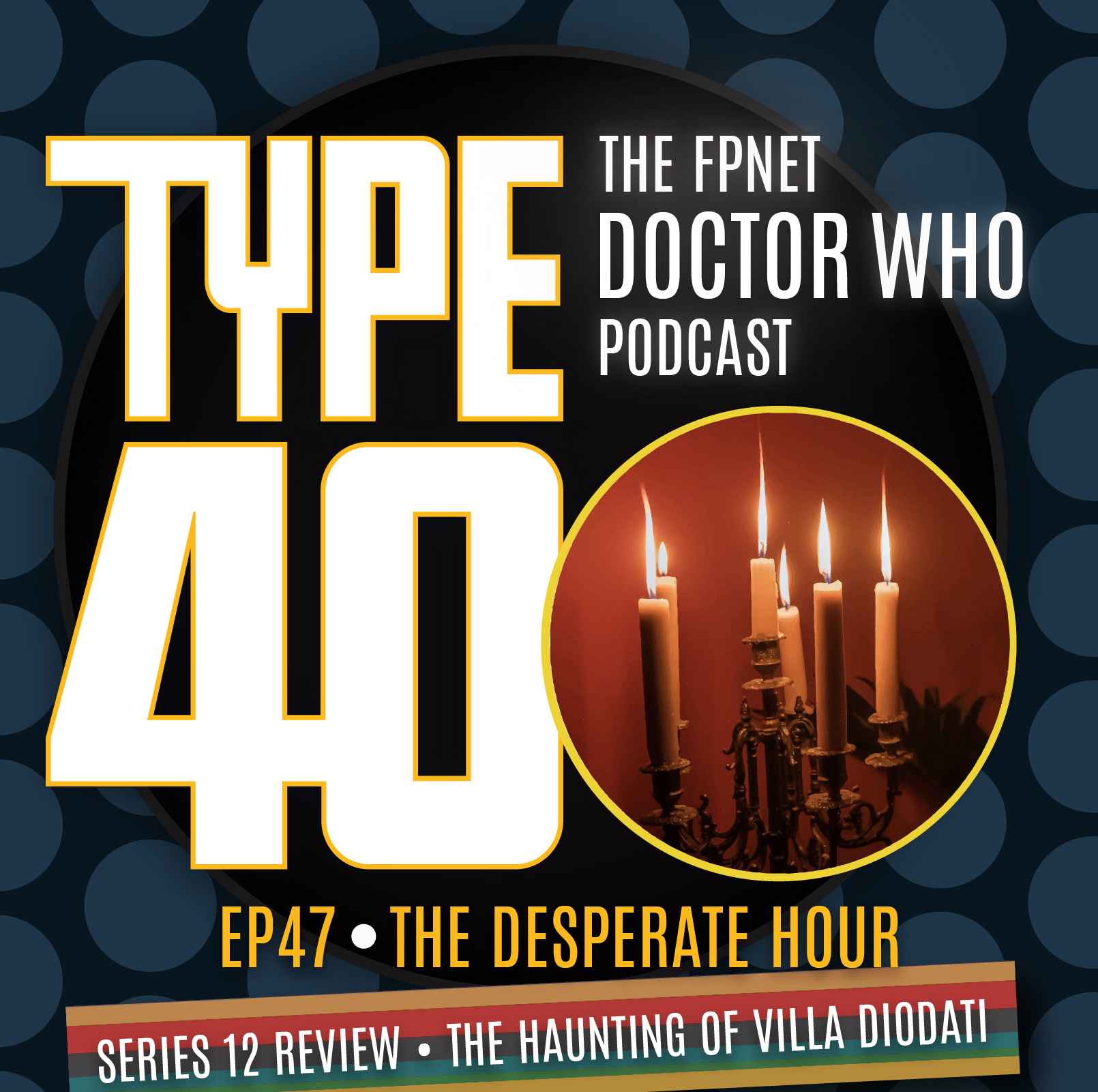 TYPE 40: A Doctor Who Podcast
Episode 47: The Desperate Hour – Series 12 Review The Haunting of Villa Diodati
On a dark and blustery afternoon, three tireless Doctor Who fans gathered to tell tales of candlelight, lightning, Cybermen, bladder control and the odd plot hole. Here is their tale…
Our reviews of Series 12 reach the finale trilogy with The Haunting of Villa Diodati this time. Regular host Dan Hadley welcomes guests to supper Mrs. Sarah Graham, the Starry Eyed Girl and a brand new voice to Type 40: A Doctor Who Podcast! Arriving by carriage it's Tzvi Lebetkin, aka "The Rabbi".
The conversation's a lot livelier than the food laid on by The Fandom Podcast Network's staff. Fortunately, there's plenty to talk about and a guaranteed great listen, as ever…
You can always find TYPE 40: A Doctor Who Podcast on:
• The FPNet Master Feed @Fpnet.podbean.com
• FPNet on Podbean app
• Fandom Podcast Network on: Apple Podcasts, Spotify, Stitcher & Google Play
• Instagram: FandomPodcastNetwork & type40drwho
• Facebook: TYPE 40: A Doctor Who Fandom Podcast:
If you would like to contact us directly you can:
• Email: type40drwho@gmail.com
• Twitter: @type40drwho
• Instagram: @type40drwho
• Sarah Graham on Twitter @StarryEyedGir11
• The Rabbi aka Tzvi Lebetkin @BiblicalComix on Twitter
• Check out Biblical Comix here: http://biblicalcomix.com/
• Dan Hadley on Twitter and Instagram: @The_spacebook
Find our extra Content in Type Over40 on You Tube:
Subscribe to the channel so you never miss a new addition to our playlist:
https://www.youtube.com/playlist?list=PLVJCF19D0A-5QAv9RMnfsnauSJVZuM894
Tee Public:
iTunes: Please leave us a review on iTunes so new fans can find us easier. We LOVE 5 star reviews of course, but we love feedback in general!
Please listen to our other awesome podcasts on the Fandom Podcast Network:
Blood of Kings: A Highlander Podcast
Culture Clash: The FPN Weekly Pop Culture Podcast
Couch Potato Theater: The Guilty Pleasure Favorites Podcast
Time Warp: The Fandom Flashback Podcast
The Endzone: An (Unofficial) NFL Podcast
Good Evening: An Alfred Hitchcock Podcast
The Union Federation: A Star Trek and The Orville Podcast
Hair Metal: The Hair Metal Podcast