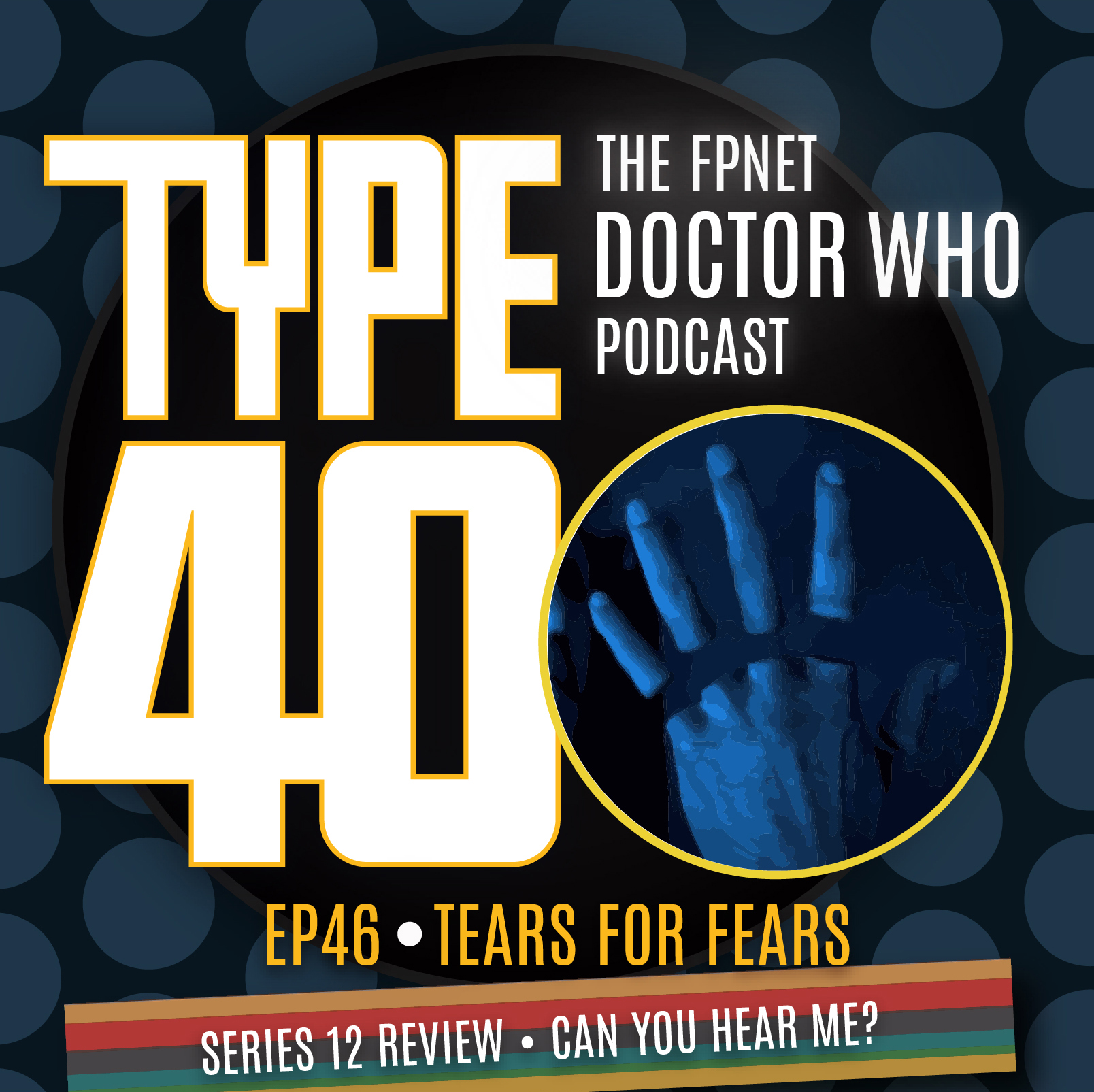 TYPE 40: A Doctor Who Podcast
Episode 46: Tears for Fears – Series 12 Review Can You Hear Me?
Ssssh…..? Did you hear that…? It'll be the Fandom Podcast Network notifying of another edition of our show as promised. And the console room's packed with some of our regular voices, this time:
Kyle Wagner's defied time zones to join in this review of episode 7. As well as recap his feelings on the season so far. Whilst Sarah Graham's had a sleepless night wearing her headphones to bed, just in case Zelin is real...! Leave it to Simon Horton to calm things down, with a round of Horlicks. Whilst regular host Dan Hadley has double; triple checked all windows and doors.
A listen in to Type 40: A Doctor Who Podcast is guaranteed not to send you to sleep. Though you may wish to wear pyjamas for this one. Even if you're on the school run!
You can always find TYPE 40: A Doctor Who Podcast on:
• The FPNet Master Feed @Fpnet.podbean.com
• FPNet on Podbean app
• Fandom Podcast Network on: Apple Podcasts, Spotify, Stitcher & Google Play
• Instagram: FandomPodcastNetwork & type40drwho
• Facebook: TYPE 40: A Doctor Who Fandom Podcast:
If you would like to contact us directly you can:
• Email: type40drwho@gmail.com
• Twitter: @type40drwho
• Instagram: @type40drwho
• Sarah Graham on Twitter @StarryEyedGir11
• Kyle Wagner on Twitter @AKyleW or Instagram @AKylefandom
• Simon Horton @The Whonatics on Facebook
• Dan Hadley on Twitter and Instagram: @The_spacebook
Find our extra Content in Type Over40 on You Tube:Subscribe to the channel so you never miss a new addition to our playlist:
https://www.youtube.com/playlist?list=PLVJCF19D0A-5QAv9RMnfsnauSJVZuM894
Tee Public:
Please also visit our TeePublic store where you can help support the Fandom Podcast Network while wearing your favorite show logos with pride!
Tee Public Store: https://www.teepublic.com/user/fandompodcastnetwork

iTunes: Please leave us a review on iTunes so new fans can find us easier. We LOVE 5 star reviews of course, but we love feedback in general!

Please listen to our other awesome podcasts on the Fandom Podcast Network:
Blood of Kings: A Highlander Podcast
Culture Clash: The FPN Weekly Pop Culture Podcast
Couch Potato Theater: The Guilty Pleasure Favorites Podcast
Time Warp: The Fandom Flashback Podcast
The Endzone: An (Unofficial) NFL Podcast
Good Evening: An Alfred Hitchcock Podcast
The Union Federation: A Star Trek and The Orville Podcast
Hair Metal: The Hair Metal Podcast