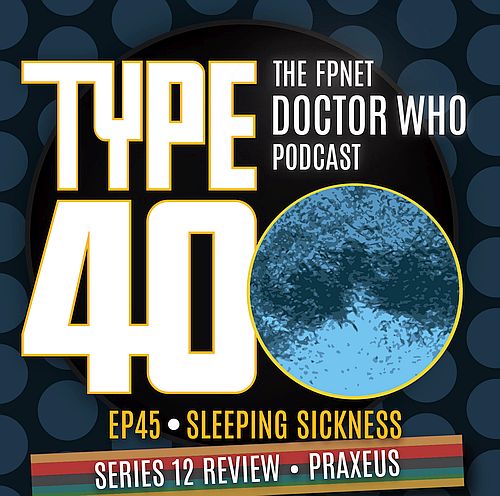 TYPE 40: A Doctor Who Podcast
Episode 45: Sleeping Sickness – Series 12 Review Praxeus
Wakey-wake, rise and shine… across the world with us as we review the recent globetrotting Doctor Who adventure, Praxeus. Series 12 passes the halfway point and the Fandom Podcast Network's on the case.
Starry-Eyed Sarah Graham's with us again: dissecting this story and dispensing wisdom. Whilst Simon Horton's bravely stepped into the containment area to handle the fallout. Regular host Dan Hadley's holding the torch steady, at safe distance as always.
Plus, we bid a respectful farewell to a man who's made a huge contribution to the series over the last 16 years. And check in with the newest ratings on both sides of the Atlantic with us here on Type 40: A Doctor Who Podcast…!
You can always find TYPE 40: A Doctor Who Podcast on:
• The FPNet Master Feed @Fpnet.podbean.com
• FPNet on Podbean app
• Fandom Podcast Network on: Apple Podcasts, Spotify, Stitcher & Google Play
• Instagram: FandomPodcastNetwork & type40drwho
• Facebook: TYPE 40: A Doctor Who Fandom Podcast:
If you would like to contact us directly you can:
• Email: type40drwho@gmail.com
• Twitter: @type40drwho
• Instagram: @type40drwho
• Sarah Graham on Twitter @StarryEyedGir11
• Simon Horton @The Whonatics on Facebook
• Dan Hadley on Twitter and Instagram: @The_spacebook
Find our extra Content in Type Over40 on You Tube:
Subscribe to the channel so you never miss a new addition to our playlist:
https://www.youtube.com/playlist?list=PLVJCF19D0A-5QAv9RMnfsnauSJVZuM894
iTunes: Please leave us a review on iTunes so new fans can find us easier. We LOVE 5 star reviews of course, but we love feedback in general!
Please listen to our other awesome podcasts on the Fandom Podcast Network:
Blood of Kings: A Highlander Podcast
Culture Clash: The FPN Weekly Pop Culture Podcast
Couch Potato Theater: The Guilty Pleasure Favorites Podcast
Time Warp: The Fandom Flashback Podcast
The Endzone: An (Unofficial) NFL Podcast
Good Evening: An Alfred Hitchcock Podcast
The Union Federation: A Star Trek and The Orville Podcast
Hair Metal: The Hair Metal Podcast