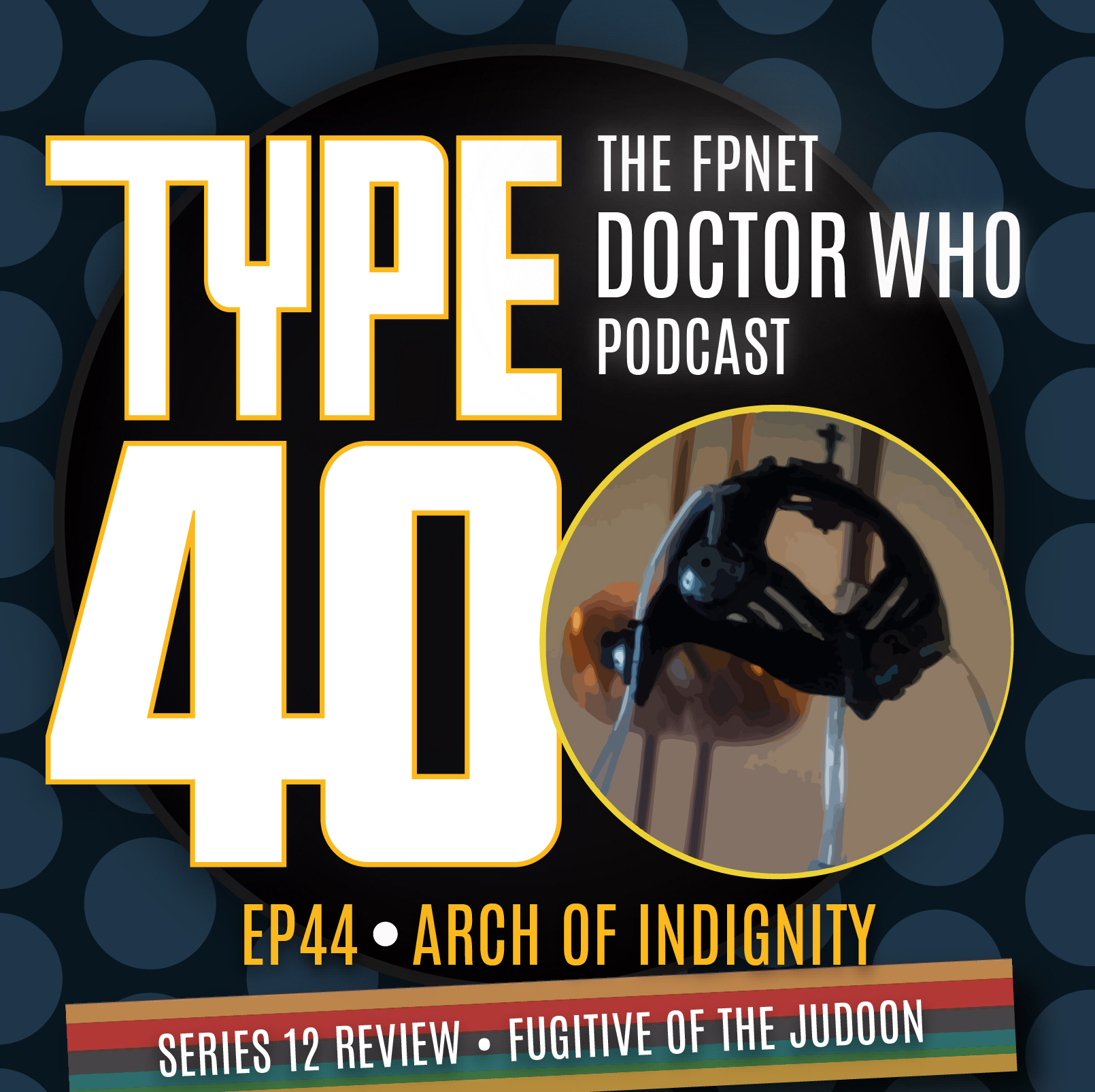 TYPE 40: A Doctor Who Podcast
Episode 44: Arch of Indignity – Series 12 Review Fugitive of the Judoon
Slo-Bo-Klo!!! - What have we here then? Two usual suspects giving their lively, unfiltered opinions on a new episode of Doctor Who, for the benefit of the tape. Or more likely the podcast player of your choice!
Yes, there were shocks aplenty in Fugitive of the Judoon and Type 40: A Doctor Who Podcast's very own team of buddy cops, Dan Hadley and Simon Horton are at the crime scene. Ready to access and process the events that took place on TV screens, that Sunday evening.
Put your ears in the custody of the Fandom Podcast Network! We know that whatever their whereabouts, fans will want to listen intently as the cuffs and maybe the gloves, come off…!
You can always find TYPE 40: A Doctor Who Podcast on:
• The FPNet Master Feed @Fpnet.podbean.com
• FPNet on Podbean app
• Fandom Podcast Network on: Apple Podcasts, Spotify, Stitcher & Google Play
• Instagram: FandomPodcastNetwork & type40drwho
• Facebook: TYPE 40: A Doctor Who Fandom Podcast:
 If you would like to contact us directly you can:
• Email: type40drwho@gmail.com
• Twitter: @type40drwho
• Instagram: @type40drwho
• Simon Horton @The Whonatics on Facebook
• Dan Hadley on Twitter and Instagram: @The_spacebook
Find our extra Content in Type Over40 on You Tube:
Subscribe to the channel so you never miss a new addition to our playlist:
https://www.youtube.com/playlist?list=PLVJCF19D0A-5QAv9RMnfsnauSJVZuM894
iTunes: Please leave us a review on iTunes so new fans can find us easier. We LOVE 5 star reviews of course, but we love feedback in general!
Please listen to our other awesome podcasts on the Fandom Podcast Network:
Blood of Kings: A Highlander Podcast
Culture Clash: The FPN Weekly Pop Culture Podcast
Couch Potato Theater: The Guilty Pleasure Favorites Podcast
Time Warp: The Fandom Flashback Podcast
The Endzone: An (Unofficial) NFL Podcast
Good Evening: An Alfred Hitchcock Podcast
The Union Federation: A Star Trek and The Orville Podcast
Hair Metal: The Hair Metal Podcast