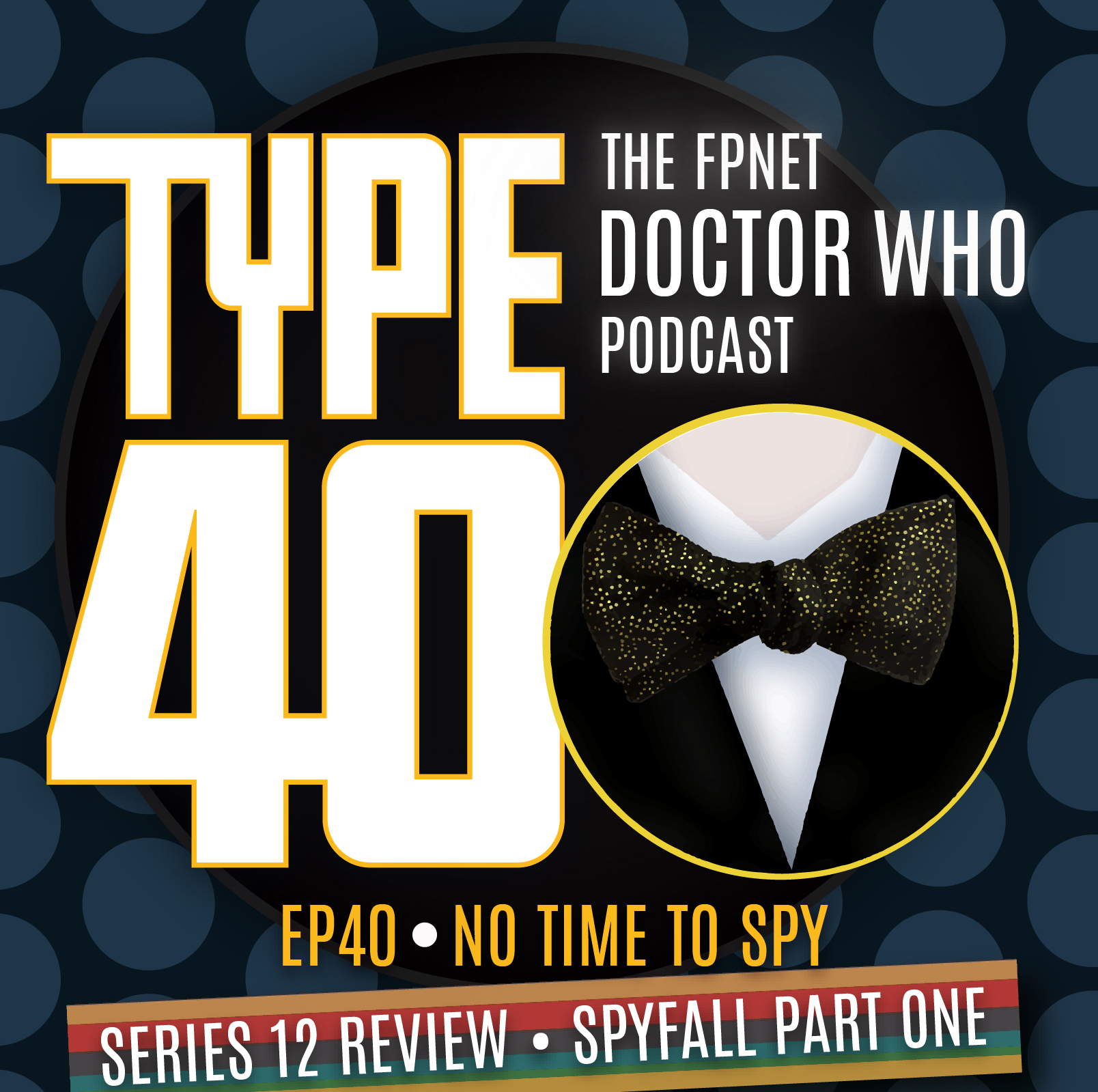 TYPE 40: A Doctor Who Podcast
Episode 40: No Time to Spy – Series 12 Review Spyfall Part One
Locations are classified but the date is definitely 2020, a whole year since the last episode of Doctor Who aired. When our agents convene to share intel and opinions on the first episode of Series 12, currently premiering internationally. Yes, we've a new year to see in and a whole new season of the world's longest running Science-Fiction and Fantasy programme for regular host and Quartermaster Dan Hadley to open up the files on.
Reporting in this time is Agent Horton, Simon Horton. Whose speciality is parachuting through plot holes! Whilst the one code-named "Starry Eyed Girl", alias Sarah Graham is at hand to slug it out, if they're flanked by Chris Chibnall's henchmen. She may even sing the theme song…!
Expect the usual blend of mirth, tangents and deep dives mining this review of "Spyfall Part One". Remember that whilst our reviewers are license to say whatever they wish, it's all sent to your ears from the Fandom Podcast Network with Love…
You can always find TYPE 40: A Doctor Who Podcast on:
• The FPNet Master Feed @Fpnet.podbean.com
• FPNet on Podbean app
• Fandom Podcast Network on: Apple Podcasts, Spotify, Stitcher & Google Play
• Instagram: FandomPodcastNetwork & type40drwho
• Facebook: TYPE 40: A Doctor Who Fandom Podcast:
If you would like to contact us directly you can:
• Email: type40drwho@gmail.com
• Twitter: @type40drwho
• Instagram: @type40drwho
• Sarah Graham on Twitter @StarryEyedGir11
• Simon Horton @The Original Whonatics on Facebook
• Dan Hadley on Twitter and Instagram: @The_spacebook
Find our extra Content in Type Over40 on You Tube:
Subscribe to the channel so you never miss a new addition to our playlist:
https://www.youtube.com/playlist?list=PLVJCF19D0A-5QAv9RMnfsnauSJVZuM894
iTunes: Please leave us a review on iTunes so new fans can find us easier. We LOVE 5 star reviews of course, but we love feedback in general!
Please listen to our other awesome podcasts on the Fandom Podcast Network:
Blood of Kings: A Highlander Podcast
Culture Clash: The FPN Weekly Pop Culture Podcast
Couch Potato Theater: The Guilty Pleasure Favorites Podcast
Time Warp: The Fandom Flashback Podcast
The Endzone: An (Unofficial) NFL Podcast
Good Evening: An Alfred Hitchcock Podcast
The Union Federation: A Star Trek and The Orville Podcast
Hair Metal: The Hair Metal Podcast