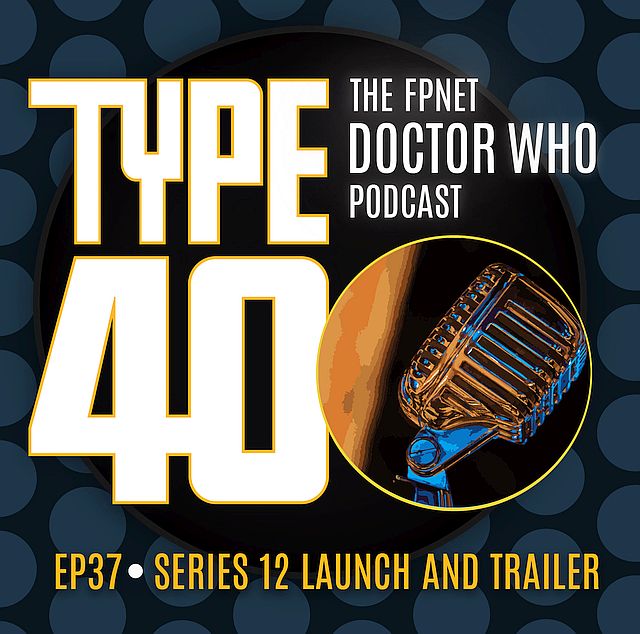 TYPE 40: A Doctor Who Podcast
Episode 37: Series 12 Launch and Trailer
Time and trailers wait for no fan…! And on our Doctor Who podcast we couldn't wait to get together and discuss the sixty second stare into the near future, delivered by the BBC last week. Series 12 of the unending adventure in space and time will be before all eyes from New Year's Day…
New Doctor Who brings new stories and writers, sights and sensation. Four of our keenest Time Lords answered the recall signal for this extended, candid speculation: Starry-Eyed Girl Sarah Graham's never more than a fixed point away from where the chat is and the Fandom Podcast Network's own Kyle Wagner even pulls himself away from The Mandalorian long enough to talk TARDIS!
Whilst regular pilot Dan finally welcomes aboard seasoned podcaster and toy collector Glenn Jakeman. How do their reactions and instincts about the upcoming season compare with yours? Find out by streaming or downloading the latest episode of Type 40, now…
You can always find TYPE 40: A Doctor Who Podcast on:
• The FPNet Master Feed @Fpnet.podbean.com
• FPNet on Podbean app
• Fandom Podcast Network on: Apple Podcasts, Spotify, Stitcher & Google Play
• Instagram: FandomPodcastNetwork & type40drwho
• Facebook: TYPE 40: A Doctor Who Fandom Podcast:
 If you would like to contact us directly you can:
• Email: type40drwho@gmail.com
• Twitter: @type40drwho
• Instagram: @type40drwho
• Sarah Graham on Twitter @StarryEyedGir11
• Glenn Jakeman on Twitter @CymruNerdCave  Back to the Eighties @http://btte.libsyn.com/
• Kyle Wagner on Twitter @AKyleW Instantgram @Akylefandom
• Dan Hadley on Twitter and Instagram: @The_spacebook
Find our extra Content in Type Over40 on You Tube:
Subscribe to the channel so you never miss a new addition to our playlist:
https://www.youtube.com/playlist?list=PLVJCF19D0A-5QAv9RMnfsnauSJVZuM894
TeePublic Store:
Help support the Fandom Podcast Network and wear some of their fantastic original designs and logos on t-shirts, mugs, hats and more from Tee Public Go to: https://www.teepublic.com/user/fandompodcastnetwork or just search Fandom Podcast Network to find our storefront.
Apple Podcasts: 
Please search Fandom Podcast Network on Apple Podasts and leave us a review so new fans can find us easier. We LOVE 5 star reviews of course, but we love feedback in general! 
Please listen to our other awesome podcasts on the Fandom Podcast Network:
Blood of Kings: A Highlander Podcast
Culture Clash: The FPN Weekly Pop Culture Podcast
Couch Potato Theater: The Guilty Pleasure Favorites Podcast
Time Warp: The Fandom Flashback Podcast
The Endzone: An (Unofficial) NFL Podcast
Good Evening: An Alfred Hitchcock Podcast
The Union Federation: A Star Trek and The Orville Podcast
Hair Metal: The Hair Metal Podcast