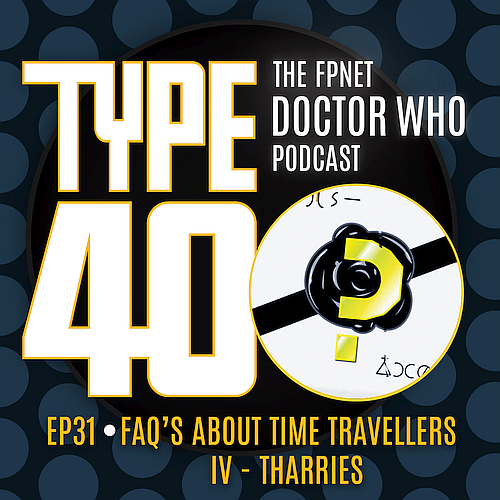 TYPE 40: A Doctor Who Podcast
Episode 31: FAQ's About Time Travellers IV – Tharries
No one understands better than our hero the Doctor, how times change! And with social media platforms transforming our viewing habits and bringing forth new voices, regular host Dan was fascinated to be approached by someone with a growing profile and loyal following on the largest of them all.
So who is the YouTuber who goes by the name "Tharries" and what are the foundations of his own undoubted passion for Doctor Who? The newest edition of Type 40 boasts his answers to our "Frequently Asked Questions About Time Travellers" and is an opportunity to get to know the man whose opinions have been met with such explosive reactions. Is he really that outspoken?
Tharries revisits his most treasured companions, feared monsters, confides childhood memories and fills us in on what he believes are quintessential qualities gleamed from growing up in the wake of the series extraordinary comeback. It's a breezy and eclectic conversation brought to you by The Fandom Podcast Network. Though it's a simple format, a couple of answers are always certain to surprise you!
You can always find TYPE 40: A Doctor Who Podcast on:
• The FPNet Master Feed @Fpnet.podbean.com
• FPNet on Podbean app
• Fandom Podcast Network on: Apple Podcasts, Spotify, Stitcher, Podbean, & Google Play
• Instagram: FandomPodcastNetwork & type40drwho
• Facebook: TYPE 40: A Doctor Who Fandom Podcast: https://www.facebook.com/groups/1628050400840643/?ref=bookmarks
 If you would like to contact us directly you can:
• Email: type40drwho@gmail.com
• Twitter: @type40drwho
• Instagram: @type40drwho
• Tharries on YouTube: @Tharries
• Dan on Twitter: @the_spacebook
• Dan on Instagram: @spacebookgram
TeePublic Store:
Help support the Fandom Podcast Network and wear some of their fantastic original designs and logos on t-shirts, mugs, hats and more from Tee Public Go to: https://www.teepublic.com/user/fandompodcastnetwork or just search Fandom Podcast Network to find our storefront.
Apple Podcasts: 
Please search Fandom Podcast Network on iTunes and leave us a review so new fans can find us easier. We LOVE 5 star reviews of course, but we love feedback in general! 
Please listen to our other awesome podcasts on the Fandom Podcast Network:
Blood of Kings: A Highlander Podcast
Culture Clash: The FPN Weekly Pop Culture Podcast
Couch Potato Theater: The Guilty Pleasure Favorites Podcast
Time Warp: The Fandom Flashback Podcast
The Endzone: An (Unofficial) NFL Podcast
Good Evening: An Alfred Hitchcock Podcast
DiscoVille: A Star Trek Discovery and The Orville Podcast
Hair Metal: The Hair Metal Podcast