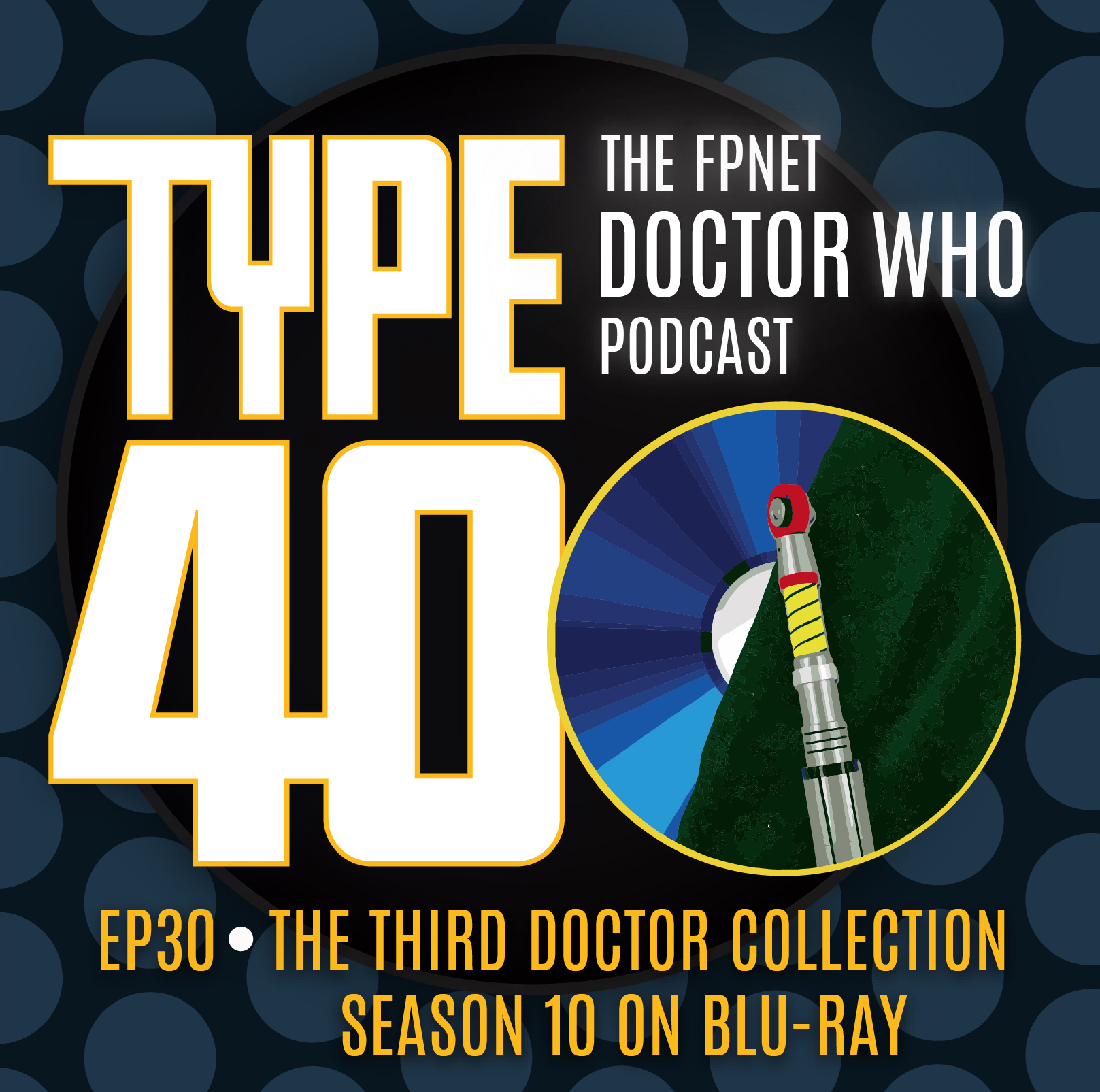 TYPE 40: A Doctor Who Podcast
Episode 30: The Third Doctor Collection – Season 10 on Blu-Ray
Countdown to an action-packed time in Doctor Who history with us, and unwrap the newest Blu-Ray box set in this prestigious collection. The landmark 10th anniversary season starring Jon Pertwee and Katy Manning from 1973, may be before host Dan's time! Fortunately, our Miniscope has captured some extra rare specimens with Spangles and Pacers as bait!
Yes, authentic 70's kid and regular voice Simon Horton's back with us. Whilst roller-skating in from Whooverville is longtime fan and convention guru Gary Finney Zair. The Third Doctor's long overdue some coverage here on Type 40: A Doctor Who Podcast and what better place to start than this explosive, colourful set of unforgettable stories.
 Naturally there'll be talk of all those groovy new special features and a look sideways at the other sights and sounds of '73! The Fandom Podcast Network advises caution navigating Black Holes, Drashigs, Giant Maggots and a whole Dalek fleet. But guarantee flared-trouser sized fun.… just don't mention The Tomorrow People, okay…?
 You can always find TYPE 40: A Doctor Who Podcast on:
• The FPNet Master Feed @Fpnet.podbean.com
• FPNet on Podbean app
• Fandom Podcast Network on: iTunes, Stitcher, Podbean, & Google Play
• Instagram: FandomPodcastNetwork & type40drwho
• Facebook: TYPE 40: A Doctor Who Fandom Podcast: https://www.facebook.com/groups/1628050400840643/?ref=bookmarks
If you would like to contact us directly you can:
• Email: type40drwho@gmail.com
• Twitter: @type40drwho
• Instagram: @type40drwho
• Simon Horton at Doctor Who: The Whonatics on Facebook
• Gary Finney Zair at The Whoovers.org.uk
• Dan Hadley on Instagram: @TheSpacebook
Tee Public:
iTunes: Please leave us a review on iTunes so new fans can find us easier. We LOVE 5 star reviews of course, but we love feedback in general!
Please listen to our other awesome podcasts on the Fandom Podcast Network:
Blood of Kings: A Highlander Podcast
Culture Clash: The FPN Weekly Pop Culture Podcast
Couch Potato Theater: The Guilty Pleasure Favorites Podcast
Time Warp: The Fandom Flashback Podcast
The Endzone: An (Unofficial) NFL Podcast
Good Evening: An Alfred Hitchcock Podcast
DiscoVille: A Star Trek Discovery and The Orville Podcast
Hair Metal: The Hair Metal Podcast