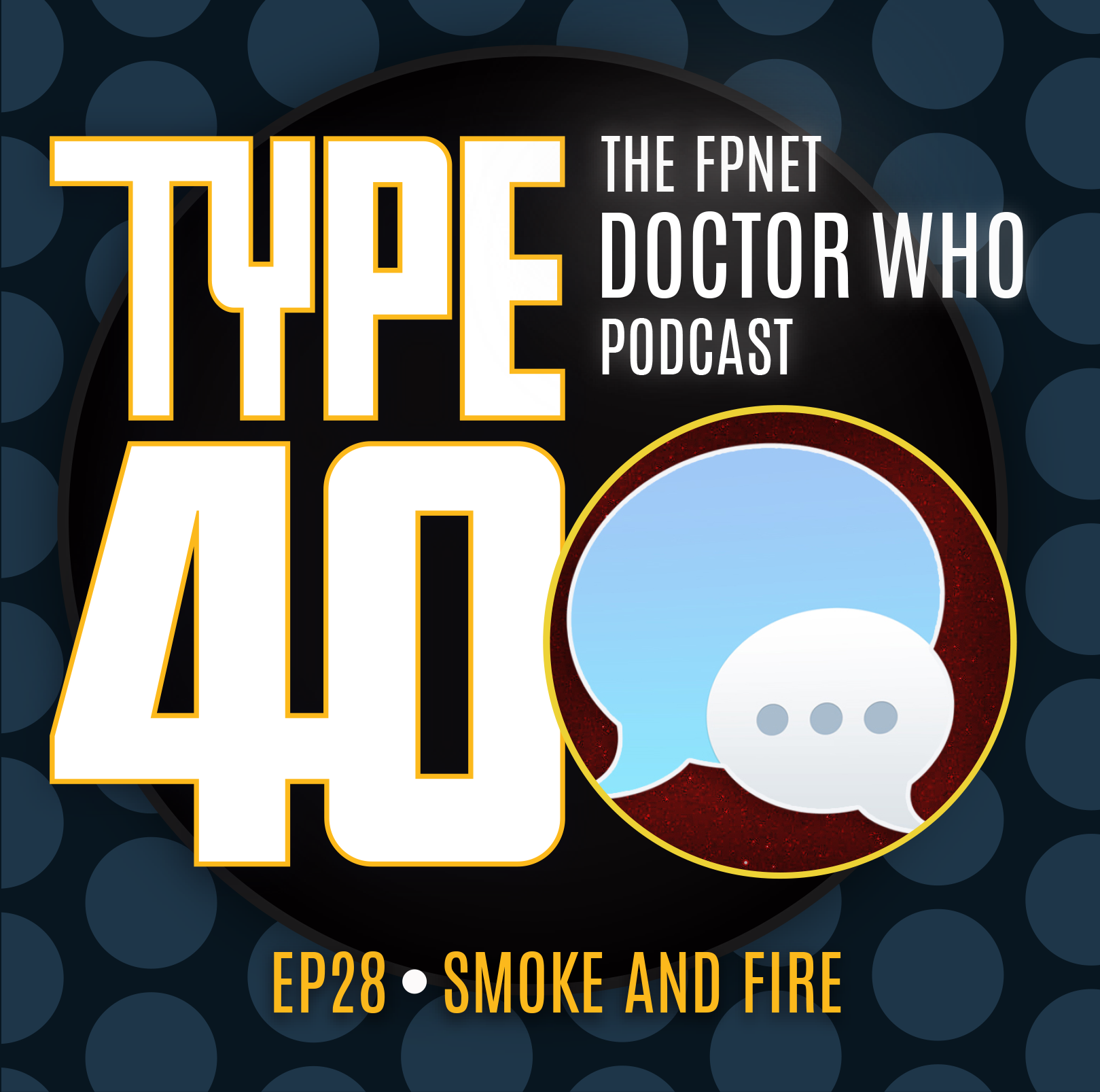 TYPE 40: A Doctor Who Podcast
Episode 28: Smoke and Fire
 It's as if the whole of Doctor Who Fandom just woke up, like a Racnoss nest just now! As rumours went into circulation about the future of series showrunner Chris Chibnall, and lead Jodie Whittaker. So The Fandom Podcast Network quite naturally hit the consoles Recall Circuit to bring you a brand new episode with some of our most prolific, opinionated voices…
Starry-Eyed Sarah Graham and sharp-witted Simon Horton join Dan to track both the whispers and the cries. Speculating some more as to how feasible any of it could be and how the profile of the series is faring in the age of HBO and Netflix. Let alone the social media domains and hashtags.
Do they have any definite answers? Absolutely not, but that's all part of the fun. Because between all that there's broader discussion to be had on the history of the Doctor Who "Rumour Mill". Plus, more of our customary brand of banter and a sprinkle of snark on this edition of Type 40: A Doctor Who Podcast. Download or stream to listen in: you know you want to…
You can always find TYPE 40: A Doctor Who Podcast on:
• The FPNet Master Feed @Fpnet.podbean.com
• FPNet on Podbean app
• Fandom Podcast Network on: iTunes, Stitcher, Podbean, & Google Play
• Instagram: FandomPodcastNetwork & type40drwho
• Facebook: TYPE 40: A Doctor Who Fandom Podcast: https://www.facebook.com/groups/1628050400840643/?ref=bookmarks
If you would like to contact us directly you can:
• Email: type40drwho@gmail.com
• Twitter: @type40drwho
• Instagram: @type40drwho
• Dan on Instagram: @danhadley__
• Simon on Facebook at Doctor Who: The Whonatics
• Sarah on Twitter: @StarryEyedGirl11
Tee Public:
iTunes: Please leave us a review on iTunes so new fans can find us easier. We LOVE 5 star reviews of course, but we love feedback in general!
Please listen to our other awesome podcasts on the Fandom Podcast Network:
Blood of Kings: A Highlander Podcast
Culture Clash: The FPN Weekly Pop Culture Podcast
Couch Potato Theater: The Guilty Pleasure Favorites Podcast
Time Warp: The Fandom Flashback Podcast
The Endzone: An (Unofficial) NFL Podcast
Good Evening: An Alfred Hitchcock Podcast
DiscoVille: A Star Trek Discovery and The Orville Podcast
Hair Metal: The Hair Metal Podcast