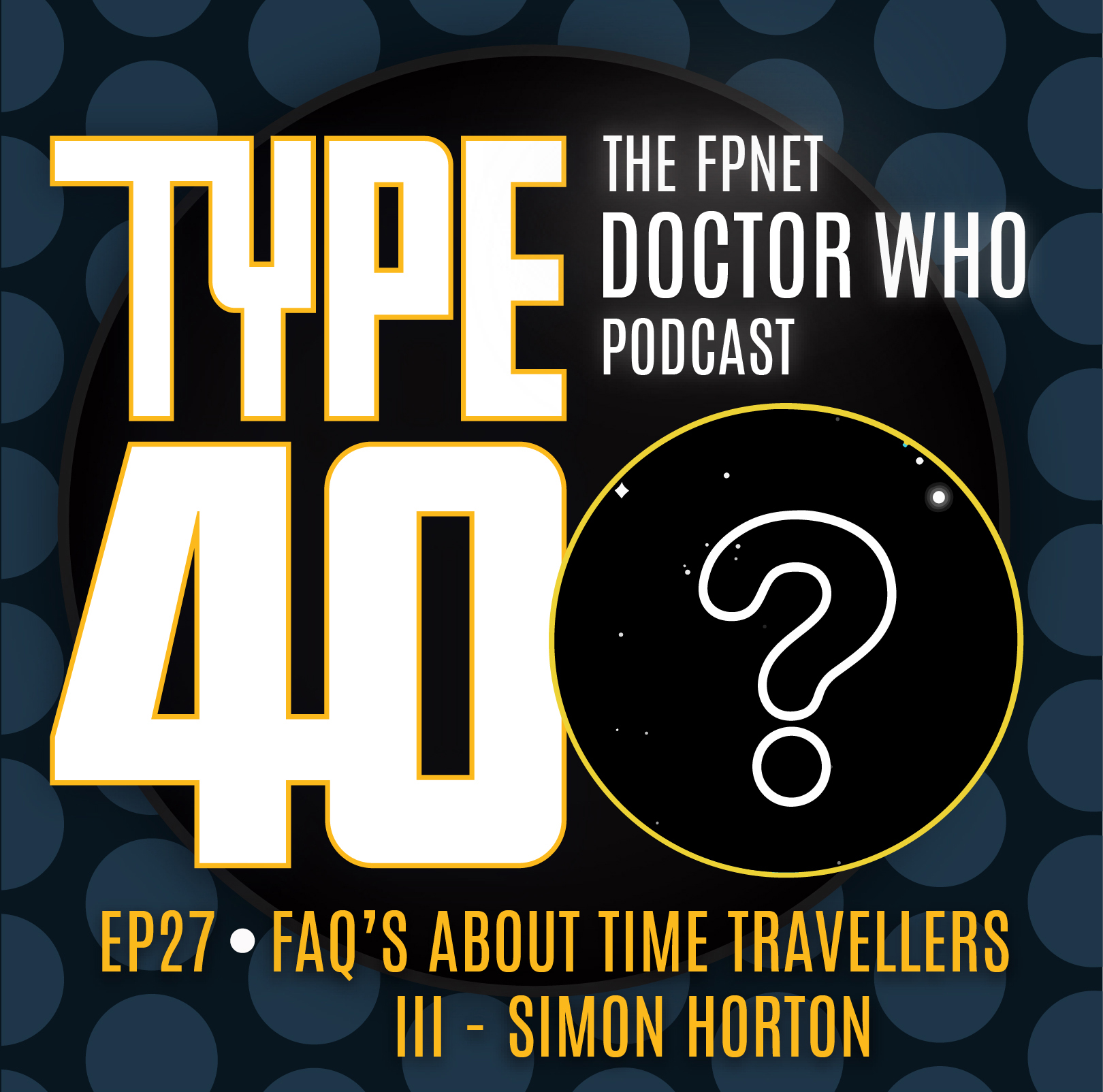 TYPE 40: A Doctor Who Podcast
Episode 27: FAQ's About Time Travellers III – Simon Horton
If there's one thing Doctor Who devotees can do, just like their hero, it's talk! Returning guest voice on the newest Type 40, Simon Horton is no different. Remaining an enthusiastic fan, despite a successful and busy career in the TV industry himself. Asking him back, this time to answer our "Frequently Asked Questions About Time Travellers" was so obvious even an Ogron would do it....!
Whilst the format's simple, the answers rarely are! You'll be as eager to hear more as regular host Dan Hadley when the conversation hops through the decades: Which companions, creatures, Doctors and merchandise will Simon name as favourites? What were the Moment's that made this viewer a fan and which 80's bands will get a mention this time on Type 40: A Doctor Who Podcast...?
The Fandom Podcast Network is proud to be bringing you frank, fun and only very occasionally tangential talk from someone synonymous with this fandom for so long in Great Britain. So why won't he touch the Jelly Babies? Stream or download to find out.....
You can always find TYPE 40: A Doctor Who Podcast on:
• The FPNet Master Feed @Fpnet.podbean.com
• FPNet on Podbean app
• Fandom Podcast Network on: iTunes, Stitcher, Podbean, & Google Play
• Instagram: FandomPodcastNetwork & type40drwho
• Facebook: TYPE 40: A Doctor Who Fandom Podcast:https://www.facebook.com/groups/1628050400840643/?ref=bookmarks
If you would like to contact us directly you can:
• Email: type40drwho@gmail.com
• Twitter: @type40drwho
• Instagram: @type40drwho
• Kyle on Twitter @AKyleW Instantgram @Akylefandom
• Dan on Instagram: @danhadley__
TeePublic Store:
Help support the Fandom Podcast Network and wear some of their fantastic original designs and logos on t-shirts, mugs, hats and more from Tee Public Go to: https://www.teepublic.com/user/fandompodcastnetwork or just search Fandom Podcast Network to find our storefront.
iTunes: 
Please search Fandom Podcast Network on iTunes and leave us a review so new fans can find us easier. We LOVE 5 star reviews of course, but we love feedback in general! 
Please listen to our other awesome podcasts on the Fandom Podcast Network:
Blood of Kings: A Highlander Podcast
Culture Clash: The FPN Weekly Pop Culture Podcast
Couch Potato Theater: The Guilty Pleasure Favorites Podcast
Time Warp: The Fandom Flashback Podcast
The Endzone: An (Unofficial) NFL Podcast
Good Evening: An Alfred Hitchcock Podcast
DiscoVille: A Star Trek Discovery and The Orville Podcast
Hair Metal: The Hair Metal Podcast