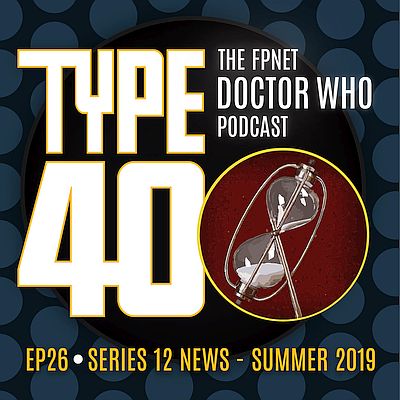 TYPE 40: A Doctor Who Podcast
Episode 26: Series 12 News – Summer 2019
After months travelling the vortex, the Fandom Podcast Network's very own TARDIS returns to 2019 this time. For a full catch up on the long countdown to Doctor Who's return to television next year. Or is It late this year? Yes, there are all sorts of rumours running around like Adipose at the moment. With little coming from the production team themselves, how can host Dan possibly make any sense of it all....?
By roping in two companions from different perspectives of modern fandom, of course. One of the most outspoken figures on You Tube, Noel Glynn brings us a breakdown of filming up to now as well as the general view from The Tardis Zone.
Whilst TV industry professional Simon Horton is back with his perspective on the present and future of our beloved series. Combined with decades of active experience in our fandom. Type 40: A Doctor Who Podcast is proud to offer such a candid, honest and open conversation we know will get people talking. You're not going to want to miss a word!
You can always find TYPE 40: A Doctor Who Podcast on:
• The FPNet Master Feed @Fpnet.podbean.com
• FPNet on Podbean app
• Fandom Podcast Network on: iTunes, Stitcher, Podbean, & Google Play
• Instagram: FandomPodcastNetwork & type40drwho
• Facebook: TYPE 40: A Doctor Who Fandom Podcast:https://www.facebook.com/groups/1628050400840643/?ref=bookmarks
If you would like to contact us directly you can:
• Email: type40drwho@gmail.com
• Twitter: @type40drwho
• Instagram: @type40drwho
• Dan on Instagram: @danhadley__
• Simon on Facebook at Doctor Who: The Whonatics
• Noel Glynn on You Tube as The Tardis Zone Official YouTube Channel
Tee Public:
Please also visit our TeePublic store where you can help support the Fandom Podcast Network while wearing your favorite show logos with pride!
Tee Public Store: https://www.teepublic.com/user/fandompodcastnetwork 
iTunes: Please leave us a review on iTunes so new fans can find us easier. We LOVE 5 star reviews of course, but we love feedback in general!
Please listen to our other awesome podcasts on the Fandom Podcast Network:
Blood of Kings: A Highlander Podcast
Culture Clash: The FPN Weekly Pop Culture Podcast
Couch Potato Theater: The Guilty Pleasure Favorites Podcast
Time Warp: The Fandom Flashback Podcast
The Endzone: An (Unofficial) NFL Podcast
Good Evening: An Alfred Hitchcock Podcast
DiscoVille: A Star Trek Discovery and The Orville Podcast
Hair Metal: The Hair Metal Podcast