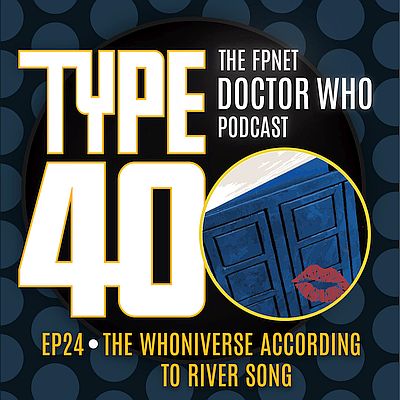 TYPE 40: A Doctor Who Podcast
Episode 24: The Whoniverse According to River Song
When maintenance on the Time-Space continuum takes it down to one lane, the Time Lords warn TARDIS's could collide... and that's exactly what happens on this edition of Type 40. Fugitive co-host Kyle Wagner's back, fumbling at the controls and brings Christian Basel of The Legend of the Traveling TARDIS show right into our console room!
It's only polite full license holder Dan Hadley invite Christian to stay to chat about the fan favourite character of River Song as played by Alex Kingston. Spoilers are everywhere as we recount on screen exploits alongside multiple Doctors and exchange stories of meeting the actress who brought her so vividly to life. As well as talk of audiobook adventures and answering the question of whether we could or should encounter her in TV series to come!
So whilst we can't promise to unwibble or unwobble River Song's timeline for you, the Fandom Podcast Network delivers an affectionate, spirited geek out worth pausing the Vortex Manipulator for....
You can always find TYPE 40: A Doctor Who Podcast on:
• The FPNet Master Feed @Fpnet.podbean.com
• FPNet on Podbean app
• Fandom Podcast Network on: iTunes, Stitcher, Podbean, & Google Play
• Instagram: FandomPodcastNetwork & type40drwho
• Facebook: TYPE 40: A Doctor Who Fandom Podcast:
If you would like to contact us directly you can:
• Email: type40drwho@gmail.com
• Twitter: @type40drwho
• Instagram: @type40drwho
• Kyle on Twitter @AKyleW Instantgram @Akylefandom
• Dan on Instagram: @danhadley__
• Join Christian Basel's The Legend of the Traveling TARDIS here....
https://www.facebook.com/TheTravelingTardis/
Tee Public:
iTunes: Please leave us a review on iTunes so new fans can find us easier. We LOVE 5 star reviews of course, but we love feedback in general!
Please listen to our other awesome podcasts on the Fandom Podcast Network:
Blood of Kings: A Highlander Podcast
Culture Clash: The FPN Weekly Pop Culture Podcast
Couch Potato Theater: The Guilty Pleasure Favorites Podcast
Time Warp: The Fandom Flashback Podcast
The Endzone: An (Unofficial) NFL Podcast
Good Evening: An Alfred Hitchcock Podcast
DiscoVille: A Star Trek Discovery and The Orville Podcast
Hair Metal: The Hair Metal Podcast