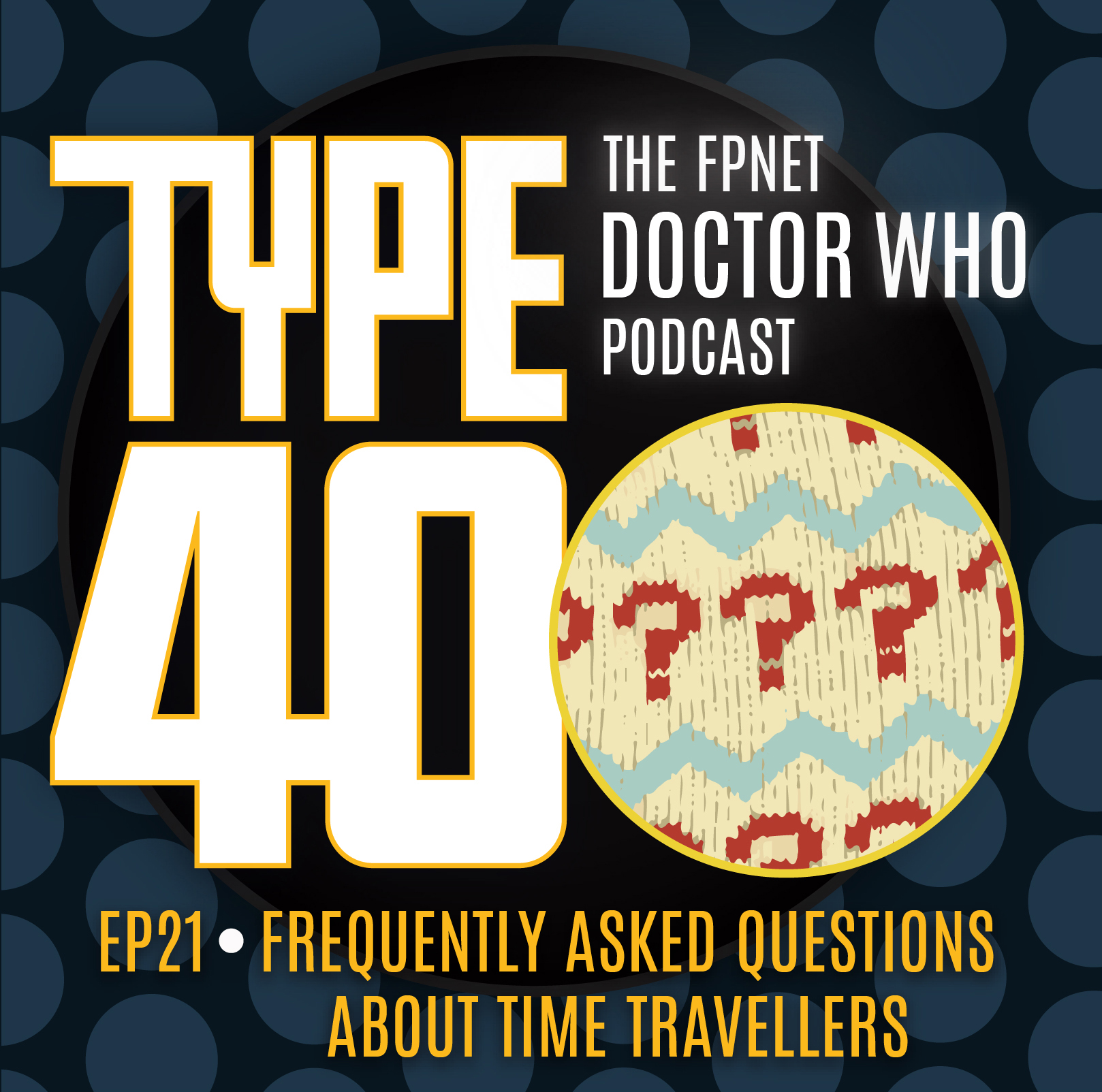 TYPE 40: A Doctor Who Podcast
Episode 21: Frequently Asked Questions About Time Travellers
Spinning out of the vortex and exploding with regeneration energy, it's a brand new edition of TYPE 40: A Doctor Who Podcast. Our hosts are fresh from the Zero Room and ready to begin a whole run of conversations celebrating this beloved television series that has shaped the landscape of science fiction for over five decades and counting......
On this opening episode of your renewed Type 40, regular voices Dan, Sarah and Kyle reconvene in the TARDIS canteen to casually catch up with the state of the Whoniverse.... And disclose key answers to those often posed questions we all seem to trade as Doctor Who fans!
A small Matrix's worth of favourite Doctors, Companions, Monsters and "firsts" are all revealed in this premiere to our second season on the Fandom Podcast Network. Open the Jelly babies and listen in to see which of their choices surprises you most!
You can always find TYPE 40: A Doctor Who Podcast on:
• The FPNet Master Feed @Fpnet.podbean.com
• FPNet on Podbean app
• Fandom Podcast Network on: iTunes, Stitcher, Podbean, & Google Play
• Instagram: FandomPodcastNetwork & type40drwho
• Facebook: TYPE 40: A Doctor Who Fandom Podcast:https://www.facebook.com/groups/1628050400840643/?ref=bookmarks
If you would like to contact us directly you can:
• Email: type40drwho@gmail.com
• Twitter: @type40drwho
• Instagram: @type40drwho
• Sarah on Instagram: @starryeyedgirl
• Kyle on Twitter @AKyleW Instantgram @Akylefandom
• Dan on Instagram: @danhadley__
Tee Public:
iTunes: Please leave us a review on iTunes so new fans can find us easier. We LOVE 5 star reviews of course, but we love feedback in general!
Please listen to our other awesome podcasts on the Fandom Podcast Network:
Blood of Kings: A Highlander Podcast
Culture Clash: The FPN Weekly Pop Culture Podcast
Couch Potato Theater: The Guilty Pleasure Favorites Podcast
Time Warp: The Fandom Flashback Podcast
The Endzone: An (Unofficial) NFL Podcast
Good Evening: An Alfred Hitchcock Podcast
DiscoVille: A Star Trek Discovery and The Orville Podcast
Hair Metal: The Hair Metal Podcast