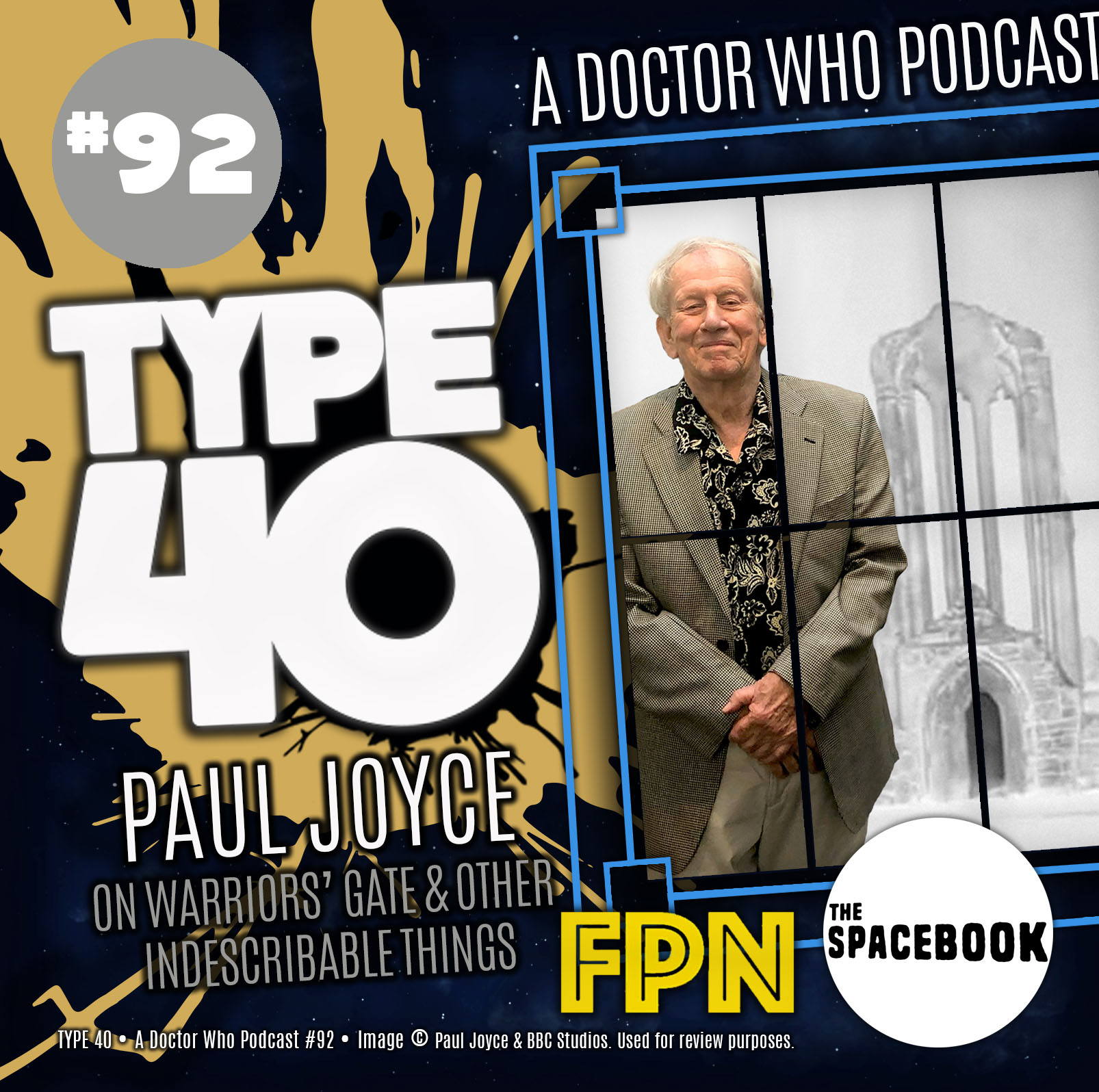 Type 40 • A Doctor Who Podcast
Episode 92: Paul Joyce on Warriors' Gate and Other Indescribable Things
We proudly present an exclusive in-depth interview with a most enigmatic and ground-breaking figure in the history of the world's longest running Sci-fi and fantasy television series…
In 2021 Paul Joyce is acknowledged as one of the UK's foremost producers of arts documentaries. And an internationally exhibited photographer and painter. To followers of Doctor Who, he's the mysterious, maverick director of that most perplexing of classic stories: Warriors' Gate. Which first screened in 1980 and starred Tom Baker.
So much mythology has built up around the making of this adventure in the intervening years. Regular hosts Simon Horton and Dan Hadley are all ears as Paul details the process behind taking it from treatment to the screen. As well as recounting events from his life and prestigious three decade long creative career in filmmaking, photography, and art.
Paul's a natural storyteller and you'll be as curious and captivated to hear more. Including answers to many fan questions and myths; was he really fired three times by the producer? How does he feel about what made it to television? How did he create the shot of the spinning coin and what could it all mean?
It's our very great privilege to bring you this insightful, unique, extraordinary, and candid interview with the multi-talented Paul Joyce. To stream or download today…
Stream of download HERE:
Find Type 40 • A Doctor Who Podcast feed here at:
• type40.podbean.com
Listen to Type 40 on:
Apple Podcasts, Spotify, Stitcher, Google Play, iHeart Radio,
Tune In and the Podbean App.
• Or as part of FPNet Master Feed @Fpnet.podbean.com
If you would like to contact us directly you can:
• Email: type40drwho@gmail.com
• Twitter: @type40drwho
• Instagram: @type40doctorwho
• Facebook: Type 40 • A Doctor Who Fan Page
• Join the Facebook group Type 40 • A Doctor Who Fan Group:
* Find out about Paul Joyce's Life Behind the Lens exhibition here:
https://www.hampshireculture.org.uk/event/paul-joyce-life-behind-lens?gclid=CjwKCAjwiY6MBhBqEiwARFSCPr7j2hG4_0SyEZmQNbGKuBc0dLScfGZeO3tZMTNODcSc74-Br8hBwRoCrSsQAvD_BwE
** Order prints and copies of Paul Joyce's new book:
https://shop.hampshireculture.org.uk/collections/paul-joyce-a-life-behind-the-lens
*** Visit Paul Joyce's website here at Lucida
 http://www.lucidaproductions.com/
• Dan Hadley on Twitter and Instagram @The_spacebook
Subscribe to The Spacebook YouTube channel for extended and extra Type 40:
https://www.youtube.com/channel/UCh8T5-mFYWblZo6lnakCSCw
• Simon Horton on Facebook at Doctor Who: The Whonatics
TeePublic Store:
Help support the Fandom Podcast Network and wear some of their fantastic original designs and logos on t-shirts, mugs, hats and more from Tee Public Go to: https://www.teepublic.com/user/fandompodcastnetwork or just search Fandom Podcast Network to find our storefront.
Please listen to our other awesome podcasts on the Fandom Podcast Network:
Master Feed: https://fpnet.podbean.com/