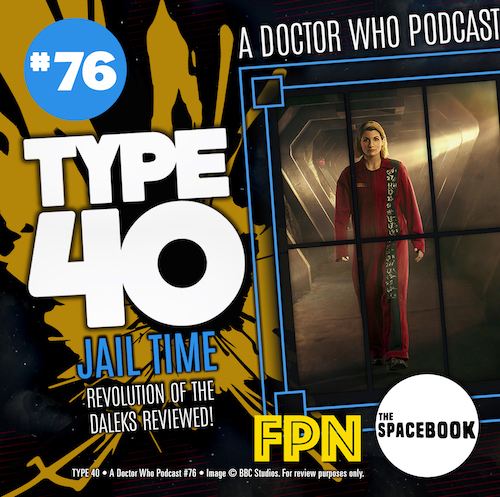 Type 40 • A Doctor Who Podcast
Episode 76: Jail Time – Revolution of the Daleks Review
There's space at the console of the Type 40 reserved for you, on the latest edition of our Doctor Who podcast: Yes, it's a long awaited full review of the 2021's feature length New Year's Day special, Revolution of the Daleks starring Jodie Whittaker and returning legend John Barrowman…
Seeing as it's the first new chunk of the TV series in months, we thought it an Ideal opportunity to invite brand new voices and new opinions to go with: Writer and television connoisseur Hannah Cooper brings her take on both Drone and Bronze Daleks! Whilst actor and voice artist Barnaby Jago proves mettle by dodging plot bubbles!
Completing the lineup are returning Time Agent Kyle Wagner and regular host Dan Hadley. It's all to guarantee a lively, challenging listen. And the kind of fresh and frank exchange of views Type 40: A Doctor Who Podcast does best! What will our crowded TARDIS full score the latest adventure in Space & Time? Stream direct or download below…
Find Type 40 • A Doctor Who Podcast feed here at:
• type40.podbean.com
Listen to Type 40 on:
Apple Podcasts, Spotify, Stitcher, Google Play, iHeart Radio, Tune In and the Podbean App.
• Or as part of FPNet Master Feed @Fpnet.podbean.com
If you would like to contact us directly you can:
• Email: type40drwho@gmail.com
• Twitter: @type40drwho
• Instagram: @type40doctorwho
• Facebook: Type 40 • A Doctor Who Fan Page
• Join the Facebook group Type 40 • A Doctor Who Fan Group:
• Hannah Cooper on Twitter @MrsSimonTemplar
• Barnaby Jago on Twitter @BarnabyJago
• Kyle Wagner on Twitter @AKyleW Instantgram @Akylefandom
• Dan Hadley on Twitter and Instagram @The_spacebook
*Read Hannah Cooper's fantastic TV blog here:
http://visualmutterings.com/
** Hear Barnaby Jago read audiobooks here on YouTube:
https://www.youtube.com/channel/UCMhP3zLtdZGZB3HsdYGwAeQ
TeePublic Store:
Help support the Fandom Podcast Network and wear some of their fantastic original designs and logos on t-shirts, mugs, hats and more from Tee Public Go to: https://www.teepublic.com/user/fandompodcastnetwork or just search Fandom Podcast Network to find our storefront.
Please listen to our other awesome podcasts on the Fandom Podcast Network:
Master Feed: https://fpnet.podbean.com/