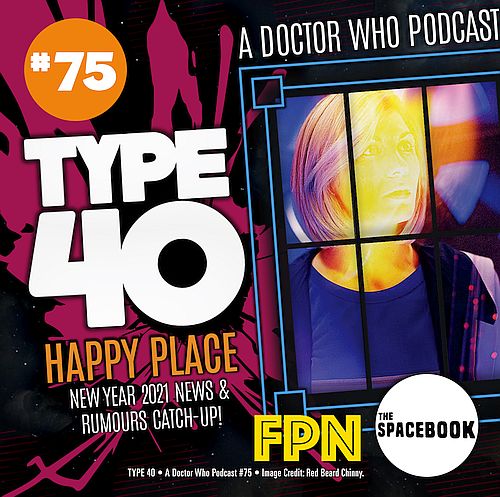 Type 40 • A Doctor Who Podcast Episode 75: Happy Place
Tumbling out of the vortex and into your ears: it's our Doctor Who podcast! After several trips through the decades lately, it's time to check back in with present day. For a general catch-up and look at the cataclysmic rumours circulating the longest running sci-fi and fantasy series in the world as the New Year began…
Regular host Dan Hadley talks with Simon Horton about the strange, sometimes strained relationship the fan base has with the rumour mill that's surrounded Doctor Who for most of its existence. Whether it's even been on screen or not! Then connects with Starry Eyed Sarah Graham to compare notes on the still yet to be denied departure of the series current lead, Jodie Whittaker. Believed to be happening sooner rather than later!
Plus, there's a preview of our review of the latest feature length special, Revolution of the Daleks and more. When you stream direct or download the MP3 of Type 40: A Doctor Who Podcast here…
Find Type 40 • A Doctor Who Podcast feed here at:
• type40.podbean.com
Listen to Type 40 on:
Apple Podcasts, Spotify, Stitcher, Google Play, iHeart Radio, Tune In and the Podbean App.
• Or as part of FPNet Master Feed @Fpnet.podbean.com
If you would like to contact us directly you can:
• Email: type40drwho@gmail.com
• Twitter: @type40drwho
• Instagram: @type40doctorwho
• Facebook: Type 40 • A Doctor Who Fan Page
• Join the Facebook group Type 40 • A Doctor Who Fan Group:
• Sarah Graham on YouTube
• Simon Horton @The Whonatics on Facebook
• Dan Hadley on Twitter and Instagram @The_spacebook
TeePublic Store:
Help support the Fandom Podcast Network and wear some of their fantastic original designs and logos on t-shirts, mugs, hats and more from Tee Public Go to: https://www.teepublic.com/user/fandompodcastnetwork or just search Fandom Podcast Network to find our storefront.
Please listen to our other awesome podcasts on the Fandom Podcast Network:
Master Feed: https://fpnet.podbean.com/