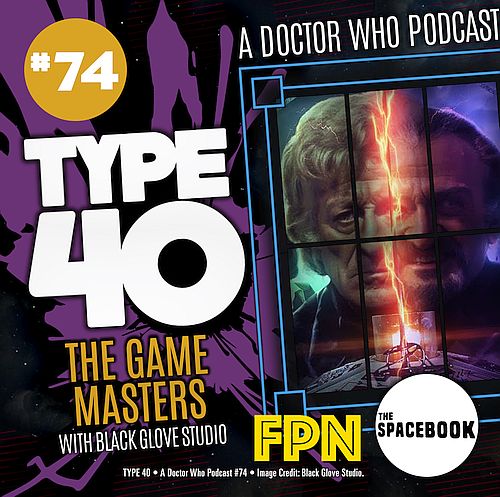 Type 40 • A Doctor Who Podcast Episode 74: The Game Masters
Unfinished business! The history of the world's longest running Science Fiction and Fantasy series is mined with such. Few projects are more dreamt about than the planned final meeting of the Doctor with his Master, in the latter days of the Jon Pertwee era. An epic finale viewers and the actors were denied by a tragic accident.
To mark the centenary of Roger Delgado who originated the character of the Master, that story has been created and told. On audio by a team of dedicated, creative fans lead by writer and producer Chris McKeon. He joins regular host, Dan Hadley to tell the story of Black Glove Studio and the creative process that brought The Final Game to our ears, at long last.
Bringing along special guest, voice actor Terry R Cooper. Who plays a massive integral part in casting this spell so well. Type 40: A Doctor Who Podcast thoroughly recommends this drama and this edition is the perfect, non-spoiler appetizer…
You can always find Type 40 • A Doctor Who Podcast at:
• type40.podbean.com
• Listen to Type 40 on:
Apple Podcasts, Spotify, Stitcher, Google Play, iHeart Radio, Tune In and the Podbean App.
• Or as part of FPNet Master Feed @Fpnet.podbean.com
If you would like to contact us directly you can:
• Email: type40drwho@gmail.com
• Twitter: @type40drwho
• Instagram: @type40doctorwho
• Facebook: Type 40 • A Doctor Who Fan Page
• Join the Facebook group Type 40 • A Doctor Who Fan Group:
• Dan Hadley on Twitter and Instagram @The_spacebook
*Terry R Cooper is The Master in The Final Game and in our intro on Type 40.
https://linktr.ee/terrycooper?fbclid=IwAR0yr_t5O-3RcSfCwT9i-DhNo_ZvEpkcoFP4rg8E6sJR-NOMN-4v2ZRQRlc
Follow Black Glove Studio on Twitter:
https://twitter.com/StudioGlove
Find Black Glove Studio on Facebook:
https://www.facebook.com/blackglovestudio/
Listen to The Final Game and other Black Glove Studio productions here:
https://www.youtube.com/channel/UCm3ccgX8FMGhfmCPPsV1ESw
TeePublic Store:
Help support the Fandom Podcast Network and wear some of their fantastic original designs and logos on t-shirts, mugs, hats and more from Tee Public Go to: https://www.teepublic.com/user/fandompodcastnetwork or just search Fandom Podcast Network to find our storefront.
Please listen to our other awesome podcasts on the Fandom Podcast Network:
Master Feed: https://fpnet.podbean.com/