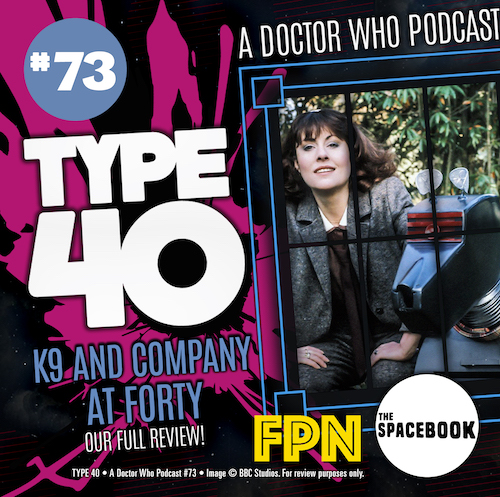 Type 40 • A Doctor Who Podcast
Episode 73: K9 and Company at 40: A Girl's Best Friend Review!
There's a special place in the hearts of all Doctor Who fans for the Doctor's most diminutive of companions: the remarkable, electronic, robotic dog K9. The appeal of this character both at the Doctor's feet and in his own right is undeniable and evergreen!
So popular was he that long before Captain Jack bounded into the Torchwood hub, Class assembled or Sarah Jane moved to Bannerman Road? It was K9 who first secured a commission from the BBC for a spin-off to our favorite show back in 1981, pet project of producer John Nathan-Turner. Broadcasting over Christmas that year, thrilling and chilling generations of lucky British families. Or at least those who's transmitter hadn't gone down that evening!
Regular hosts Dan and Simon are unapologetic in their adoration of K9 and jumped at the chance to celebrate the anniversary of that one-off, 50-minute pilot adventure! Calling in real life robot dog handler JT to sing a late Christmas chorus, review and speculate on what could've been…
You can always find Type 40 • A Doctor Who Podcast at:
• type40.podbean.com
• Listen to Type 40 on:
Apple Podcasts, Spotify, Stitcher, Google Play, iHeart Radio, Tune In and the Podbean App.
• Or as part of FPNet Master Feed @Fpnet.podbean.com
If you would like to contact us directly you can:
• Email: type40drwho@gmail.com
• Twitter: @type40drwho
• Instagram: @type40doctorwho
• Facebook: Type 40 • A Doctor Who Fan Page
• Join the Facebook group Type 40 • A Doctor Who Fan Group:
• Simon Horton @The Whonatics on Facebook
• Dan Hadley on Twitter and Instagram @The_spacebook
TeePublic Store:
Help support the Fandom Podcast Network and wear some of their fantastic original designs and logos on t-shirts, mugs, hats and more from Tee Public Go to: https://www.teepublic.com/user/fandompodcastnetwork or just search Fandom Podcast Network to find our storefront.
Please listen to our other awesome podcasts on the Fandom Podcast Network:
Master Feed: https://fpnet.podbean.com/