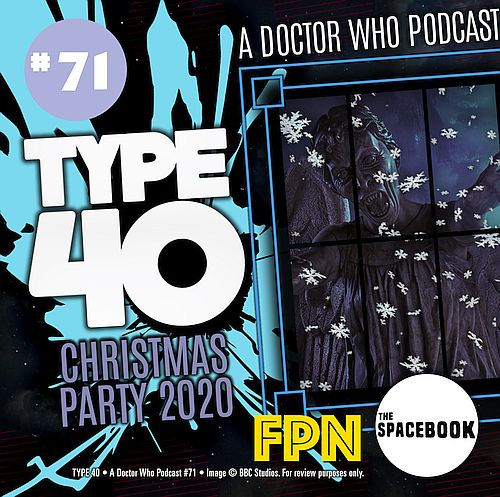 Type 40 • A Doctor Who Podcast
Episode 71: Christmas Party 2020
Make sure you've a mug of something hot to sip and a bobbly to pop on, for this wintry journey aboard our Doctor Who podcast! There's a stocking full of candid Christmassy talk from across all of space and time, just waiting by our fireside…
Huddle in and share the gift of conversation here with friends and fellow fans on this as-live edition, presenting our Christmas Party for 2020! Christmas Starry Eyed Girl, Sarah Graham's here! Along with the ever jolly Simon Horton and regular keeper of the grotto, Dan Hadley. They're joined by several friends from shows past. Absolutely no ghosts though! Remember the Doctor doesn't believe in ghosts…?
Which rabbit holes will the chat go down? Will any of them disgrace themselves in the customary awkward, Christmas trivia quiz?? And prepare a drumroll as we reveal which Doctor Who legend will be crowned Type 40's Companion of 2020!! Merry Christmas and our very best hopes for the New Year from everybody at Type 40: A Doctor Who Podcast.
Stream or download the MP3 direct, at the link ho-ho-here!
You can always find Type 40 • A Doctor Who Podcast on:
• The brand new Type 40 Podbean feed @type40.podbean.com
• On The FPNet's Master Feed @Fpnet.podbean.com
• Listen to The Fandom Podcast Network on:
Apple Podcasts, Spotify, Stitcher, Google Play, iHeart Radio and Pandora.
If you would like to contact us directly you can:
• Email: type40drwho@gmail.com
• Twitter: @type40drwho
• Instagram: @type40doctorwho
• Facebook: Type 40 • A Doctor Who Fan Page
• Join the Facebook group Type 40 • A Doctor Who Fan Group:
• Simon Horton @The Whonatics on Facebook
• Sarah Graham @StarryEyedGirl on Parler
• Dan Hadley on Twitter and Instagram @The_spacebook
TeePublic Store:
Help support the Fandom Podcast Network and wear some of their fantastic original designs and logos on t-shirts, mugs, hats and more from Tee Public Go to: https://www.teepublic.com/user/fandompodcastnetwork or just search Fandom Podcast Network to find our storefront.
Please listen to our other awesome podcasts on the Fandom Podcast Network:
Master Feed: https://fpnet.podbean.com/