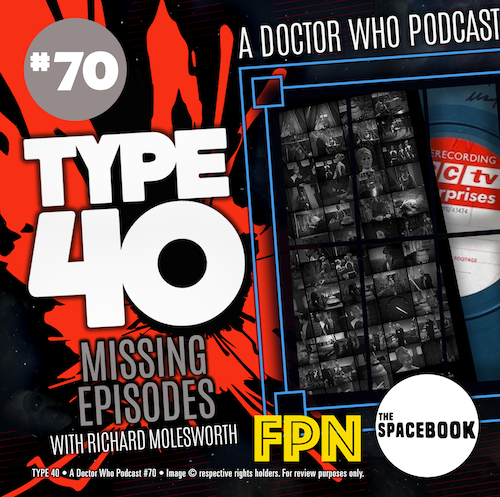 Type 40 • A Doctor Who Podcast
Episode 70: Missing Episodes with Richard Molesworth
It's a reality that haunts Doctor Who fans: how large quantities of the series earliest episodes officially no longer exist. Wiped, taken or destroyed over a period of time as part of a general housekeeping and money saving initiative at the BBC itself, decades ago.
Writer and lifelong fan Richard Molesworth is the man who's written the definitive work on the misty saga of the missing episodes, titled "Wiped!". And he's our guest on the latest edition of Type 40 for an exclusive, erudite and candid interview. With his old mate Simon Horton and regular host Dan Hadley.
Several years have passed since the last lost episodes found their way back to the archives and onto DVD. Yet rumours of new finds and twists and turns to this tale persist, as always! Listen in for a conversation that's frank, witty and right up to date. Even dispelling some often repeated urban myths. Don't miss a single word, when you stream or download this episode direct at these links below!
You can always find Type 40 • A Doctor Who Podcast on:
• The FPNet Master Feed @Fpnet.podbean.com
• FPNet on the Podbean app
• Listen to The Fandom Podcast Network on:
Apple Podcasts, Spotify, Stitcher, Google Play, iHeart Radio and Pandora.
If you would like to contact us directly you can:
• Email: type40drwho@gmail.com
• Twitter: @type40drwho
• Instagram: @type40doctorwho
• Facebook: Type 40 • A Doctor Who Fan Page
• Join the Facebook group Type 40 • A Doctor Who Fan Group:
• Simon Horton @The Whonatics on Facebook
• Dan Hadley on Twitter and Instagram @The_spacebook
*Order Wiped! Doctor Who's Missing Episodes by Richard Molesworth from
Publishers Telos Books here:
https://telos.co.uk/shop/doctor-who/wiped-doctor-who-missing-episodes/
*Read about the work of the Doctor Who Restoration Team here:
http://www.restoration-team.co.uk/
TeePublic Store:
Help support the Fandom Podcast Network and wear some of their fantastic original designs and logos on t-shirts, mugs, hats and more from Tee Public Go to: https://www.teepublic.com/user/fandompodcastnetwork or just search Fandom Podcast Network to find our storefront.
Please listen to our other awesome podcasts on the Fandom Podcast Network:
Master Feed: https://fpnet.podbean.com/
TYPE 40 ALSO now has it's own Page and feed you can find here:https://type40.podbean.com