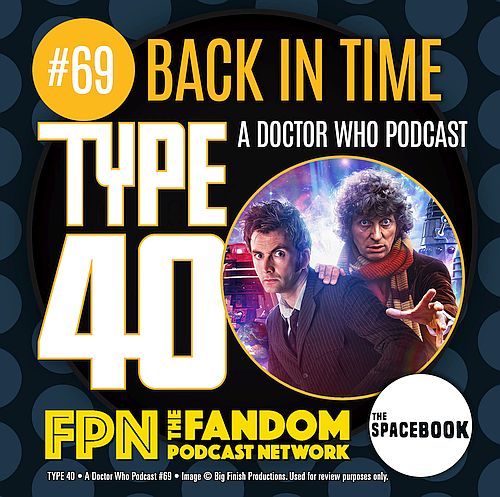 Type 40 • A Doctor Who Podcast Episode 69: Back in Time
Time to materialize again as Type 40 returns to the pod catcher of your choice. There's a new desktop and theme! But the same blend of reviews, discussions and interviews. With plenty of treats and surprises to come, we promise. What better way to begin Season 3 of our Doctor Who Podcast than to talk Multi-Doctor!?
Designated driver Dan Hadley's back with regular co-hosts Sarah Graham and Simon Horton to not only review the landmark Big Finish special release audio drama, Out of Time. Which stars arguably the two most popular of all the Doctors in Tom Baker and David Tennant. But to play "Fantasy Match-ups" with the incarnations of their choice! As well as answer some of the mysteries about similar, earlier on screen escapades!
Stream our latest episode direct or download the MP3. And we love feedback so don't forget to reach out to Type 40 and The Fandom Podcast Network, if you're glad to have us back in your ears. Now, open the jelly babies and enjoy!
You can always find Type 40 • A Doctor Who Podcast on:
• The FPNet Master Feed @Fpnet.podbean.com
• FPNet on the Podbean app
• Listen to The Fandom Podcast Network on:
Apple Podcasts, Spotify, Stitcher, Google Play, iHeart Radio and Pandora.
If you would like to contact us directly you can:
• Email: type40drwho@gmail.com
• Twitter: @type40drwho
• Instagram: @type40doctorwho
• Facebook: Type 40 • A Doctor Who Fan Page
• Join the Facebook group Type 40 • A Doctor Who Fan Group:
• Sarah Graham on Parler: @StarryEyedGirl
• Simon Horton @The Whonatics on Facebook
• Dan Hadley on Twitter and Instagram @The_spacebook
*Doctor Who: Out of Time is available from Big Finish Productions here:
https://www.bigfinish.com/releases/v/doctor-who-out-of-time-1-2272
TeePublic Store:
Help support the Fandom Podcast Network and wear some of their fantastic original designs and logos on t-shirts, mugs, hats and more from Tee Public Go to: https://www.teepublic.com/user/fandompodcastnetwork or just search Fandom Podcast Network to find our storefront.
Please listen to our other awesome podcasts on the Fandom Podcast Network:
Master Feed: https://fpnet.podbean.com/
Blood of Kings: A Highlander Podcast
https://fpnet.podbean.com/category/blood-of-kings/
Culture Clash: The FPN Weekly Pop Culture Podcast
https://fpnet.podbean.com/category/culture-clash/
Couch Potato Theater: The Guilty Pleasure Favorites Podcast
https://fpnet.podbean.com/category/couch-potato-theater/
Time Warp: The Fandom Flashback Podcast
https://fpnet.podbean.com/category/time-warp/
The Endzone: An (Unofficial) NFL Podcast
https://fpnet.podbean.com/category/the-endzone/
Good Evening: An Alfred Hitchcock Podcast
https://fpnet.podbean.com/category/good-evening-an-alfred-hitchcock-podcast/
Union Federation: A Star Trek Discovery and The Orville Podcast
https://fpnet.podbean.com/category/UnionFederation
Hair Metal: The Hair Metal Podcast