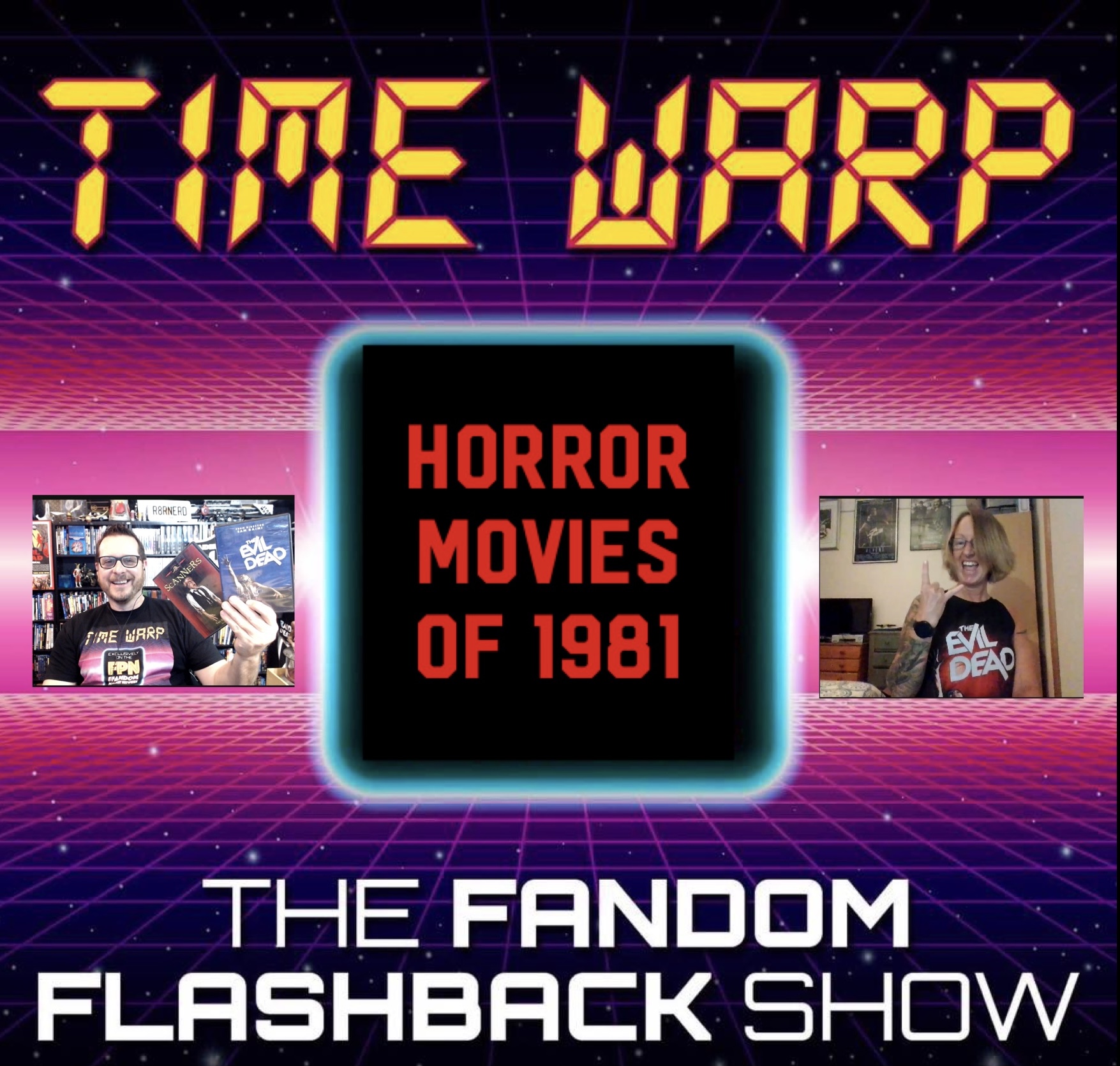 Time Warp: Horror Movies Of 1981 - A Breakout Year For Horror Films. Many from the "Video Nasty" List.
Join the first couple of the Fandom Podcast Network Kevin Reitzel & Erin Gill for the most romantic episode ever (In their own unique way)
Over the last few years here at the Fandom Podcast Network, we celebrated the movies of the 1980's, and 1990's. This year we decided to Time Travel back to the 80's again, and look back on the pop culture of  movies, TV, music and notable events of 1981, which are celebrating their 40th Anniversary in 2021!
In this episode of Time Warp 1981, we are celebration a special year of the Horror Film Genre. 1981 was a breakout year for Horror films. So many legendary and cult favorite horror films came out in 1981, 40 years ago!
We picked 48 stand out 1981 horror movies to discuss for your creepy and scary pleasure. Many of these films were on the UK Video Nasty List and were banned! Here is a small sample of the moves we will cover:
- The Evil Dead 
- An American Werewolf in London 
- Possession 
- Scanners 
- The Howling 
- Dead & Buried 
- Deadly Blessing
- Halloween II 
- Wolfen 
- Friday The 13th Part 2
- Porno Holocaust
- My Bloody Valentine
- Roadgames
- The House by the Cemetery
- The Hand
1981 gave us a banner year for horror movies, an that's what we are here to celebrate on this special presentation of the Time Warp here on the Fandom Podcast Network. We will celebrate, debate and discuss this fantastic year of horror movies. So travel back in time with us, and enjoy, Time Warp: Horror Movies Of 1981 - A Breakout Year For Horror Films! 
Where to find the Fandom Podcast Network / Contact Info:
Fandom Podcast Network Contact Information
- The FANDOM PODCAST NETWORK YouTube Channel: 
https://www.youtube.com/c/FandomPodcastNetwork
- Master feed for all FPNet Audio Podcasts: https://fpnet.podbean.com/
- Facebook: https://www.facebook.com/Fandompodcastnetwork
- Email: fandompodcastnetwork@gmail.com
- Instagram: https://www.instagram.com/fandompodcastnetwork/
- Twitter: @fanpodnetwork / 
https://twitter.com/fanpodnetwork
FPN Host & Guests Contact Info On Social Media:
- Kevin Reitzel on Twitter & Instagram: @spartan_phoenix
- Erin Gill on Instagram: @eringill666
- Tee Public Fandom Podcast Network Store: