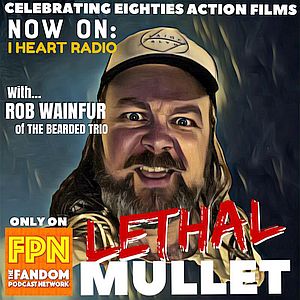 Lethal Mullet Podcast: Episode 35: Happy New Year with Rob Wainfur
On Tonight's episode the Lethal Mullet we celebrate the New Year with a look at some of the best holiday films, and tv that you can enjoy too watching over the holidays! With the Mullet tonight is Rob Wainfur!
Subscribe on:
Apple / Stitcher / Podbean / Google Play / Spotify
Contact:
Facebook: bit.ly/2MacoeW
Instagram: bit.ly/2o5k3Ds
Twitter: bit.ly/2o4PopS
Adam on Twitter: bit.ly/330oIoQ
Facebook: bit.ly/35gsz3c
Leave us a review on Apple Podcasts Reviews!
Find out Tees @ TeePublic: bit.ly/2ICiu6X
Please listen to our other awesome podcasts on the Fandom Podcast Network:
FPN Master Feed: bit.ly/2r9vcAO
Blood of Kings: bit.ly/2RgMx6r
Culture Clash: bit.ly/2E06BXG
Couch Potato Theater: bit.ly/2FLaIsm
Time Warp: bit.ly/2DKLS9s
The Endzone: bit.ly/2QpJbAE
Good Evening: bit.ly/2DYlSZd
The Union Federation: bit.ly/2TKfSI9
Hair Metal: bit.ly/2Ri8amX
Lethal Mullet: bit.ly/2BzHOYa
#action #movies #celebration podcast #australia #lethalmulletpodcast #merry #christmas #diehard #lethalweapon #christmasvacation #national #lampoons #holiday #movieswithkyle