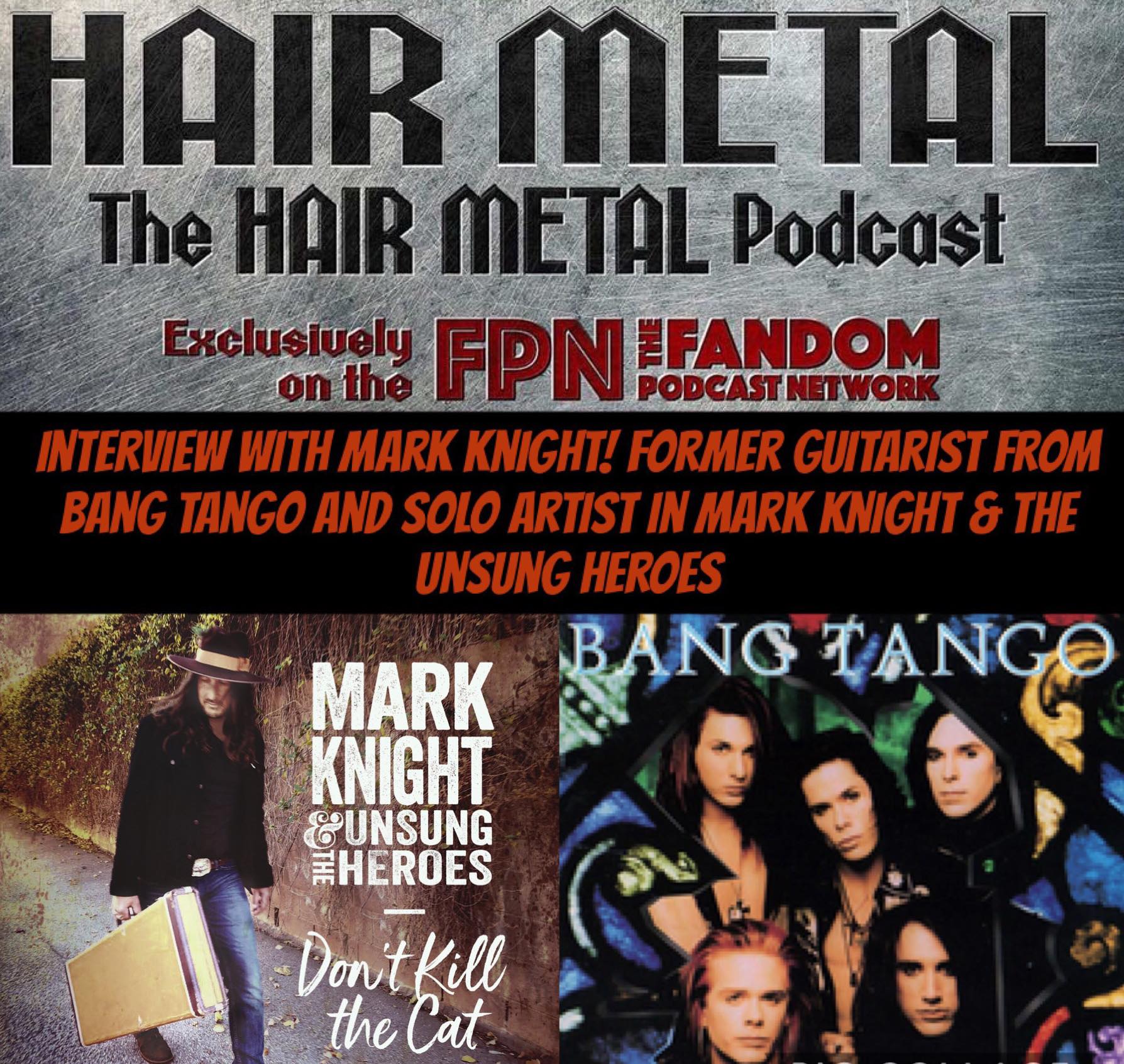 Hair Metal Podcast 09: MARK KNIGHT Interview - Former BANG TANGO Guitarist & Solo Artist in MARK KNIGHT & THE UNSUNG HEROES
Welcome to the Fandom Podcast Network's special presentation of... THE HAIR METAL PODCAST! 
The Hair Metal Podcast cover bands that reached several levels of popularity and notoriety during the mid to late 1980's "Hair Metal" explosion. We take an in-depth look into the bands that defined the style and sound of Hair Metal, and many other bands that may or may not be categorized as Hair metal, but did reach some popularity during the Hair Metal rush of the 1980's. 
 
Kevin Reitzel is your host for The Hair Metal Podcast. Kevin's special guest for this Hair Metal Podcast episode, is Mark Knight, former BANG TANGO Guitarist, and now solo artist, as singer and guitarist for his newest band Mark Knight and The Unsung Heroes! 
Bang Tango was one of those bands that were on the edge of approaching super stardom during the Hair Metal scene in the late 80's. Bang Tango was formed in 1988 in Los Angeles by guitarist Mark Knight and bassist Kyle Kyle in 1988. Knight recruited a second guitarist Kyle Stevens. Soon after vocalist Joe Leste joined the band as its front man which led to Leste's childhood friend, Tigg Ketler, completing the 5 piece line up as Bang Tango's drummer. 
Bang Tango's initial release, a live EP titled Live Injection came out in early 1989 leading up to the release of their Howard Benson produced full-length debut Psycho Café which topped off at number 58 on the Billboard top 200 chart. The music video for the single Someone Like You was a popular staple on early 90's MTV programming such as Dial MTV and Headbanger's Ball. A video was also made for the single Breaking Up a Heart of Stone. The band would tour extensively during this period with the likes of Cheap Trick, LA Guns, Ratt, and Bulletboys. Bang Tango's next album releases was Dancing on Coals in 1991, then followed up by Love After Death in 1993, which never was released by MCA because the band was dropped by the label. 
Mark Knight is now the singer, songwriter and guitarist with his current band, Mark Knight & The Unsung Heroes! For more information, check them out here:
https://www.markknightandtheunsungheroes.com/
Kevin is honored to have Mark Knight on this special podcast to discuss his music career both past and present! Here are many topics that Mark will discuss with Kevin:
- Mark's early musical influences, his background in music, and playing the guitar.
- What bands did Mark play with prior to Bang Tango.
- Mark talks about how he formed band Bang Tango with former member Kyle Kyle. 
- Mark looks back on early days of Bang Tango, and then finally getting a record deal and recording Bang Tango's first studio album Psycho Café
- Mark's experience touring with Bang Tango in support of the album Psycho Café, and what was it like living through the very popular metal scene in the late 80's and early 90's.
- Mark's musical direction in the late 90's after Bang Tango and through the 2000's.
- Mark Knight then discusses his current project: Mark Knight and the Unsung Heroes. 
- Plus many other fun and surprising topics!
You can always find The Hair Metal Podcast on the Fandom Podcast Network Master feed at:
• Fandom Podcast Network is on the Podbean app
• Fandom Podcast Network is on: iTunes / Stitcher / Spotify / Google Play for Android Users.
• Twitter: @HairMetalCast 
Tee Public Fandom Podcast Network Store:
iTunes:
Please leave us a review on iTunes so new fans can find us easier. We LOVE 5 star reviews. If you like The Hair Metal Podcast, please search Fandom Podcast Network on iTunes and leave us a review!