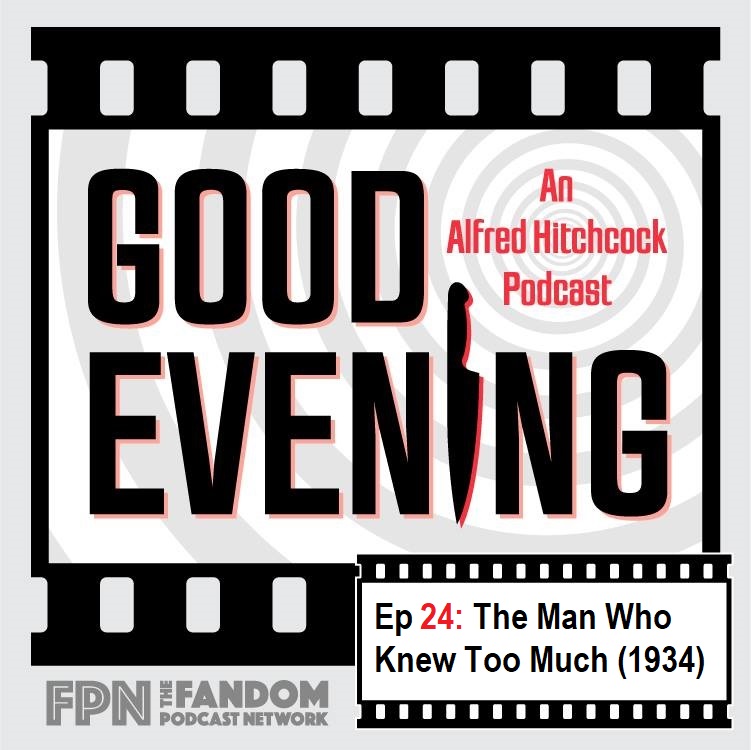 Good Evening Episode 24: So You liked It?: The Man Who Knew Too Much (1934)
In this episode of Good Evening: An Alfred Hitchcock Podcast, your hosts Brandon-Shea Mutala, Tom Caldwell, and Chris Haigh discuss the 1934 version of The Man Who Knew too Much. We discuss the cast, our impressions, and the true start of the Hitch we know.
Hosts:
Tom Caldwell, Brandon-Shea Mutala, and Chris Haigh
Find us:
Twitter: @goodeveningpod @brandonmutala @higher_boy @TomCaldwell3000
Facebook: Good Evening: An Alfred Hitchcock Podcast
Email: goodeveningpodcast@hotmail.com
And, as always, Good Evening is a proud member of the Fandom Podcast Network. @fanpodnetwork
Thanks so much to Jason Cullimore for our awesome theme song.
https://soundcloud.com/jason-cullimore
https://www.instagram.com/jasoncullimoreartist/
Tee Public:
iTunes: Please leave us a review on iTunes so new fans can find us easier. We LOVE 5 star reviews of course, but we love feedback in general!
Please listen to our other awesome podcasts on the Fandom Podcast Network:
Blood of Kings: A Highlander Podcast
Culture Clash: The FPN Weekly Pop Culture Podcast
Couch Potato Theater: The Guilty Pleasure Favorites Podcast
Time Warp: The Fandom Flashback Podcast
The Endzone: An (Unofficial) NFL Podcast
Good Evening: An Alfred Hitchcock Podcast
DiscoVille: A Star Trek Discovery and The Orville Podcast
Hair Metal: The Hair Metal Podcast
Fandom Podcast Network Contact Info / How to contact & find us:
- FPNet on Podbean app
- Fandom Podcast Network on: iTunes / Stitcher / Podbean / Google Play / Spotify
- Facebook: Fandom Podcast Network
- Email: fandompodcastnetwork@gmail.com
- Instagram: FandomPodcastNetwork 
- Twitter: @fanpodnetwork