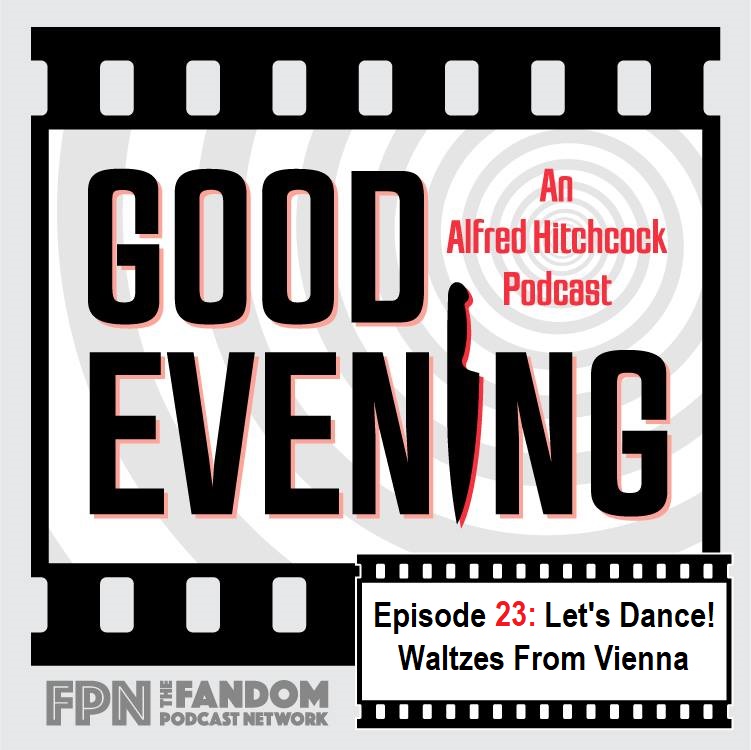 Good Evening Episode 23: Let's Dance!: Waltzes From Vienna
In this episode of Good Evening: An Alfred Hitchcock Podcast, your hosts Brandon-Shea Mutala​, Tom Caldwell​, and Chris Haigh​ discuss the 1933 loose biopic Waltzes From Vienna. We discuss music, comedy, drama, and weather or not Brandon has actually ever watched a Hitchcock film.
Hosts:
Tom Caldwell, Brandon-Shea Mutala, and Chris Haigh
Find us:
Twitter: @goodeveningpod @brandonmutala @higher_boy @TomCaldwell3000
Facebook: Good Evening: An Alfred Hitchcock Podcast
Email: goodeveningpodcast@hotmail.com
And, as always, Good Evening is a proud member of the Fandom Podcast Network. @fanpodnetwork
Fandom Podcast Network Contact Info / How to contact & find us:
- fpnet.podbean.com
- FPNet on Podbean app
- Fandom Podcast Network on: iTunes / Stitcher / Podbean / Google Play/ Spotify
- Facebook: Fandom Podcast Network
- Email: fandompodcastnetwork@gmail.com
- Instagram: FandomPodcastNetwork 
- Twitter: @fanpodnetwork
Tee Public:
Please also visit our TeePublic store where you can help support the Fandom Podcast Network while wearing your favorite show logos with pride!
Tee Public Store: https://www.teepublic.com/user/fandompodcastnetwork
iTunes: Please leave us a review on iTunes so new fans can find us easier. We LOVE 5 star reviews of course, but we love feedback in general!
Please listen to our other awesome podcasts on the Fandom Podcast Network:
Master Feed: https://fpnet.podbean.com/
Blood of Kings: A Highlander Podcast
https://fpnet.podbean.com/category/blood-of-kings/
Culture Clash: The FPN Weekly Pop Culture Podcast
https://fpnet.podbean.com/category/culture-clash/
Couch Potato Theater: The Guilty Pleasure Favorites Podcast
https://fpnet.podbean.com/category/couch-potato-theater/
Time Warp: The Fandom Flashback Podcast
https://fpnet.podbean.com/category/time-warp/
The Endzone: An (Unofficial) NFL Podcast
https://fpnet.podbean.com/category/the-endzone/
Good Evening: An Alfred Hitchcock Podcast
https://fpnet.podbean.com/category/good-evening-an-alfred-hitchcock-podcast/
DiscoVille: A Star Trek Discovery and The Orville Podcast
https://fpnet.podbean.com/category/discoville
Hair Metal: The Hair Metal Podcast
https://fpnet.podbean.com/category/hair-metal/
Type 40: The FPNet Doctor Who Podcast
https://fpnet.podbean.com/category/type-40-the-fpnet-doctor-who-podcast/
Thanks so much to Jason Cullimore for our awesome theme song.
http://www.jasoncullimore.com