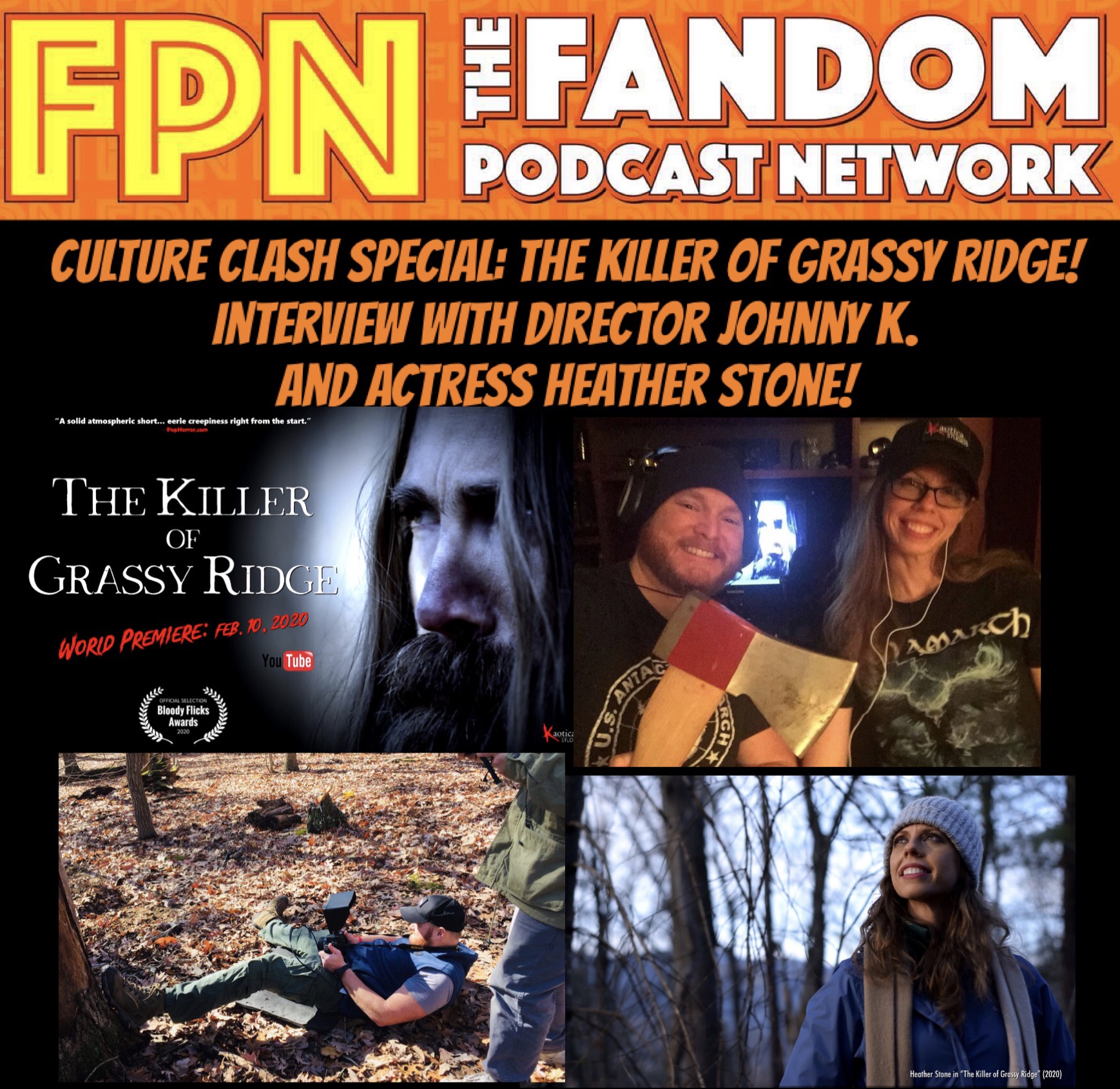 Culture Clash Special: THE KILLER OF GRASSY RIDGE! Interview with Director Johnny K. and actress Heather Stone!
The Killer of Grassy Ridge premieres tonight, Monday, 8pm EST, February 10, 2020 on YouTube! http://bit.ly/2tYi46l
See the film that PopHorror.com calls "A solid atmospheric short... eerie creepiness right from the start."
Facebook: https://bit.ly/2uISYsl
Twitter: https://bit.ly/2RzfgG3
IMDB: https://imdb.to/2t9NeHY
Welcome to a very special episode of Culture Clash on the Fandom Podcast Network! Coming Monday February 10 is an instant Horror Short Classic, "The Killer of Grassy Ridge"! Culture Clash hosts Kevin and Kyle interview director Johnny K. and co-star Heather Stone.
Press Release:
A Film By Kaotica Studios 
The Killer of Grassy Ridge is a new short film premiering on YouTube on Feb. 10, 2020.
Shot on location in Virginia's Shenandoah Valley in late 2019, Killer… was purely a personal challenge project for first-time director Johnny K., to storyboard, write, cast, shoot, and edit a completed film in just 60 days, on a micro-budget using only equipment he had on-hand. According to Johnny, the point was to stop procrastinating and making excuses about equipment not being good enough, and to just get out there and make a damn movie.
As a result, Killer… was shot almost entirely on a Nikon D3300 DSLR with minimal equipment, using only natural light (sunlight and firelight). The budget, or lack thereof, dictated a horror film. According to Johnny, he knew he'd come away with some great footage and fun things to chew on in the editing room, but the solid performances of the actors changed the direction of the film. 
"When I saw the first rough-cut under that creepy music, suddenly there was this dark tension that I got work with, and I hadn't really counted on having that. Heather and Mike (actors) absolutely brought their A-game which cranked everything up a notch,  so I tweaked the film in the editing room to much more of a performance piece than the simple "slasher flick" that I'd originally envisioned. 
They say there's the movie you write, the movie you shoot, and the movie you edit, and I had no idea what that meant until I made this film."
Post-production completed in early January, just 63 days from sketching the initial storyboard. The film is currently on the festival circuit, and has already been selected as one of ten films to screen at the 2020 Bloody Flicks Awards in the UK. The Killer of Grassy Ridge stars Heather Stone and Michael Stumbo, and features music from Italian composer Mattia Cuppeli and Doug Maxwell. It premieres on YouTube on February 10, 2020. 
TEASER TRAILER:
YouTube: http://bit.ly/2tYi46l
Facebook: https://bit.ly/2uISYsl
Twitter: https://twitter.com/KaoticaStudios
Contact Information:
Johnny K on Social Media: 
Twitter: @KaoticaStudios
Twitter: @ThatJohnnyKGuy 
#KillerOfGrassyRidge #horror #horrorshort #indiefilm #supportindiefilm #promotehorror
- fpnet.podbean.com
- FPNet on Podbean app
- Fandom Podcast Network on: iTunes / Stitcher / Podbean / Google Play / Spotify
- Facebook: Fandom Podcast Network
- Email: fandompodcastnetwork@gmail.com
- Instagram: FandomPodcastNetwork 
- Twitter: @fanpodnetwork
- Kyle on Twitter: @AKyleW / Instagram: Akylefandom
- Kevin on Twitter & Instagram: @spartan_phoenix
There are two way you can support Culture Clash and the Fandom Podcast Network:
Tee Public Store:
To get your own Culture Clash and other Fandom Podcast Network podcast T-shirts and other apparel, please visit our store on Tee Public by searching "Fandom Podcast Network". 
Link: https://www.teepublic.com/user/fandompodcastnetwork
Apple Podcasts Reviews:
Please leave us a review on Apple Podcasts so new fans can find us easier. Search "FANDOM PODCAST NETWORK" on Apple Podcasts, and leave a review for Culture Clash. We LOVE 5 star reviews of course, but we love feedback in general!
Please listen to our other awesome podcasts on the Fandom Podcast Network:
Master Feed: https://fpnet.podbean.com/ 
Culture Clash: The FPN Weekly Pop Culture Podcast
https://fpnet.podbean.com/category/culture-clash/
Couch Potato Theater: Our Favorite Cult Classic & Guilty Pleasure Movies Podcast
https://fpnet.podbean.com/category/couch-potato-theater/
Time Warp: The Fandom Flashback Podcast
https://fpnet.podbean.com/category/time-warp/
The Endzone: An (Unofficial) NFL Podcast
https://fpnet.podbean.com/category/the-endzone/
Good Evening: An Alfred Hitchcock Podcast
https://fpnet.podbean.com/…/good-evening-an-alfred-hitchcoc…/
Union Federation Podcast: A Star Trek and The Orville Podcast
https://fpnet.podbean.com/category/union-federation
Hair Metal: The 1980's Hair Metal Podcast
https://fpnet.podbean.com/category/hair-metal/
TYPE 40: A Doctor Who Podcast
https://fpnet.podbean.com/category/type-40-the-fpnet-doctor-who-podcast/ 
Lethal Mullet: A 1980's Action Film Podcast
https://fpnet.podbean.com/category/lethal-mullet
What A Piece Of Junk: A Star Wars Podcast
https://fpnet.podbean.com/category/what-a-piece-of-junk-a-star-wars-podcast…