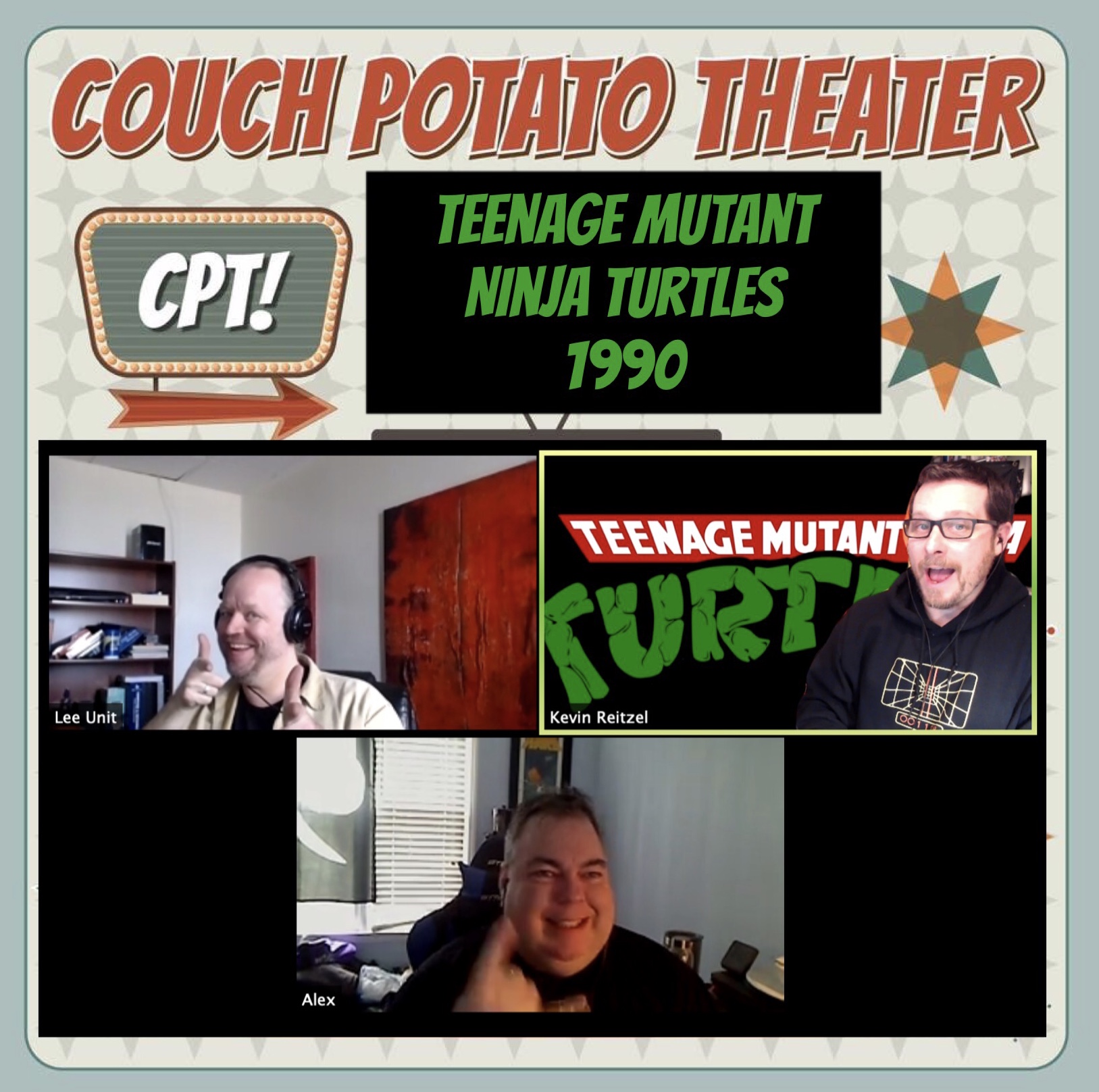 Couch Potato Theater: TEENAGE MUTANT NINJA TURTLES (1990) 30th Anniversary!
Welcome to another Fantastic episode of Couch Potato Theater here on the Fandom Podcast Network. Couch Potato Theater is the podcast on the Fandom Podcast Network dedicated to covering all those hidden gems, cult classics and guilty pleasures that are just so good, even though you might have the digital copy, the Criterion Collection or Deluxe Blu-ray set in your library just mere inches away from your entertainment center, you love what you are watching so much, you don't even care about getting off the couch. And that my friends is the definition of what our Show is all about. 
Join us for this very special edition of Couch Potato Theater as we look back and celebrate the 30th Anniversary of the 1990  classic "TEENAGE MUTANT NINJA TURTLES". Teenage Mutant Ninja Turtles is a 1990 American martial arts superhero comedy film directed by Steve Barron. Based on the fictional superhero team of the same name, the story follows Splinter and the turtles, their meeting April O'Neil and Casey Jones, and their confrontation with The Shredder and his Foot Clan. It stars Judith Hoag, Elias Koteas, and the voices of Brian Tochi, Robbie Rist, Corey Feldman and Josh Pais.
Teenage Mutant Ninja Turtles Plot Synopsis:
Through contact with a mysterious ooze, four turtles in the sewers of New York mutate into intelligent pizza-loving humanoids, and are mentored in the art of ninja combat by the wise rat Splinter. When the evil Shredder attempts to take over the world, the turtles set out to stop him.
Join Kevin, Lee and Alex as they take a look back at this classic 90's film and see how it has remained a true classic to this day, and a film that represents everything that Couch Potato Theater is all about.
Fandom Podcast Network Contact Info / How to contact & find us:
- FPNet on Podbean app
- Fandom Podcast Network on: iTunes / I Heart Radio / Stitcher / Podbean / Google Play / Spotify
- Facebook: Fandom Podcast Network
- Email: fandompodcastnetwork@gmail.com
- Instagram: FandomPodcastNetwork 
- Twitter: @fanpodnetwork
- Kevin on Twitter & Instagram: @spartan_phoenix
- Lee Fillingsness on Twitter: @TheWayOfTheWay 
Instagram: @the_way_of_the_way
- Alex Autrey on Twitter: @7thRowCenter
Please help support the Fandom Podcast Network through reviews on Apple Podcasts and our Fandom Podcast Network Store on Tee Public. 
Apple Podcasts:
Please leave us a review on Apple Podcasts so new fans can find us easier. Search FANDOM PODCAST NETWORK on Apple Podcasts, and leave a review for Time Warp. We LOVE 5 star reviews of course, but we love feedback in general!
Fandom Podcast Network Tee Public Store:
Get Your Fandom Podcast Network and Time Warp Merchandise on Tee Public! Please visit our TeePublic store where you can help support the Fandom Podcast Network while wearing your Time Warp and other awesome Fandom Podcast Network favorite show logos with pride!
Tee Public Store: https://www.teepublic.com/user/fandompodcastnetwork 
Please listen to our other awesome podcasts on the Fandom Podcast Network:
What A Piece Of Junk: A Star Wars Podcast
https://fpnet.podbean.com/category/what-a-piece-of-junk-a-star-wars-podcast…
Making Treks: A Star Trek Podcast