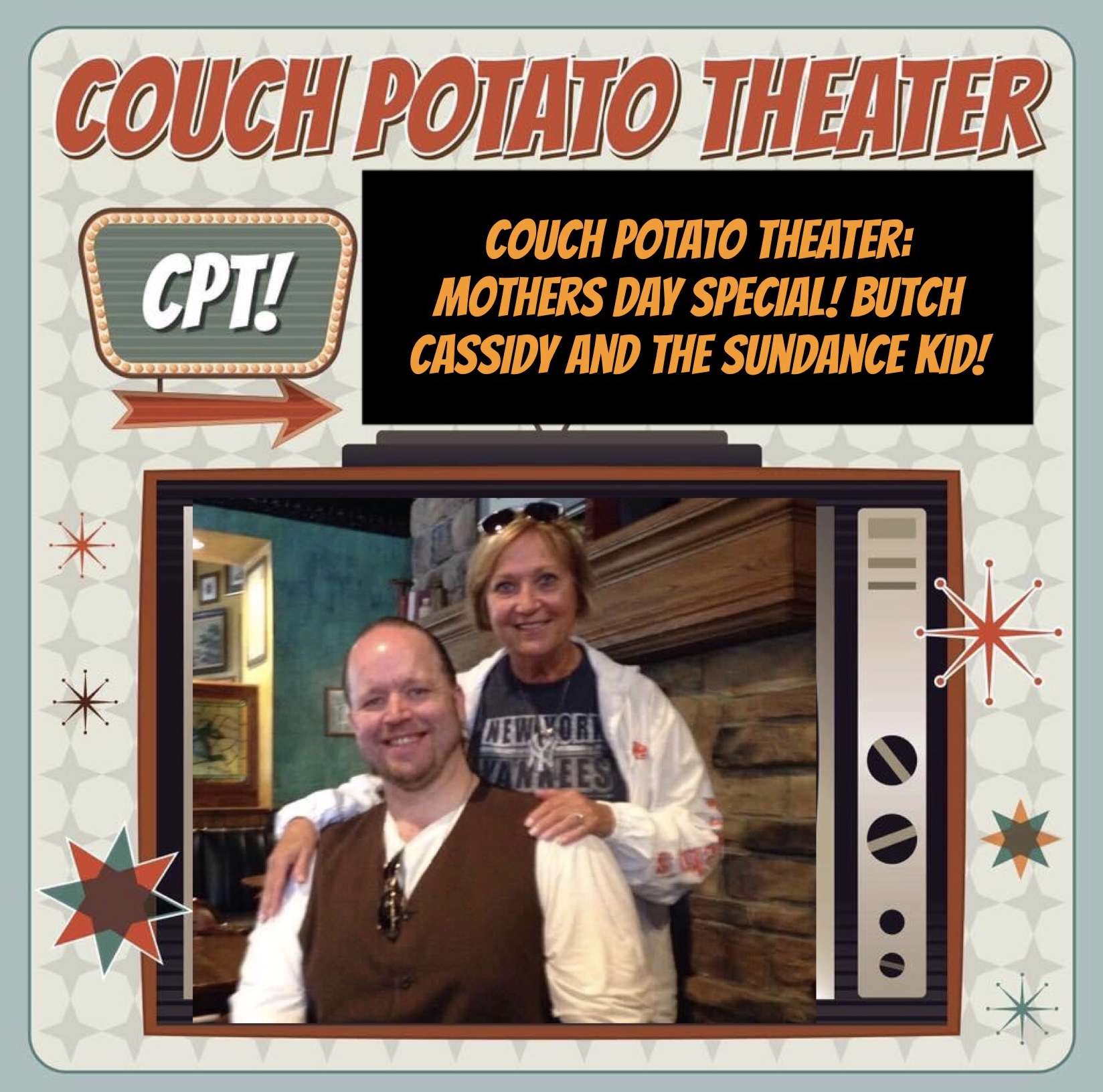 Couch Potato Theater: Mothers Day Special! Butch Cassidy and the Sundance Kid (1969)
Welcome to another Fantastic episode of Couch Potato Theater here on the Fandom Podcast Network. Couch Potato Theater is our podcast dedicated to covering all those hidden gems, cult classics, Box Office hits, and guilty pleasures that are just so good, even though you might have a digital copy or the Criterion Collection or Deluxe Blu-ray set in your library just mere inches away from your entertainment center, you love what you are watching so much, you don't even care about getting off the couch. And that my friends is the definition of what our show is all about. 
Join us for our first Mothers Day edition of Couch Potato Theater. Lee Fillingsness, the new co-host of Blood of Kings Highlander podcast on the Fandom Podcast Network, wanted to celebrate Mothers Day in a very special way. Lee invited his mother, Laura Pavalis (these guys never heard of normal last names), to join him on the Couch to discuss one of her favorite movies, Butch Cassidy and the Sundance Kid (1969). Lee and his mother both enjoy this classic western, starring Paul Newman and Robert Redford, and talk about what it was like seeing this movie in the days before rentals and what it was like for Laura to introduce her son to her favorite movie. This movie is one of Lee's and his mother's most rewatchable and this represents everything that Couch Potato Theater is all about!
Butch Cassidy and the Sundance Kid (1969) Plot Synopsis:
Butch Cassidy and the Sundance Kid is a 1969 American Western film directed by George Roy Hill and written by William Goldman. Based loosely on fact, the film tells the story of Wild West outlaws Robert LeRoy Parker, known as Butch Cassidy (Paul Newman), and his partner Harry Longabaugh, the "Sundance Kid" (Robert Redford), who are on the run from a crack US posse after a string of train robberies. The pair and Sundance's lover, Etta Place (Katharine Ross), flee to Bolivia in search of a more successful criminal career.
Fandom Podcast Network Contact Info / How to contact & find us:
- FPNet on Podbean app
- Fandom Podcast Network on: iTunes / I Heart Radio / Stitcher / Podbean / Google Play / Spotify
- Facebook: Fandom Podcast Network
- Email: fandompodcastnetwork@gmail.com
- Instagram: FandomPodcastNetwork 
- Twitter: @fanpodnetwork
- Kevin Reitzel on Twitter & Instagram: @spartan_phoenix
- Lee Fillingsness on Twitter: @TheWayOfTheWay / Instagram: @the_way_of_the_way
Please help support the Fandom Podcast Network through reviews on Apple Podcasts / iTunes and our Fandom Podcast Network Store on Tee Public. 
Apple Podcasts / iTunes:
Please leave us a review on Apple Podcasts so new fans can find us easier. Search FANDOM PODCAST NETWORK on Apple Podcasts, and leave a review for Time Warp. We LOVE 5 star reviews of course, but we love feedback in general!
Fandom Podcast Network Tee Public Store:
Get Your Fandom Podcast Network and Couch Potato Theater Merchandise on Tee Public! Please visit our TeePublic store where you can help support the Fandom Podcast Network while wearing your Couch Potato Theater and other awesome Fandom Podcast Network favorite show logos with pride!
Tee Public Store: https://www.teepublic.com/user/fandompodcastnetwork 
Please listen to our other awesome podcasts on the Fandom Podcast Network: