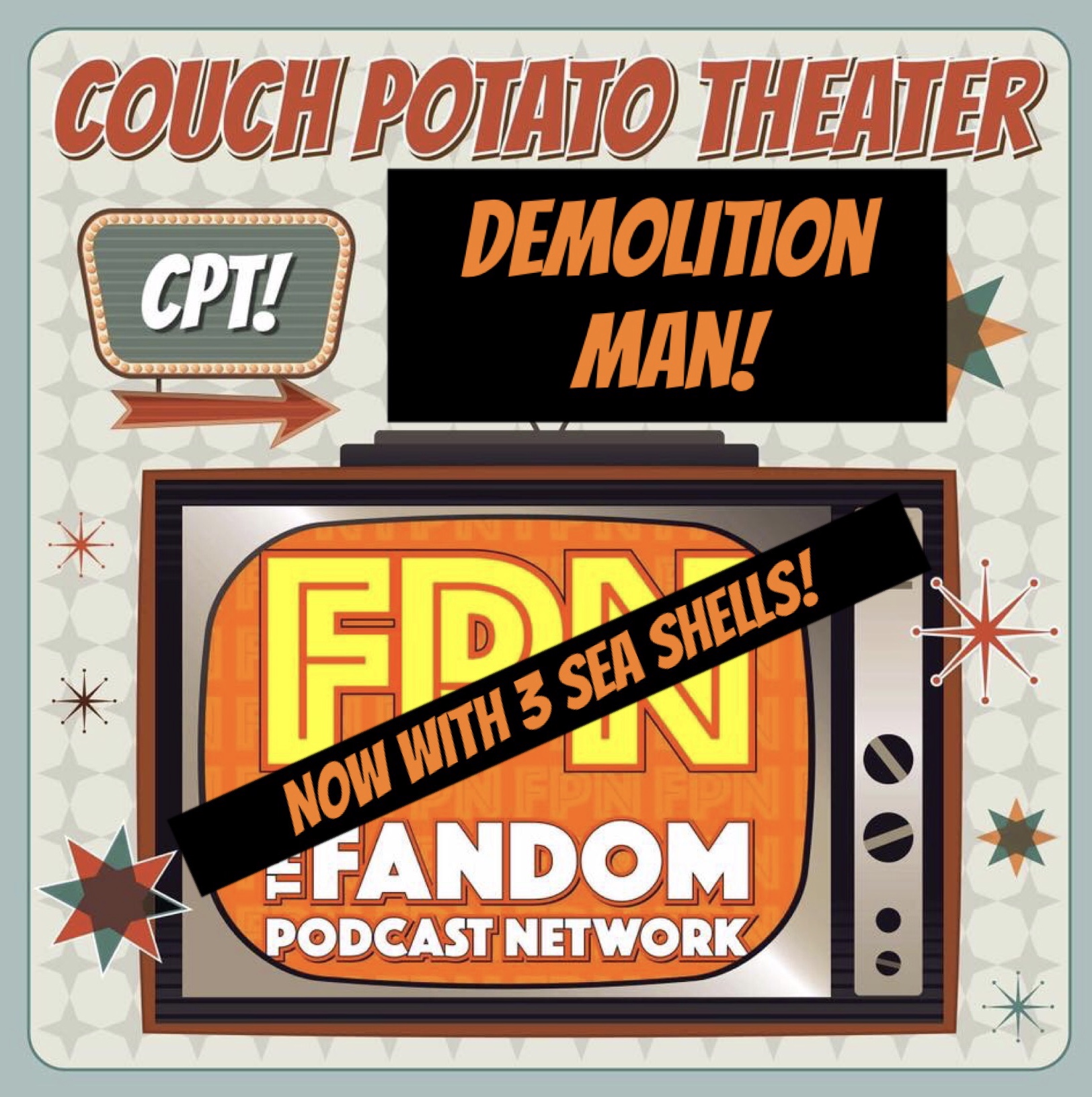 Couch Potato Theater: DEMOLITION MAN (1993) Retrospective. 
Welcome to another Fantastic episode of Couch Potato Theater here on the Fandom Podcast Network. Couch Potato Theater is the podcast on the Fandom Podcast Network dedicated to covering all those hidden gems, cult classics and guilty pleasures that are just so good, even though you might have the Criterion Collection or Deluxe Blu-ray set in your library just mere inches away from your entertainment center, you love what you are watching so much, you don't even care about getting off the couch. And that my friends is the definition of what our Show is all about. 
Join us for this very special edition of Couch Potato Theater as we look back on the 1993 action classic "DEMOLITION MAN". Demolition Man is a 1993 action film directed by Marco Brambilla in his directorial debut. The film stars Sylvester Stallone and Wesley Snipes. The film was released in the United States on October 8, 1993. The film tells the story of two men: an evil crime lord and a risk-taking police officer. Cryogenically frozen in 1996, they are reanimated in 2032 to find mainstream society changed and all crime seemingly eliminated. 
Demolition Man Plot Synopsis:
Frozen in 1996, Simon Phoenix, a convicted crime lord, is revived for a parole hearing well into the 21st century. Revived into a society free from crime, Phoenix resumes his murderous rampage, and no one can stop him. John Spartan, the police officer who captured Phoenix in 1996, has also been cryogenically frozen, this time for a crime he did not commit. In 2032, the former cities of Los Angeles, San Diego and Santa Barbara have merged into peaceful, utopian San Angeles. Unable to stop him with their non-violent solutions, the police release Spartan to help recapture Phoenix. Now after 36 years, Spartan has to adapt himself to the future society he has no knowledge about.
Join Kevin & Kyle as they take a look back at this classic 90's film and see how it has remained a true classic to this day, and a film that represents everything that Couch Potato Theater is all about.
Fandom Podcast Network Contact Info / How to contact & find us:
- FPNet on Podbean app
- Fandom Podcast Network on: iTunes / I Heart Radio / Stitcher / Podbean / Google Play / Spotify
- Facebook: Fandom Podcast Network
- Email: fandompodcastnetwork@gmail.com
- Instagram: FandomPodcastNetwork 
- Twitter: @fanpodnetwork
- Kevin on Twitter & Instagram: @spartan_phoenix
- Kyle on Twitter: @AKyleW / Instagram: Akylefandom
Please help support the Fandom Podcast Network through reviews on Apple Podcasts and our Fandom Podcast Network Store on Tee Public. 
Apple Podcasts:
Please leave us a review on Apple Podcasts so new fans can find us easier. Search FANDOM PODCAST NETWORK on Apple Podcasts, and leave a review for Time Warp. We LOVE 5 star reviews of course, but we love feedback in general!
Fandom Podcast Network Tee Public Store:
Get Your Fandom Podcast Network and Time Warp Merchandise on Tee Public! Please visit our TeePublic store where you can help support the Fandom Podcast Network while wearing your Time Warp and other awesome Fandom Podcast Network favorite show logos with pride!
Tee Public Store: https://www.teepublic.com/user/fandompodcastnetwork 
Please listen to our other awesome podcasts on the Fandom Podcast Network:
What A Piece Of Junk: A Star Wars Podcast
https://fpnet.podbean.com/category/what-a-piece-of-junk-a-star-wars-podcast…