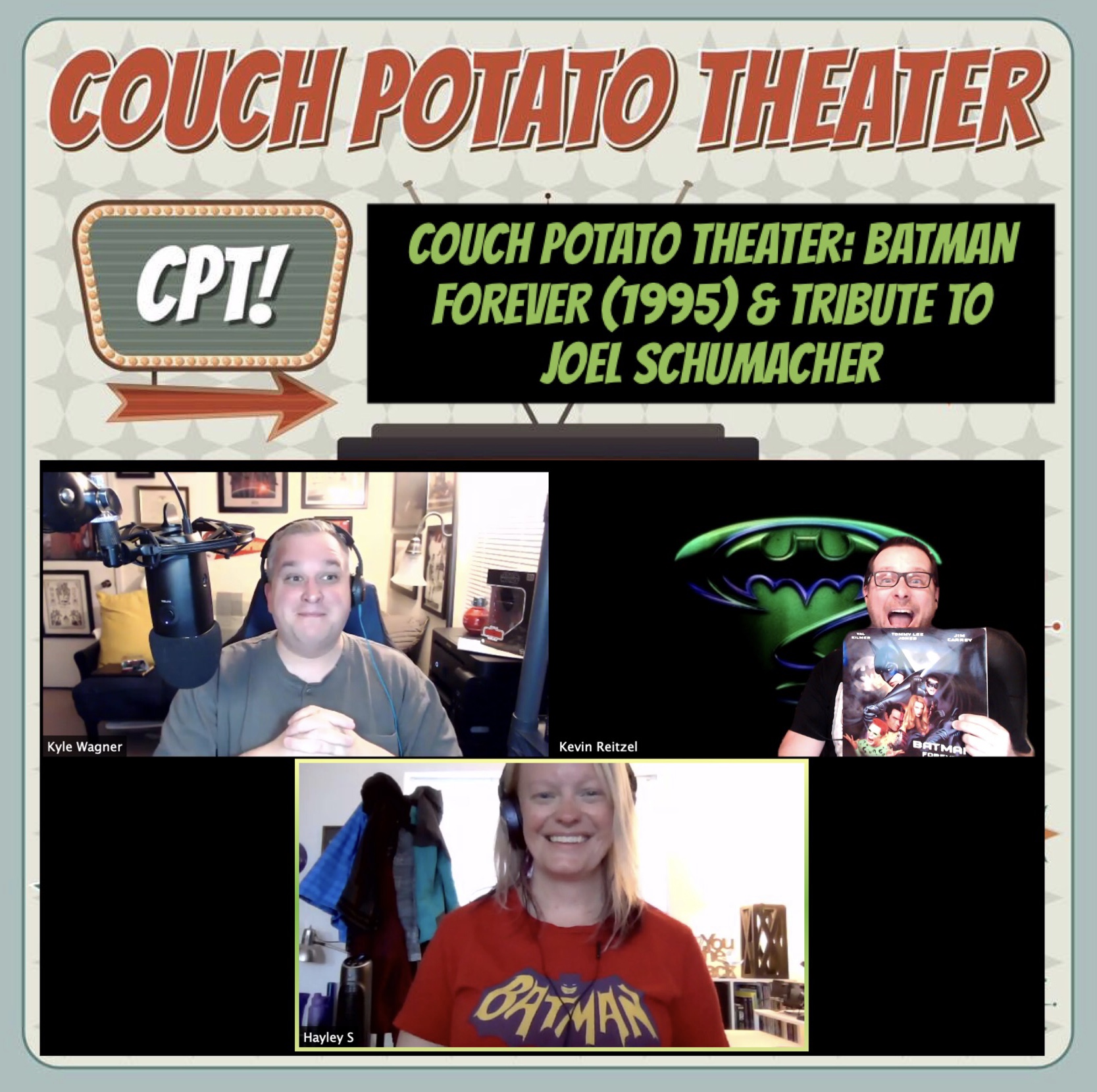 Couch Potato Theater: BATMAN FOREVER (1995) & Tribute to Joel Schumacher
Welcome to Couch Potato Theater here on the Fandom Podcast Network. On Couch Potato Theater we celebrate our favorite movies. Even though you may own your favorite movie, you love what you are watching so much, you don't even care about getting off the couch. And that my friends is the definition of what our show is all about. 
Join us for this very special edition of Couch Potato Theater as we look back and celebrate one our favorite Batman movies, which turns 25 years old this year, Batman Forever! Batman Forever is a 1995 superhero film directed by Joel Schumacher and produced by Tim Burton, based on the DC Comics character Batman. A stand-alone sequel to the 1992 film Batman Returns and the third installment of Warner Bros.'s initial Batman film series, it stars Val Kilmer replacing Michael Keaton as Bruce Wayne and Batman, alongside Tommy Lee Jones, Jim Carrey, Nicole Kidman, Chris O'Donnell, Michael Gough, and Pat Hingle. 
Batman Forever Plot Synopsis:
The Dark Knight of Gotham City confronts a dastardly duo: Two-Face and the Riddler. Formerly District Attorney Harvey Dent, Two-Face incorrectly believes Batman caused the courtroom accident which left him disfigured on one side; he has unleashed a reign of terror on the good people of Gotham. Edward Nygma, computer-genius and former employee of millionaire Bruce Wayne, is out to get the philanthropist; as The Riddler he perfects a device for draining information from all the brains in Gotham, including Bruce Wayne's knowledge of his other identity. Batman/Wayne is/are the love focus of Dr. Chase Meridan. Former circus acrobat Dick Grayson, his family killed by Two-Face, becomes Wayne's ward and Batman's new partner Robin the Boy Wonder.
Join Kevin, Kyle and Hayley as they take a look back at this first of two controversial Batman films directed by Joel Schumacher. A movie that changed its Batman, and overall look, style and tone of the Batman franchise from the previous two. We also discuss the Bat nipple controversy. Over time Batman Forever has become a fan favorite for many and a guilty pleasure movie for many more. Kevin, Kyle and Hayley discuss why this Batman film is one of their favorites and represents everything that Couch Potato Theater is all about. We also discuss and pay tribute to director Joel Schumacher, who recently passed away. We talk about his directing legacy.
Fandom Podcast Network Contact Info / How to contact & find us:
- fpnet.podbean.com
- FPNet on Podbean app
- Fandom Podcast Network on: iTunes / I Heart Radio / Stitcher / Podbean / Google Play / Spotify
- Facebook: Fandom Podcast Network
- Email: fandompodcastnetwork@gmail.com
- Instagram: FandomPodcastNetwork 
- Twitter: @fanpodnetwork
- Kevin Reitzel on Twitter & Instagram: @spartan_phoenix
- Kyle Wagner on Twitter: @AKyleW Instagram: Akylefandom
- Hayley Stoddart on Twitter: @Trekkie01D
Please help support the Fandom Podcast Network through reviews on Apple Podcasts / iTunes and our Fandom Podcast Network Store on Tee Public. 
Apple Podcasts / iTunes Reviews:
Please leave us a review on Apple Podcasts so new fans can find us easier. Search FANDOM PODCAST NETWORK on Apple Podcasts, and leave a review for Time Warp. We LOVE 5 star reviews of course, but we love feedback in general!
Fandom Podcast Network Tee Public Store:
Get Your Fandom Podcast Network and Couch Potato Theater Merchandise on Tee Public! Please visit our TeePublic store where you can help support the Fandom Podcast Network while wearing your Couch Potato Theater and other awesome Fandom Podcast Network favorite show logos with pride!
Tee Public Store: https://www.teepublic.com/user/fandompodcastnetwork 
Please listen to our other awesome podcasts on the Fandom Podcast Network:
Master Feed: https://fpnet.podbean.com/ 
Culture Clash: The FPN Weekly Pop Culture Podcast
https://fpnet.podbean.com/category/culture-clash/
Blood of Kings: A Highlander Podcast
https://fpnet.podbean.com/category/blood-of-kings/
Couch Potato Theater: Celebrating our Favorite Movies Podcast
https://fpnet.podbean.com/category/couch-potato-theater/
Time Warp: The Fandom Flashback Podcast
https://fpnet.podbean.com/category/time-warp/
The Endzone: An (Unofficial) NFL Podcast
https://fpnet.podbean.com/category/the-endzone/
Good Evening: An Alfred Hitchcock Podcast
https://fpnet.podbean.com/…/good-evening-an-alfred-hitchcoc…/
Union Federation: A Star Trek and The Orville Podcast
https://fpnet.podbean.com/category/union-federation
Hair Metal: The 1980's Hair Metal Podcast
https://fpnet.podbean.com/category/hair-metal/
TYPE 40: A Doctor Who Podcast
https://fpnet.podbean.com/category/type-40-the-fpnet-doctor-who-podcast/ 
Lethal Mullet: A 1980's Action Film Podcast
https://fpnet.podbean.com/category/lethal-mullet
What A Piece Of Junk: A Star Wars Podcast
https://fpnet.podbean.com/category/what-a-piece-of-junk-a-star-wars-podcast…
Making Treks: A Star Trek Podcast
https://fpnet.podbean.com/category/Making-treks