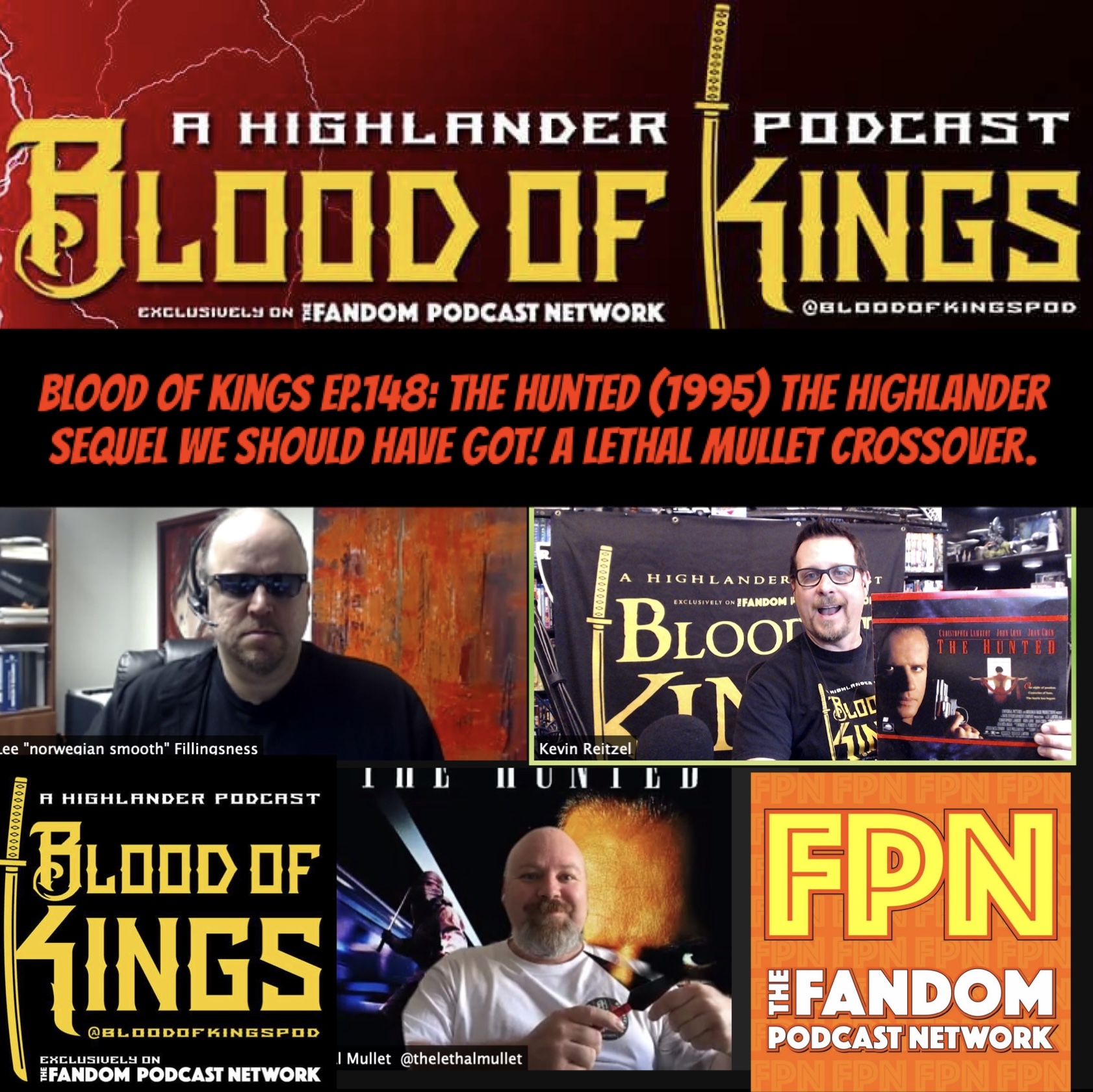 Blood Of Kings HIGHLANDER Podcast EP.148: The Hunted (1995) The Highlander Sequel We Should Have Got! A Lethal Mullet Crossover.
The Hunted (1995) starring Christopher Lambert should had been a Highlander sequel we should have got! Your Blood of Kings Highlander Podcast co-hosts Kevin Reitzel & Lee Fillingsness and special guest Adam O'Brien of the Lethal Mullet Podcast LOVE this movie. In this special episode of Blood of Kings podcast, we are combing forces with the Lethal Mullet action movie podcast.
We discuss why this movie should had been a Highlander sequel we never got. With a few tweaks to the story and characters, it could have worked! Imagine Connor Macleod teaming up with a Samurai in a deadly battle with a Ninja clan! We believe Highlander needed more Ninjas anyways. What say you? Would this movie with a few tweaks, had been a better Highlander sequel than the few we got? We also discuss what other Christopher Lambert movies would had been better set in the Highlander Universe.
The Hunted (1995) Plot Synopsis: 
An American businessman visiting Nagoya, Japan, meets a woman in a hotel bar. Returning to her room, 3 ninjas kill her and wound him, but he sees the ninja boss' face. Now, he's the prime target of a dangerous ninja cult. Teaming up with a friendly samurai couple, on a two-centuries-old blood-feud with the Ninja, he struggles to survive.
- Twitter: @BloodOfKingsPod / https://twitter.com/BloodOfKingsPod
- Instagram: BloodOfKingsPod / https://www.instagram.com/bloodofkingspod/
- Facebook: Blood of Kings: A Highlander Fandom Group:
https://www.facebook.com/groups/1551389528504825
- Facebook: Blood of Kings: A Highlander CCG Collectible Card Game & Gaming Discussion Group Page:
https://www.facebook.com/groups/273198053027339
Blood of Kings Host & Guest Contact Info:
- Email: BloodOfKingsPodcast@gmail.com
- Kevin Reitzel on Twitter & Instagram: @spartan_phoenix
- Lee Fillingsness on Twitter: @TheWayOfTheWay / Instagram: @the_way_of_the_way
- Adam O'Brien on Twitter & Instagram: @thelethalmullet
Facebook: https://www.facebook.com/thelethalmullet
TeePublic / Blood of Kings Store: