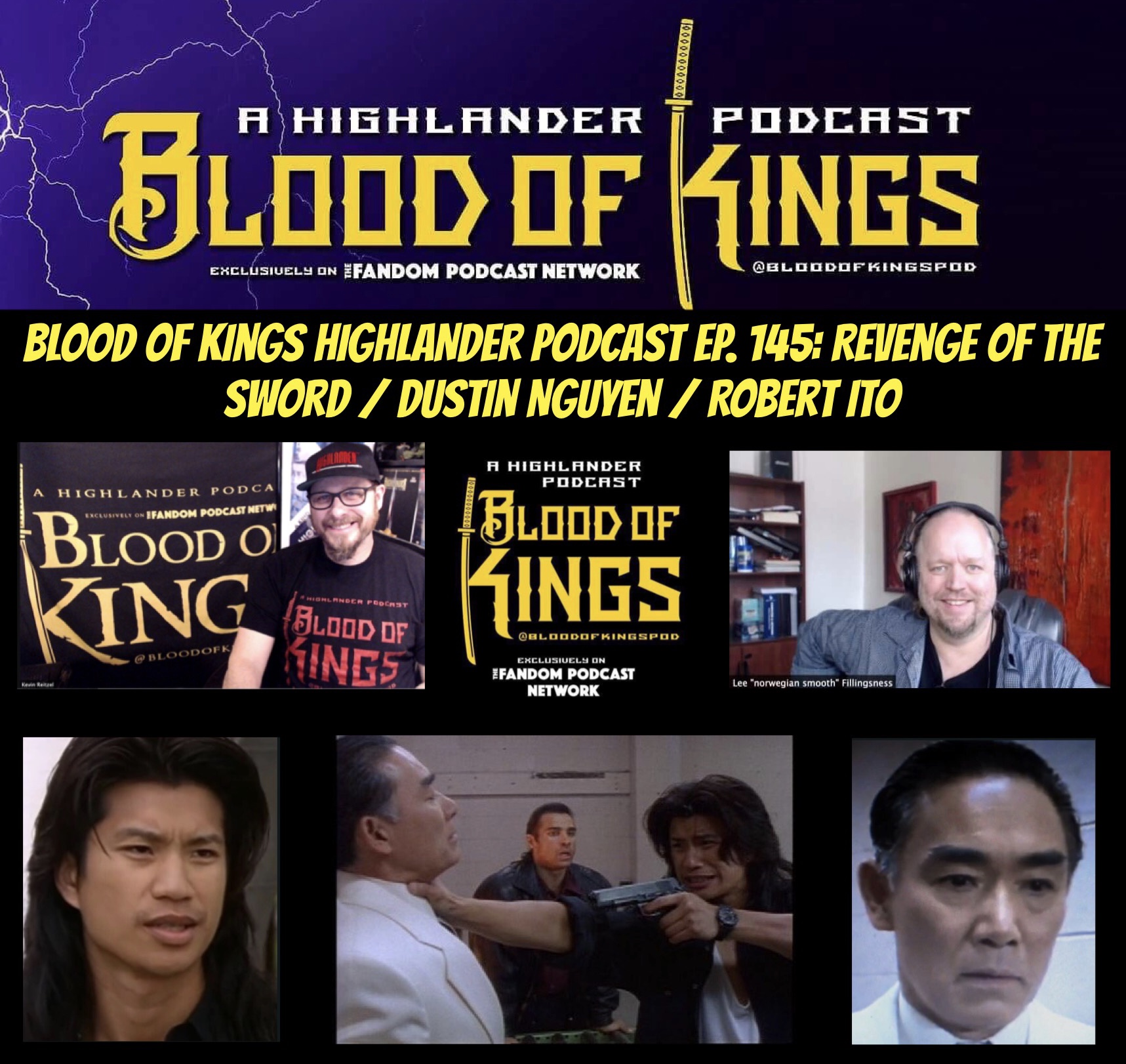 Blood Of Kings HIGHLANDER Podcast EP. 145: Revenge Of The Sword / Dustin Nguyen / Robert Ito
Guest Star Double Take! Your Blood of Kings Highlander Podcast hosts Kevin Reitzel and Lee Fillingsness review the Highlander TV Series, Season 2,  Episode 8 "Revenge Of The Sword". This episode guest stars are Dustin Nguyen as Jimmy Sang and Robert Ito as Johnny Leong. The topic of this episode focuses on Dustin Nguyen, because we are featuring Highlander TV series guest stars that appeared in more than one episode as different characters. Coincidently Robert Ito guest stars in this episode as we also discuss that this is Robert Ito's first of two appearances on the Highlander TV series, as different characters.
Highlander episode "Revenge Of The Sword" aired November 19th 1993. Episode Plot Synopsis: 
Charlie's young friend Jimmy Sang (Dustin Nguyen) films a Kung Fu movie in the dojo. As a stuntman is poisoned and the set is vandalized, it becomes clear that someone wants to stop the production. MacLeod reluctantly agrees to protect the young, arrogant star. MacLeod discovers Jimmy used to work for underground boss Johnny Leong and revealed Leong's gang activities in the movie script. Jimmy decides to kill Leong himself, but he is overpowered by Leong's men. MacLeod fights them and frees Jimmy.
- Twitter: @BloodOfKingsPod / https://twitter.com/BloodOfKingsPod
- Instagram: BloodOfKingsPod / https://www.instagram.com/bloodofkingspod/
- Facebook: Blood of Kings: A Highlander Fandom Group:
https://www.facebook.com/groups/1551389528504825
- Facebook: Blood of Kings: A Highlander CCG Collectible Card Game & Gaming Discussion Group Page:
https://www.facebook.com/groups/273198053027339
Blood of Kings Host & Guest Contact Info:
- Email: BloodOfKingsPodcast@gmail.com
- Kevin Reitzel on Twitter & Instagram: @spartan_phoenix
- Lee Fillingsness on Twitter: @TheWayOfTheWay / Instagram: @the_way_of_the_way
TeePublic / Blood of Kings Store: