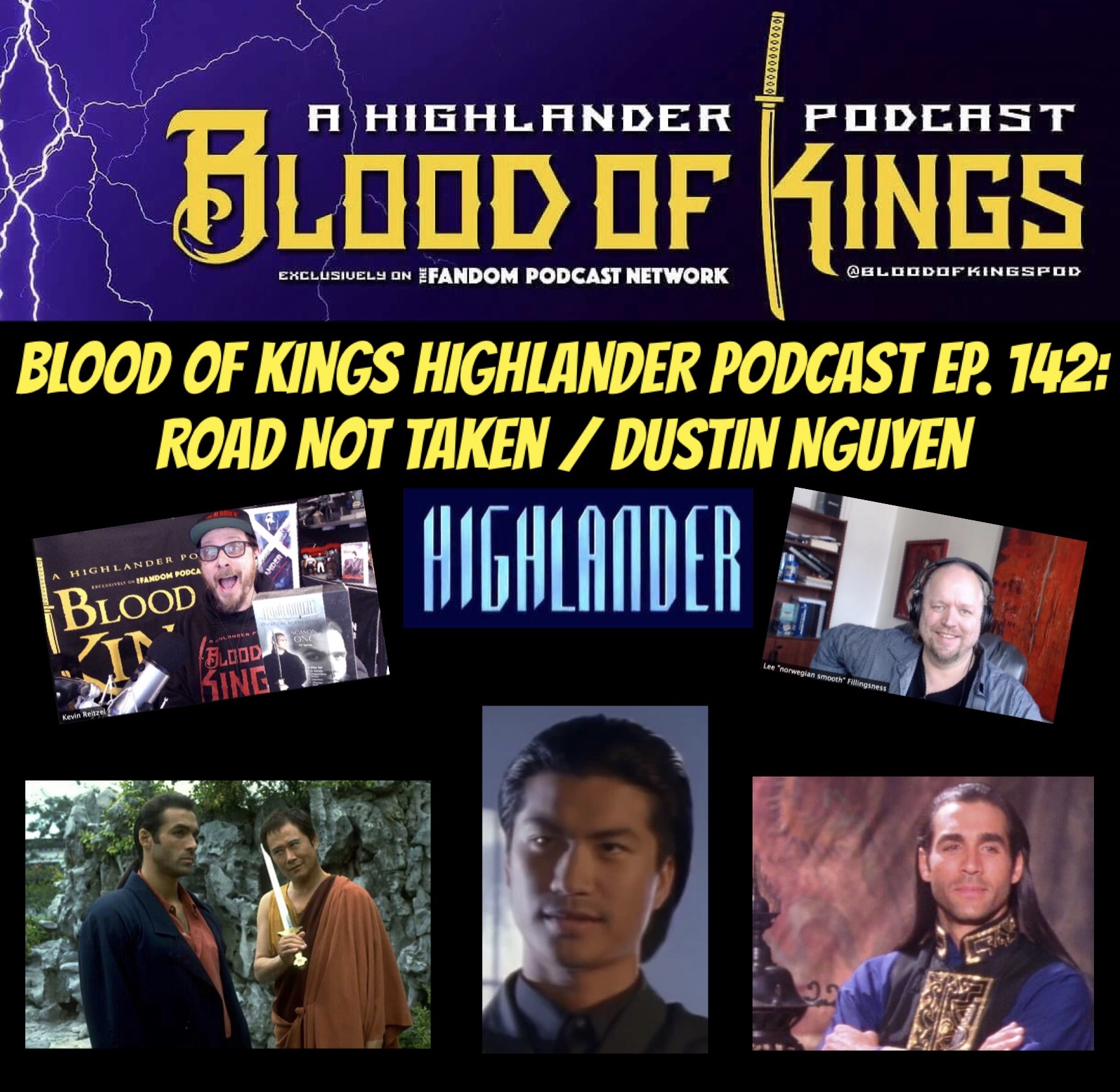 Blood Of Kings HIGHLANDER Podcast EP. 142: Road Not Taken / Dustin Nguyen
Guest Star Double Take! Your Blood of Kings Highlander Podcast hosts Kevin and Lee review the Highlander TV Series Season 1,  Episode 3 "Road Not Taken". This episode guest stars are Soon-Tek Oh as Kiem Sun and Dustin Nguyen as Chu Lin.  The topic of this episode is on Dustin Nguyen, because we are featuring Highlander TV series guest stars that appeared in more than one episode as different characters. Chu Lin (Dustin Nguyen) was a mortal henchman working for the Immortal, Kiem Sun.  It was he who was in place to judge the effectiveness of Kiem Sun's compounds on a human."
The Highlander episode "Road Not Taken" aired October 17th 1992.
Episode Plot Synopsis: A friend of Richie's dies suddenly after being captured during a diamond heist. The police believe it to be a drug overdose, but Richie insists his friend would never have done drugs. Duncan believes it to be the work of a potion developed by Kiem Sun, an immortal he once knew.
Blood of Kings Highlander Podcast Contact Information:
- Twitter: @BloodOfKingsPod / https://twitter.com/BloodOfKingsPod
- Instagram: BloodOfKingsPod / https://www.instagram.com/bloodofkingspod/
- Facebook: Blood of Kings: A Highlander Fandom Group:
https://www.facebook.com/groups/1551389528504825
- Facebook: Blood of Kings: A Highlander CCG Collectible Card Game & Gaming Discussion Group Page:
https://www.facebook.com/groups/273198053027339
Blood of Kings Host & Guest Contact Info:
- Email: BloodOfKingsPodcast@gmail.com
- Kevin Reitzel on Twitter & Instagram: @spartan_phoenix
- Lee Fillingsness on Twitter: @TheWayOfTheWay / Instagram: @the_way_of_the_way
TeePublic / Blood of Kings Store: