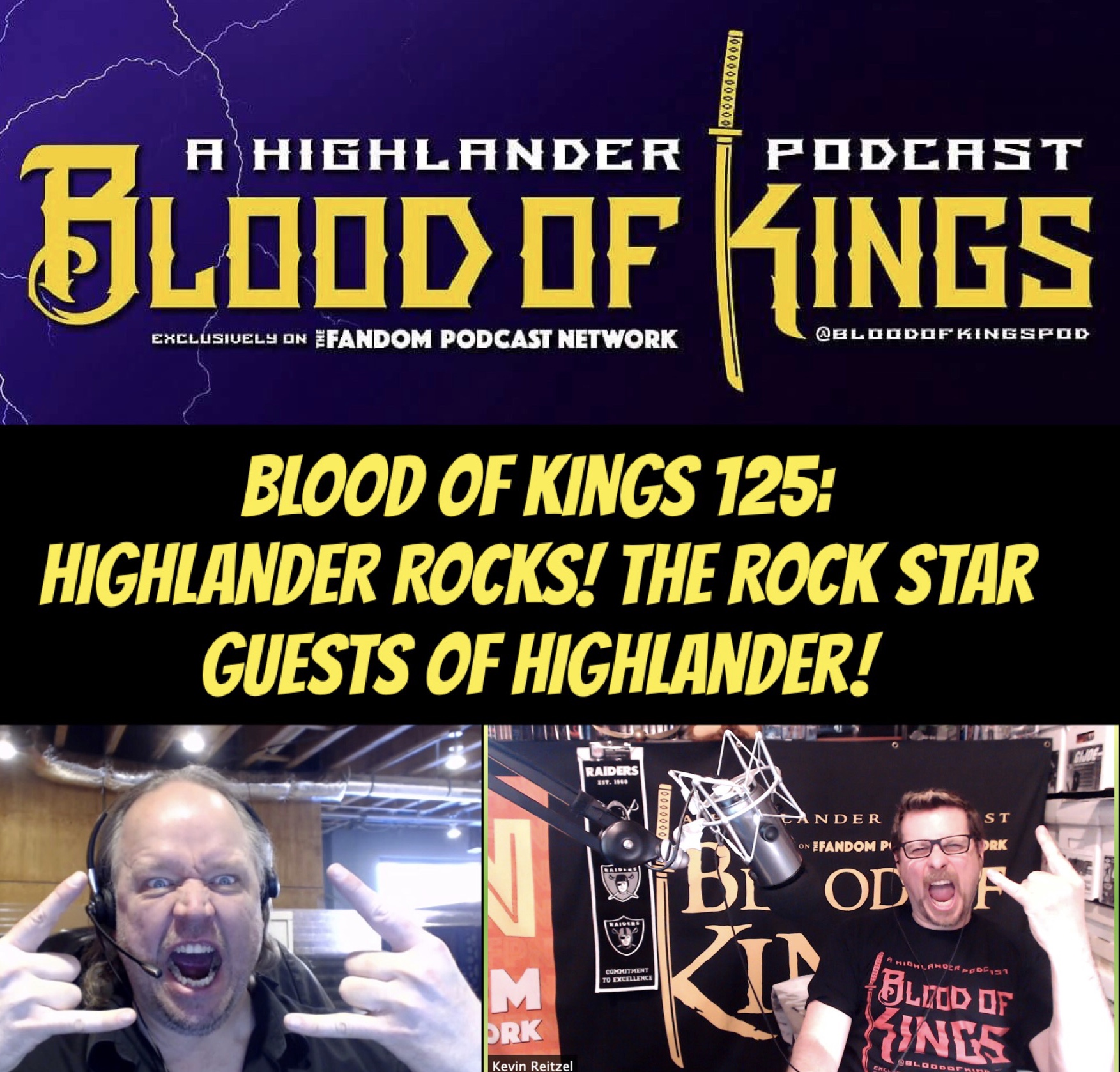 Blood Of Kings Highlander Podcast 125: HIGHLANDER ROCKS! The Rock Star Guests Of Highlander!
In this special episode of the Blood of Kings a Highlander Podcast your hosts Kevin & Lee take you through the many ROCK STARS and recording artists that appeared on the Highlander TV series as guests. 
Highlander: The Series defined the careers of Adrian Paul and his fellow co-stars, aligning them with characters that would become their legacies. The series provided early on-screen appearances for the likes of now-mega actors Jason Isaacs, Laurie Holden, Alexis Denisof, Ron Perlman, and Marion Cotillard, as well as guest roles for everyone from former Miss America Elizabeth Gracen to wrestler Roddy Piper. But perhaps its most unique casting quality was the number of prominent musicians who turned up for work. From single-episode parts performed with questionable acting skills to recurring, regular characters with believable arcs and conviction, Highlander gave a number of well-known musicians a run in front the camera. For some, it was one of only a few times they would be hired as actors. For others, it launched successful side careers on the screen.
Blood of Kings Contact Info:
Kevin Reitzel on Twitter & Instagram: @spartan_phoenix
Lee Fillingsness Social Media Contact Info:
Twitter & Instagram: @the_way_of_the_way
You can contact us directly here:
Email: BloodOfKingsPodcast@gmail.com
Twitter: @BloodOfKingsPod
Instagram: @BloodOfKingsPodcast
Blood of Kings Highlander Fandom Facebook Group:
https://www.facebook.com/groups/1551389528504825/
You can always find the Blood of Kings Podcast on the Fandom Podcast Network:
• Fandom Podcast Network Master Feed: Fpnet.podbean.com 
• Blood Of Kings Master Feed: https://fpnet.podbean.com/category/blood-of-kings/
• FPNet is on the Podbean app
• Fandom Podcast Network is on: iTunes, Stitcher, Podbean, Google Play, Spotify and I Heart Radio.
• Twitter & Instagram: @BloodOfKingsPod 
• Facebook: Blood of Kings: A Highlander Fandom Group
• Facebook: Blood of Kings: A Highlander CCG (Collectible Card Game) Page
Tee Public Store:
To get your own Blood of Kings T-shirts and other apparel, please visit our Blood of Kings store on Tee Public by searching "Fandom Podcast Network". Link: https://www.teepublic.com/user/fandompodcastnetwork
Apple Podcasts Reviews:
Please leave us a review on Apple Podcasts so new fans can find us easier. Search "FANDOM PODCAST NETWORK" on Apple Podcasts, and leave a review for Blood of Kings. We LOVE 5 star reviews of course, but we love feedback in general!
Please listen to our other awesome podcasts on the Fandom Podcast Network:
Master Feed: https://fpnet.podbean.com/ 
Culture Clash: The FPN Weekly Pop Culture Podcast
https://fpnet.podbean.com/category/culture-clash/
Couch Potato Theater: Our Favorite Cult Classic & Guilty Pleasure Movies Podcast
https://fpnet.podbean.com/category/couch-potato-theater/
Time Warp: The Fandom Flashback Podcast
https://fpnet.podbean.com/category/time-warp/
The Endzone: An (Unofficial) NFL Podcast
https://fpnet.podbean.com/category/the-endzone/
Good Evening: An Alfred Hitchcock Podcast
https://fpnet.podbean.com/…/good-evening-an-alfred-hitchcoc…/
Union Federation Podcast: A Star Trek and The Orville Podcast
https://fpnet.podbean.com/category/union-federation
Hair Metal: The 1980's Hair Metal Podcast
https://fpnet.podbean.com/category/hair-metal/
TYPE 40: A Doctor Who Podcast
https://fpnet.podbean.com/category/type-40-the-fpnet-doctor-who-podcast/ 
Lethal Mullet: A 1980's Action Film Podcast
https://fpnet.podbean.com/category/lethal-mullet
What A Piece Of Junk: A Star Wars Podcast
https://fpnet.podbean.com/category/what-a-piece-of-junk-a-star-wars-podcast…