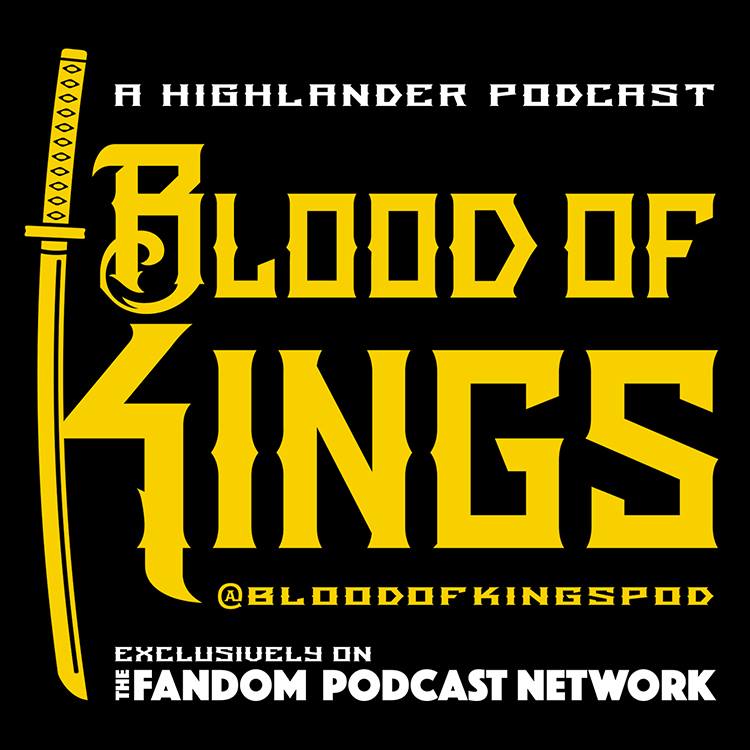 In early December 2016, a very powerful teaser image was released to the Highlander fan public on Facebook; multiple copies of the word "Gather" in a circular "ring". Needless to say, the Highlander community's interest was instantly piqued! Shortly after…the HLWW or Highlander WorldWide logo appeared in the center of that "ring" of "Gather" - or GATHERING - and accompanied by the phrase "Twenty-Five Years Can Seem Like A Lifetime" - the teaser began to make sense.
Finally, the plans of the 25th Anniversary Highlander Convention were announced and a surge of Quickening level energy cascaded throughout the fanbase and across all of social media. Details were somewhat limited due to all of the hard work that was being invested behind the scenes.
On this very special episode of KINGMAKERS on Blood of Kings, we are so incredibly honored and privileged to have on both John Mosby, author of FEARFUL SYMMETRY: The Essential Guide to All Things Highlander and Carmel Macpherson, PRESIDENT of Highlander Worldwide to discuss the most current developments for the Highlander 25th Anniversary Convention! Joined by your FPN co-hosts, Kevin, Kyle and Norm, John and Carmel discuss how this convention started to take shape, what has been set in the planning stages, many of the "hopes" for the convention and discuss the "WHY NOW?" about producing this con on the 25th anniversary of the television series.
PLEASE NOTE: As of the release date of this podcast - March 18th, 2017 - only ADRIAN Paul, ELIZABETH Gracen, DAVID Abramowitz, JIM Byrnes and F BRAUN McAsh have been confirmed. During the course of the show, many wishlist names are mentioned but only THESE five celebrities have been CONFIRMED. More details will come as the planning stages continue. John and Carmel are hard at work behind the scenes trying to make sure the guest list is robust and an incredible opportunity for all of the fans.
You can find Blood of Kings and our entire catalog of Fandom Podcast Network shows here: https://fpnet.podbean.com/

You can find all of our shows on: iTunes / Stitcher / Podbean / Google Play for Android Users.

Blood of Kings Contact Information:
Facebook: Blood of Kings: A Highlander Fandom Group
Facebook: Blood of Kings: A Highlander CCG (Collectible Card Game) Page
Email: BloodOfKingsPodcast@gmail.com
Instagram: BloodOfKingsPod
Twitter: @BloodOfKingsPod
Norman C. Lao on Twitter: @starfighter1701
Kevin M. Reitzel on Twitter: @spartan_phoenix
Mike on Twitter: @msellCNL