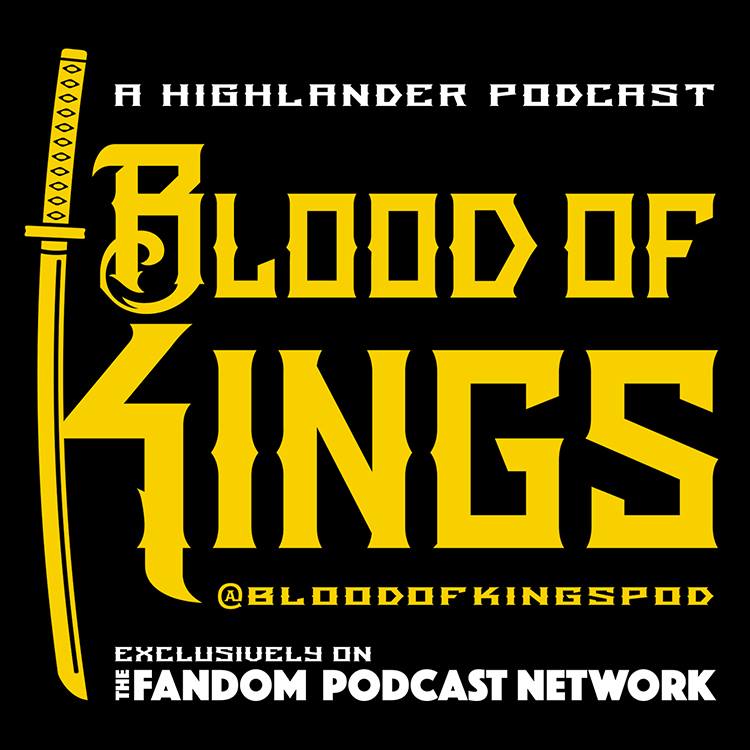 Blood of Kings: A Highlander Podcast
Kingmaker #7 Special, The Gathering Recap w/ Carmel Macpherson & John Mosby
Welcome Highlander Fans to a very special Kingmakers Episode on Blood of Kings: A Highlander Podcast - here on the Fandom Podcast Network.
Earlier this fall, on the weekend of October 20th - 22nd, something extremely special and magical took place at the Crowne Plaza Hotel in Los Angeles. HIGHLANDER fans from all over the world descended upon that hotel to take part in the 10th Highlander Worldwide convention called THE GATHERING, celebrating the 25th anniversary of the TV Series. From veterans, to newbies, the love and passion for the Highlander franchise was welcoming and infectious as old friendships were rekindled, new friendships blossomed and all were united under the banner of Highlander Worldwide.
Your Blood of Kings hosts Kevin & Norman welcomes the two people that were responsible for pulling off such an amazing event. Our special guests on the show are here to update this exciting news. We would like to welcome back:
• Carmel Macpherson, President of Highlander Worldwide and lead organizer of "The Gathering" A Highlander Convention"
• John Mosby: Author of "Fearful Symmetry, The Essential Guide To All Things Highlander" 
As Kevin and Norman reflect on THE GATHERING with Carmel and John, and what it meant to the fans of Highlander. We cover many topics looking back on this very memorable event such as, the most challenging aspect of producing the convention, what planning details materialized for them easily, what didn't come to fruition no matter how hard they tried, What surprised them most about the convention, and what was the most consistent piece of feedback they received from the convention.
Carmel also gives us an update on the Go Fund Me Campaign for The Gathering Convention DVD production, including when the DVD will be ready for release. And Carmel also discusses the future for Highlander Worldwide and the website future updates.
Kevin and Norman save the big question for last for both John and Carmel...where do we go from here? What is next on the HLWW horizon and are they looking ahead to a potential HIGHLANDER 30th Anniversary convention??
Both Kevin and Norman wanted to personally thank both Carmel and John for all of their very hard work and effort they put into the recent Highlander Worldwide TV Show 25th Anniversary Convention. We are proud to welcome them back to Blood of Kings!
For more information on the future of Highlander Worldwide, and upcoming events, please visit:
http://www.highlanderworldwide.com/
Help support the Fandom Podcast Network and Blood of Kings and visit our partner Tee Public and get your own Blood of Kings T-shirts and other apparel, please visit our Blood of Kings store on Tee Public here: https://www.teepublic.com/user/fandompodcastnetwork
You can always find Blood of Kings on:
• Fpnet.podbean.com
• FPNet on Podbean app
• Fandom Podcast Network on: iTunes / Stitcher / Podbean / Google Play for Android Users.
• Instagram: FandomPodcastNetwork & BloodOfKingsPodcast 
• Facebook: Blood of Kings: A Highlander Fandom Group
• Facebook: Blood of Kings: A Highlander CCG (Collectible Card Game) Page
If you would like to contact us directly you can:
• Email: BloodOfKingsPodcast@gmail.com
• Twitter: @BloodOfKingsPod
• Instagram: @BloodOfKingsPodcast
• Kevin on Twitter& Instagram: @spartan_phoenix
• Norman on Twitter @starfighter1701 and Instagram @socalswordfighter
• Mike on Twitter: @Immortalcimoli