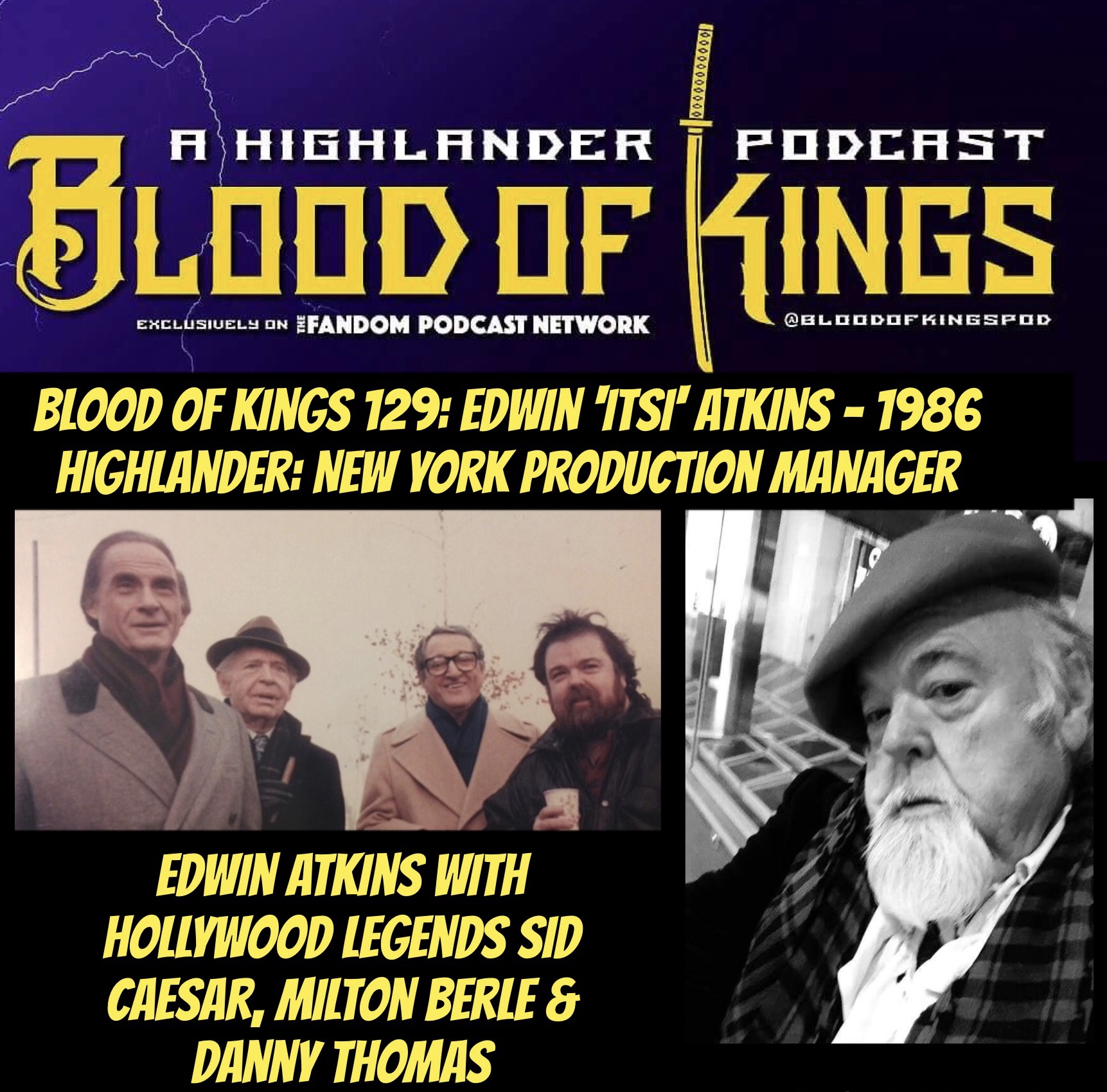 Blood Of Kings 129: Edwin 'Itsi' Atkins - 1986 Highlander: New York Production Manager 
In this special episode of the Blood of Kings a Highlander Podcast your hosts Kevin & Lee interview a very special guest. We are proud to welcome legendary movie production and location manager Edwin 'Itsi' Atkins!
Edwin was the Production Manager for the original 1986 Highlander movie during the New York filming locations. Edwin's vast experience of production management and working within the New York area made his involvement on the legendary 1986 Highlander film an obvious choice. We discuss with Edwin many topics with his experience working on the New York locations on the original film, including some of the challenges and some scenes that were filmed, but never made the final cut of the film.
Edwin also discusses his experience getting into the film business, casting Denzel Washington in his first paid roll, and working on many other films before and after Highlander like Clear and Present Danger, Teenage Mutant Ninja Turtles, Remo Williams the Adventure Begins, The Big Easy, Avenging Force and Out for Justice.
Kevin and Lee would like to thank Edwin 'Itsi' Atkins for being our special guest on Blood of Kings!
You can follow Edwin Atkins on Facebook:
https://www.facebook.com/edwincatkins
Blood of Kings Contact Info:
Kevin Reitzel on Twitter & Instagram: @spartan_phoenix
Lee Fillingsness Social Media Contact Info:
Twitter: @TheWayOfTheWay 
Instagram: @the_way_of_the_way
You can contact us directly here:
Email: BloodOfKingsPodcast@gmail.com
Twitter: @BloodOfKingsPod
Instagram: @BloodOfKingsPodcast
Blood of Kings Highlander Fandom Facebook Group:
https://www.facebook.com/groups/1551389528504825/
You can always find the Blood of Kings Podcast on the Fandom Podcast Network:
• Fandom Podcast Network Master Feed: Fpnet.podbean.com 
• Blood Of Kings Master Feed: https://fpnet.podbean.com/category/blood-of-kings/
• FPNet is on the Podbean app
• Fandom Podcast Network is on: iTunes, Stitcher, Podbean, Google Play, Spotify and I Heart Radio.
• Twitter & Instagram: @BloodOfKingsPod 
• Facebook: Blood of Kings: A Highlander Fandom Group
• Facebook: Blood of Kings: A Highlander CCG (Collectible Card Game) Page
Tee Public Store:
To get your own Blood of Kings T-shirts and other apparel, please visit our Blood of Kings store on Tee Public by searching "Fandom Podcast Network". Link: https://www.teepublic.com/user/fandompodcastnetwork
Apple Podcasts Reviews:
Please leave us a review on Apple Podcasts so new fans can find us easier. Search "FANDOM PODCAST NETWORK" on Apple Podcasts, and leave a review for Blood of Kings. We LOVE 5 star reviews of course, but we love feedback in general!
Please listen to our other awesome podcasts on the Fandom Podcast Network: