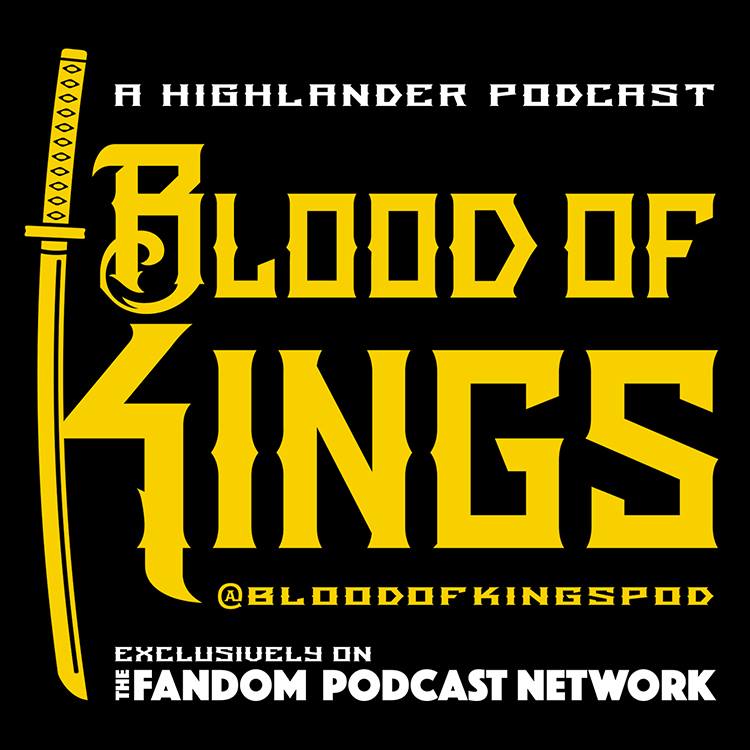 Blood of Kings 092: A Highlander Podcast: What REAL Historical Figure Would You Choose To Be Immortal?
On this weeks episode, Kevin and his guest co-host, fellow Fandom Podcast co-founder Kyle Wagner, discuss what historical figures would had made fascinating immortals in the world of Highlander. This awesome topic was inspired by Blood of Kings co-host Norman Lao, when he posted this very question on the Blood of Kings Highlander Fandom Facebook Group. 
Norman's post was born from an idea he had while watching the Highlander TV episode MODERN PROMETHEUS, which included famous historical characters Lord Byron and F. Braun McAsh's Hans Kirschner.  Also, while watching the movie AMADEUS, one of Norman's favorite movies, he would loved to have seen Antonio SALIERI as an Immortal, especially F. Murray Abraham's version. Just think how maddening it would have been for him to endure Mozart's legacy for all that time...OR...would he use his Immortality to wipe out all traces of that legacy?
Although Norman couldn't make the recording of this episode, Kevin and Kyle did find time to record a short segment with Norman about his topic, and how he was inspired by the possibility of immortal historical figures. We also read many of the Blood of Kings fans posts and responses to Norman's thread about this topic on the Blood of Kings Highlander Fandom Facebook group. 
Blood of Kings Contact Info:
You can always find the Blood of Kings Podcast on the Fandom Podcast Network:
• FPN Master Feed: Fpnet.podbean.com 
• Blood Of Kings Master Feed: https://fpnet.podbean.com/category/blood-of-kings/
• FPNet is on the Podbean app
• Fandom Podcast Network on: iTunes, Stitcher, Podbean, & Google Play
• Instagram: FandomPodcastNetwork & BloodOfKingsPodcast 
• Facebook: Blood of Kings: A Highlander Fandom Group
• Facebook: Blood of Kings: A Highlander CCG (Collectible Card Game) Page
You can contact us directly here:
Email: BloodOfKingsPodcast@gmail.com
Twitter: @BloodOfKingsPod
Instagram: @BloodOfKingsPodcast
Kevin on Twitter & Instagram: @spartan_phoenix
Norman on Twitter: @zocalocast / Instagram @zocalocast 
Mike on Twitter: @Immortalcimoli
Kyle on Twitter: @AKyleW / Instagram: Akylefandom
Tee Public Store:
To get your own Blood of Kings T-shirts and other apparel, please visit our Blood of Kings store on Tee Public here: https://www.teepublic.com/user/fandompodcastnetwork
iTunes: 
Please leave us a review on iTunes so new fans can find us easier. Search FANDOM PODCAST Network on iTunes, and leave a review for Blood of Kings. We LOVE 5 star reviews of course, but we love feedback in general!
Please listen to our other awesome podcasts on the Fandom Podcast Network:
Master Feed: https://fpnet.podbean.com/
Culture Clash: The FPN Weekly Pop Culture Podcast
https://fpnet.podbean.com/category/culture-clash/
Couch Potato Theater: Our Favorite Movies Podcast
https://fpnet.podbean.com/category/couch-potato-theater/
Time Warp: The Fandom Flashback Podcast
https://fpnet.podbean.com/category/time-warp/
The Endzone: An (Unofficial) NFL Podcast
https://fpnet.podbean.com/category/the-endzone/
Good Evening: An Alfred Hitchcock Podcast
https://fpnet.podbean.com/…/good-evening-an-alfred-hitchcoc…/
DiscoVille: A Star Trek Discovery and The Orville Podcast
https://fpnet.podbean.com/category/discoville
Hair Metal: The Hair Metal Podcast
https://fpnet.podbean.com/category/hair-metal/
TYPE 40: A Doctor Who Podcast
https://fpnet.podbean.com/category/type-40-the-fpnet-doctor-who-podcast/