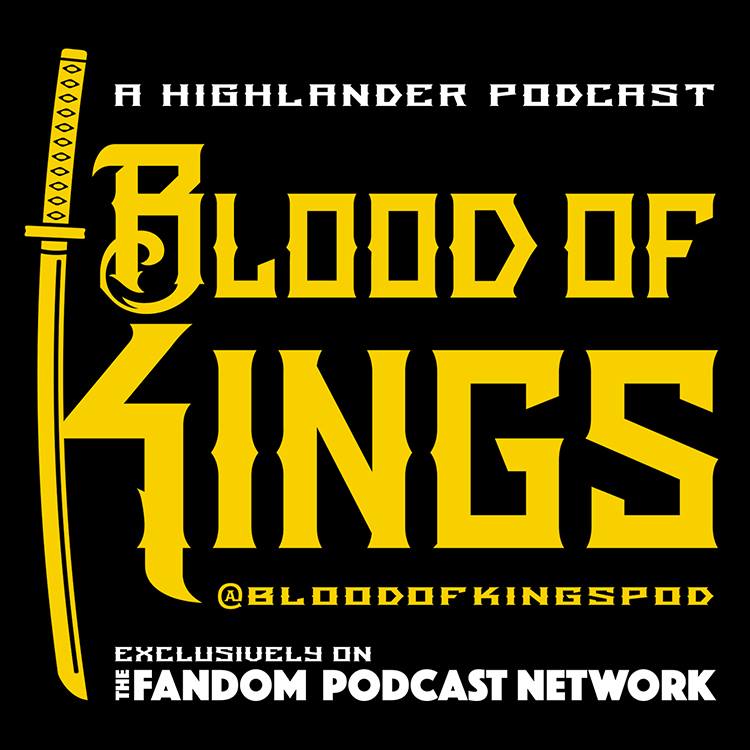 Blood of Kings 091: A Highlander Podcast: The ROCHESTER CASTLE Sword Experience with Shan O'Connor
On this weeks special episode, Kevin and Norman are excited to welcome Blood of Kings fan, friend, and Adrian Paul's Sword Experience expert... Shan O'Connor! Recently, Shan visited and participated in the Sword Experience in the United Kingdom, at the Rochester Castle on August 11th, 2018. We interviewed Shan about her first time visiting England, and her specific adventure, at the Sword Experience at the Rochester Castle. We also talked to Shan about the history of Rochester Castle, and what it was like having this event at this historical location.
Kevin and Norman also talk to Shan about The Sword Experience Fan Facebook page "SXP - The Ultimate Sword Experience Fan Group". Shan is also one of the Administrators and Moderators of this fantastic SXP Facebook group. You can contact Shan and visit the SXP - The Ultimate Sword Experience Fan Group here:
https://www.facebook.com/groups/SXPFanGroup/
Kevin also interviews Norman about his upcoming Sword tournament in Spain at the I Batallador: Blackfencer International Open. The Batallador International Open Blackfencer, will take place on September 21 to September 23, at Mora de Rubielos castle, in Spain.
Blood of Kings Contact Info:
You can always find the Blood of Kings Podcast on the Fandom Podcast Network:
• Fpnet.podbean.com 
• FPNet on Podbean app
• Fandom Podcast Network on: iTunes, Stitcher, Podbean, & Google Play
• Instagram: FandomPodcastNetwork & BloodOfKingsPodcast 
• Facebook: Blood of Kings: A Highlander Fandom Group
• Facebook: Blood of Kings: A Highlander CCG (Collectible Card Game) Page
You can contact us directly here:
Email: BloodOfKingsPodcast@gmail.com
Twitter: @BloodOfKingsPod
Instagram: @BloodOfKingsPodcast
Kevin on Twitter & Instagram: @spartan_phoenix
Norman on Twitter: @zocalocast / Instagram @zocalocast 
Mike on Twitter: @Immortalcimoli
Tee Public Store:
To get your own Blood of Kings T-shirts and other apparel, please visit our Blood of Kings store on Tee Public here: https://www.teepublic.com/user/fandompodcastnetwork
iTunes: 
Please leave us a review on iTunes so new fans can find us easier. Search FANDOM PODCAST Network on iTunes, and leave a review for Blood of Kings. We LOVE 5 star reviews of course, but we love feedback in general!
Please listen to our other awesome podcasts on the Fandom Podcast Network:
Master Feed: https://fpnet.podbean.com/
Culture Clash: The FPN Weekly Pop Culture Podcast
https://fpnet.podbean.com/category/culture-clash/
Couch Potato Theater: Our Favorite Movies Podcast
https://fpnet.podbean.com/category/couch-potato-theater/
Time Warp: The Fandom Flashback Podcast
https://fpnet.podbean.com/category/time-warp/
The Endzone: An (Unofficial) NFL Podcast
https://fpnet.podbean.com/category/the-endzone/
Good Evening: An Alfred Hitchcock Podcast
https://fpnet.podbean.com/…/good-evening-an-alfred-hitchcoc…/
DiscoVille: A Star Trek Discovery and The Orville Podcast
https://fpnet.podbean.com/category/discoville
Hair Metal: The Hair Metal Podcast
https://fpnet.podbean.com/category/hair-metal/
TYPE 40: A Doctor Who Podcast
https://fpnet.podbean.com/category/type-40-the-fpnet-doctor-who-podcast/