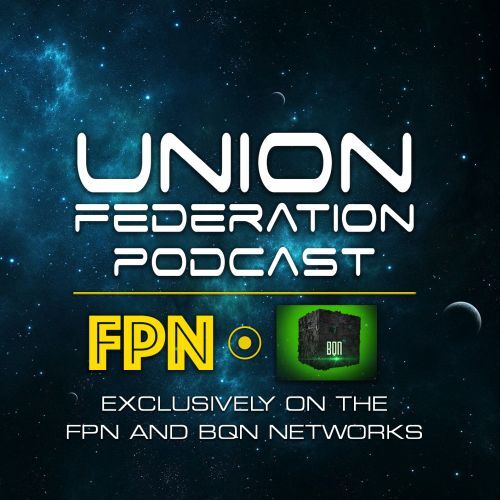 Union Federation Episode 147 Lower Decks Season 3 Episodes 3 'Mining the Mind's Mines' & Episode 4 'Room for Growth'
Visit the Fandom Podcast Network YouTube channel to watch the video version of this show:
https://www.youtube.com/c/FandomPodcastNetwork
On this weeks episode Kyle is joined by Amy Nelson (Kevin & Hayley are on duty at some far off science outpost) to discuss episode 3 & 4 of Lower Decks Season 3.  We will do our best to avoid crazy fantasies and nightmares as we explore the underbelly of the ship this week.
Hailing frequencies are now open!
Hailing Frequencies & Contact Info: 
Union Federation: A Star Trek and The Orville Podcast Feed:
Link: https://fpnet.podbean.com/category/union-federation
Fandom Podcast Network YouTube Channel YouTube channel:
Link: https://www.youtube.com/c/fandompodcastnetwork
PLEASE SUBCRIBE to our YouTube channel to receive notifications of new podcast episodes and live events. 
Facebook: The Union Federation: A Star Trek and Orville Podcast: 
Link: https://www.facebook.com/groups/323504344789120
- Fandom Podcast Network Master Feed: https://fpnet.podbean.com/
- Fandom Podcast Network is on ALL major podcasts platforms.
- Email: theunionfederation@gmail.com
- Instagram: @UnionFederationPodcast
- Twitter: @unionfedpodcast
- Kyle Wagner on Twitter: @AKyleW / Instagram: Akylefandom
- Amy Nelson on Twitter: @MissAmyNelson
- Hayley Stoddart on Twitter: @trekkie01D
- Kevin Reitzel on Twitter & Instagram: @spartan_phoenix 
Where to Find BQN:
Twitter & Instagram: @BQNpodcasts
Facebook: The BQN Collective (listener's group)
Link: https://www.facebook.com/groups/bqnpodcasts