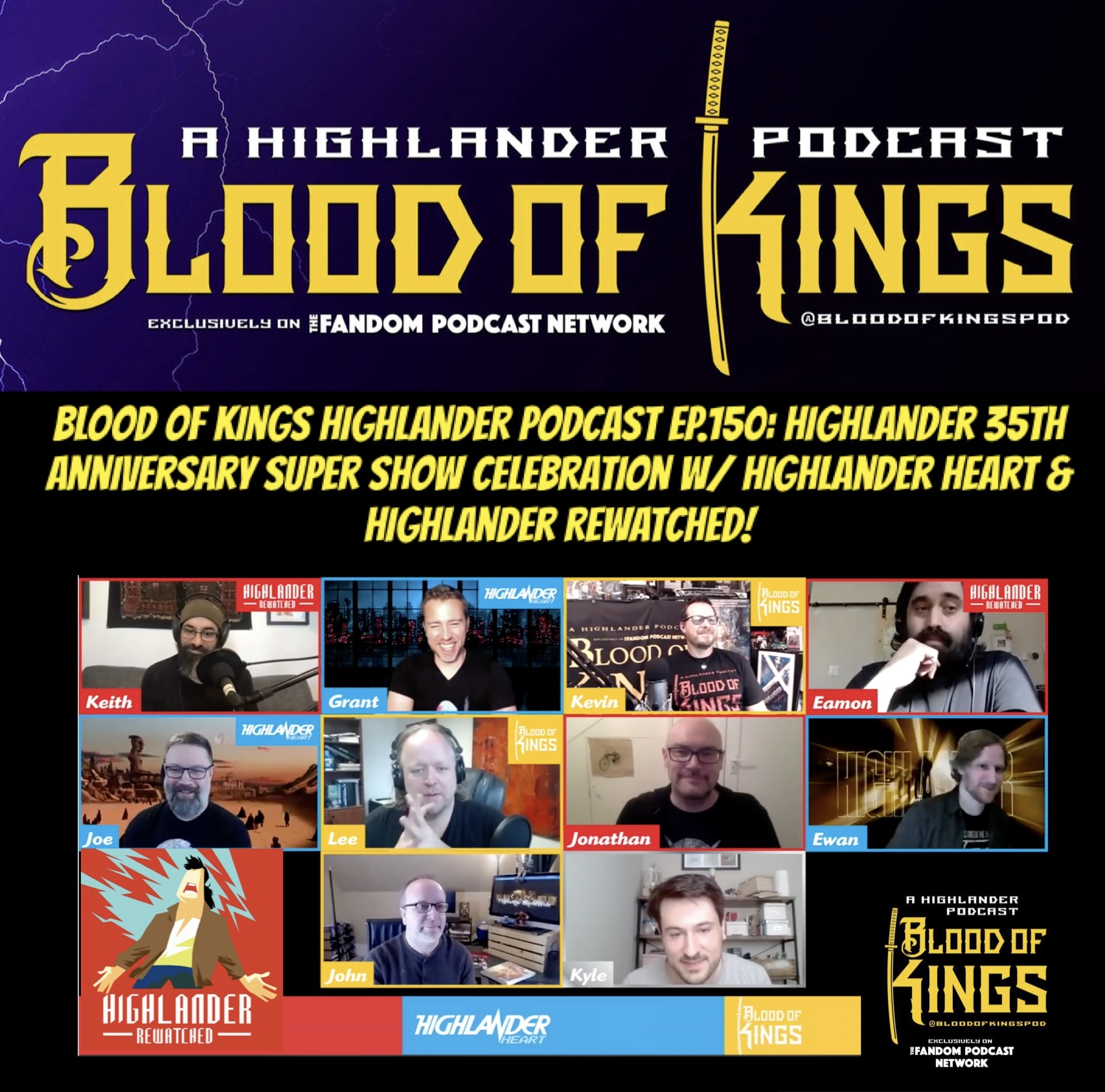 Blood Of Kings HIGHLANDER Podcast EP.150: Highlander 35th Anniversary Super Show Celebration w/ Highlander Heart & Highlander Rewatched!
Highlander (1986) 35th Anniversary Celebration! Its been 35 years since the debut of the original Highlander Cult Classic movie that debuted in theaters on March 7th 1986. Highlander fans have enjoyed the original movie, its sequels and TV series that brought us immortals dueling for thousands of years.
To help celebrate this special anniversary of the original Highlander movie theatrical debut, we present the three biggest Highlander podcast, Facebook and Highlander YouTube fan groups for one huge event! The hosts from Highlander Rewatched, Highlander Heart and Blood of Kings Highlander podcasts united together for one Highlander 35th Anniversary Super Show Celebration! This show also included special guests, Highlander book authors John Mosby and Jonathan Melville! A special thanks to Highlander Rewatched for organizing this event, and to Grant Kempster for the video and audio production.
- Twitter: @BloodOfKingsPod / https://twitter.com/BloodOfKingsPod
- Instagram: BloodOfKingsPod / https://www.instagram.com/bloodofkingspod/
- Facebook: Blood of Kings: A Highlander Fandom Group:
https://www.facebook.com/groups/1551389528504825
- Facebook: Blood of Kings: A Highlander CCG Collectible Card Game & Gaming Discussion Group Page:
https://www.facebook.com/groups/273198053027339
Blood of Kings Host & Guest Contact Info:
- Email: BloodOfKingsPodcast@gmail.com
- Kevin Reitzel on Twitter & Instagram: @spartan_phoenix
- Lee Fillingsness on Twitter: @TheWayOfTheWay / Instagram: @the_way_of_the_way
- Kyle Wagner on Twitter: @akylew / Instagram: @akylefandom
- Highlander Rewatched on Twitter: @TheRewatchers / Instagram: highlander_rewatched
- Highlander Rewatched on Facebook: https://www.facebook.com/HighlanderRewatched
- Highlander Rewatched on YouTube: https://www.youtube.com/channel/UCfzcG3NS8spZqGg-Ub4xJ8w
- Highlander Heart on Facebook: https://www.facebook.com/groups/120891714654089
- Highlander Heart on YouTube: https://www.youtube.com/user/grantkempsterdotcom/featured
TeePublic / Blood of Kings Store: