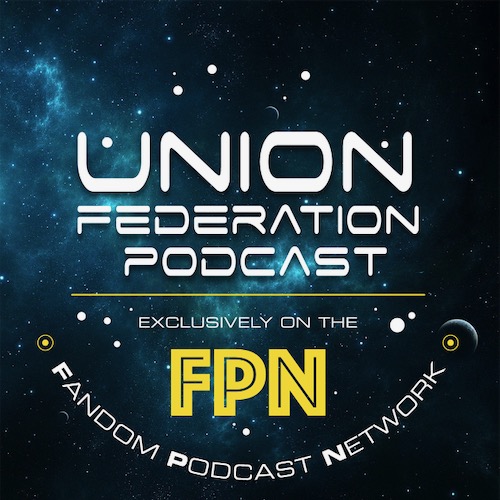 Union Federation Episode 74: A Return to the Union
It has been a bit but it is time to once again launch the Union Federation!  With this episode we finally have some Orville news as producers Tom Costantino and David Goodman have opened up with some news about The Orville season 3.  Plus the Union Federation Crew of Kevin, Kyle and Hayley discuss why now is the time to revisit The Orville or to see it for the first time as we all wait for the proper start of season 3 on Hulu!
We then broadcast some subspace signals discussing Strange New Worlds, Star Trek Las Vegas, Discovery season 3, Lower Decks and might Brent Spiner still have a big role to play in the next season of Picard.
The warp engines are primes, we all know where are legs are so hailing frequencies are now open!
Here is how you can find and contact the Union Federation Podcast on the Fandom Podcast Network:
- Master Feed: fpnet.podbean.com
- FPNet on the Podbean app
- Fandom Podcast Network is on: Apple Podcasts / Stitcher / Podbean / Google Play / Spotify / I Heart Radio
- Facebook: Union Federation
- Email: theunionfederation@gmail.com
- Instagram: FandomPodcastNetwork 
- Twitter: @unionfedpodcast
- Kyle on Twitter: @AKyleW / Instagram: Akylefandom
- Kevin on Twitter & Instagram: @spartan_phoenix 
- Hayley on Twitter @trekkie01D
Tee Public:
Please also visit our TeePublic store where you can help support the Fandom Podcast Network while wearing your favorite show logos with pride!
Tee Public Store: https://www.teepublic.com/user/fandompodcastnetwork
Apple Podcasts:
Please leave us a rated review on Apple Podcasts so new fans can find us easier. We LOVE 5 star reviews of course, but we love feedback in general!
Please listen to our other awesome podcasts on the Fandom Podcast Network:
Master Feed: https://fpnet.podbean.com/