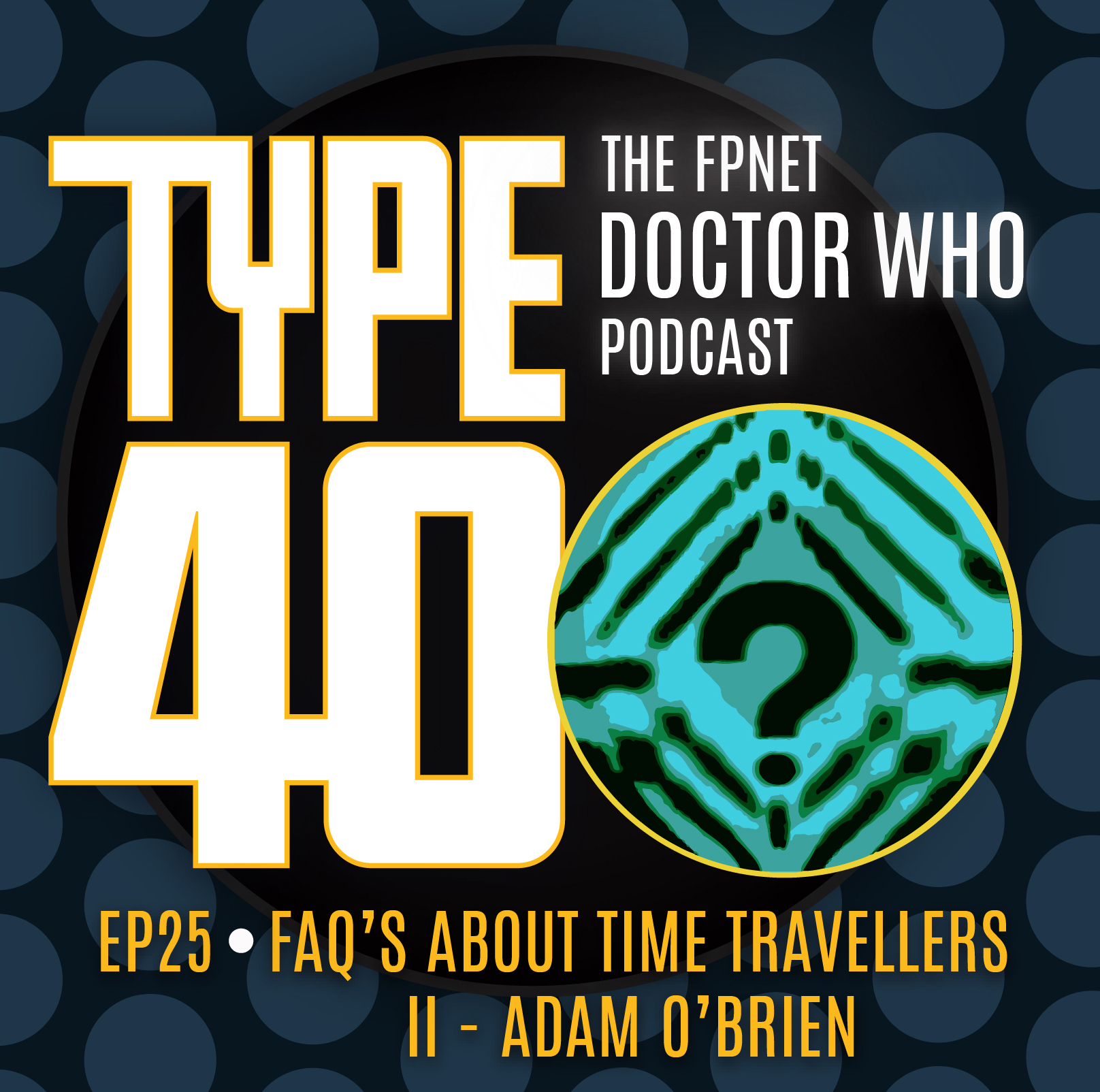 TYPE 40: A Doctor Who Podcast
Episode 25: FAQ's About Time Travellers II – Adam O'Brien
Anything could happen aboard the Fandom Podcast Network's TARDIS this time, when Adam O'Brien stows away! Yes the "Fantha from Down Under" himself brings his memories of growing up watching our favourite series on ABC television. As well as answering some time honoured questions plucked from the Type 40's memory banks...
It's up to your host Dan to make sure the Web of Time can take it, as they chart the unique story of Doctor Who in what surely must be it's second home: Australia. Adam's a writer and one of SF and Fantasy genres most prolific pod-casters, so is bound to drop in lots of gold along the way!
There's not many TV series that bring people together quite like Doctor Who, as our regular Frequently Asked Questions About Time Travellers strand demonstrates. Come and enjoy this latest conversation on Type 40. Further proof how as different as our experiences and connections to it all may be, there's fascination in contrasting and and sharing them....
You can always find TYPE 40: A Doctor Who Podcast on:
• The FPNet Master Feed @Fpnet.podbean.com
• FPNet on Podbean app
• Fandom Podcast Network on: iTunes, Stitcher, Podbean, & Google Play
• Instagram: FandomPodcastNetwork & type40drwho
• Facebook: TYPE 40: A Doctor Who Fandom Podcast:
If you would like to contact us directly you can:
• Email: type40drwho@gmail.com
• Twitter: @type40drwho
• Instagram: @type40drwho
• Kyle on Twitter @AKyleW Instantgram @Akylefandom
• Dan on Instagram: @danhadley__
Tee Public:
iTunes: Please leave us a review on iTunes so new fans can find us easier. We LOVE 5 star reviews of course, but we love feedback in general!
Please listen to our other awesome podcasts on the Fandom Podcast Network:
Blood of Kings: A Highlander Podcast
Culture Clash: The FPN Weekly Pop Culture Podcast
Couch Potato Theater: The Guilty Pleasure Favorites Podcast
Time Warp: The Fandom Flashback Podcast
The Endzone: An (Unofficial) NFL Podcast
Good Evening: An Alfred Hitchcock Podcast
DiscoVille: A Star Trek Discovery and The Orville Podcast
Hair Metal: The Hair Metal Podcast